Venom Foundation and Hub71 Partner to Accelerate Growth and Adoption of Blockchain Technologies from Abu Dhabi
Abu Dhabi, UAE, 20th February, 2023, Chainwire
Venom Foundation, the first Layer-1 blockchain licensed by Abu Dhabi Global Market (ADGM), has teamed up with Hub71, Abu Dhabi's global tech ecosystem, to provide startups with enterprise-grade solutions and simplify blockchain adoption for businesses.
The collaboration between Venom Foundation and Hub71 will focus on accelerating the growth and adoption of blockchain technologies in the Middle East and North Africa (MENA) region and beyond. Venom Foundation will work closely with Hub71+ Digital Assets, Hub71's dedicated Web3 and Digital Assets specialist ecosystem, to help startups as well as enterprises with business development, digital asset regulation, blockchain adoption, and related technologies.    
The Venom-Hub71 collaboration was brought together by Iceberg Capital, the regulated investment manager based in ADGM which will further leverage its network and expertise to assist the parties in reaching their common objectives. 
With an aim to raise industry standards for incubation, acceleration, and grant programs, Venom Foundation will deploy its expertise and know-how in venture capital, venture building, and technology to support startups to grow and scale from Hub71+ Digital Assets. Additionally, startups and established businesses will be able to benefit from the use of the Venom blockchain to successfully transition from Web2 to Web3.
As part of the partnership, Venom and Hub71 will also work together to onboard local and international startups to Hub71+ Digital Assets. By joining the specialist ecosystem, startups will be able to engage and collaborate with a diverse range of partners and leading Web3 entities to accelerate the transition toward disruptive blockchain technologies. Startups will also benefit from Hub71's value-add programs and incentives.
Peter Knez, Chairman of the foundation council at Venom Foundation, commented: "Collaboration is the key to unlocking the full potential of emerging technologies. We are proud to have struck such a great collaboration, here in the financial heart of Abu Dhabi. By working together, we can build a better future for businesses and communities, from Abu Dhabi to the world."
Elodie Robin Guillerm, Head of Growth and Strategy at Hub71, said: "We are excited to be collaborating with Venom Foundation to help startups in the MENA region develop and scale Web3 technologies from Abu Dhabi. By bringing together leading industry experts and players such as Venom Foundation, Hub71+ Digital Assets is accelerating the growth of disruptive businesses and creating commercialization and investment opportunities for founders."
Startups onboarded to Hub71+ Digital Assets will also gain access to Venom's infinitely scalable blockchain architecture and a team of highly skilled specialists that will help them build their Web3 solutions. 
Mustafa Kheriba, the Executive Chairman of Iceberg Capital, said: "We are pleased with this promising partnership between Venom Foundation and Hub71 and we are confident that this partnership shall be very beneficial for the development of Web3 technologies throughout the region. Iceberg will leverage its expertise in helping both parties achieving their shared objectives"
The Venom blockchain is an asynchronous chain that uses a state-of-the art dynamic sharding technology while maintaining decentralization, scalability, and security.
Venom Foundation provides the essential infrastructure that enables startups to grow within a regulated and scalable environment. The Foundation's primary focus is on technologies in the MENA region that provides easy and secure migrations to Web3 for both private and public organizations and governments, while also handling massive transaction volumes with no increase in network latency or costs.
Hub71's vibrant community consists of over 200 startups operating in 20 economic sectors. Founded on the values of partnership and collaboration, Hub71 connects entrepreneurs with impact-driven investors and corporates and supports them with scaling their businesses and accessing global markets.
About Venom Foundation
Venom is the first licensed blockchain operating under the jurisdiction of the ADGM, with a license to issue utility tokens. The ADGM is an oasis for investors and financial services firms, positioning Venom as the world's first compliant blockchain, affording authorities and enterprises the freedom to build, innovate, and scale.
A portfolio of in-house dApps and protocols has been developed on the Venom blockchain by various companies. It now harbors the potential to become a bridge for the adoption of CBDCs in the Middle East, North Africa, and worldwide.
For more information, visit: Website  |  Twitter
About Iceberg Capital
ICEBERG Capital Limited is regulated by FSRA as a Prudential Category 3C investment manager based in ADGM. ICEBERG Capital is a fast-growing alternative asset management company that provides diversified investment management platforms that includes direct and private equity, venture capital, technology, and virtual assets. ICEBERG Capital also offers traditional asset management services such as investment portfolios in local and international markets, financial instruments (equities, ETFs, commodities, derivatives, etc), as well as specialized platforms for securities, and blockchain technology.
For more information about Iceberg Capital, visit: Website | LinkedIn
About Hub71
Hub71 is Abu Dhabi's global tech ecosystem that enables founders to build globally enduring homegrown tech companies in any sector by providing access to global markets, a capital ecosystem, a global network of partners, and a vibrant community filled with highly skilled talent, governed by forward-thinking regulation. 
Backed by the Government of Abu Dhabi and Mubadala Investment Company, Hub71 is growing its vibrant community of tech startups, investors, government, and corporate partners to ensure the availability of investment, commercial activities, and incentives from the public and private sectors. Through Hub71's entrepreneurial infrastructure, value-add programs, enabling services and support packages, founders can build, and scale widely adopted technologies with purpose and impact. Hub71 is on a mission to introduce new minds and technologies to Abu Dhabi, finding new ways to build globally enduring technology companies and sustain the nation's continuous economic development. For more information visit www.hub71.com and follow us on @Hub71AD #Hub71.
For more information, visit: Website  |  Twitter  |  LinkedIn
Contact
Adam Newton
[email protected]

Disclaimer: The information provided in this article is for informational purposes only and should not be construed as financial or investment advice. Cryptocurrency investments are subject to market risks, and individuals should seek professional advice before making any investment decisions.
Mining Contracts From $10: How To Invest And Earn Passive Income With Mining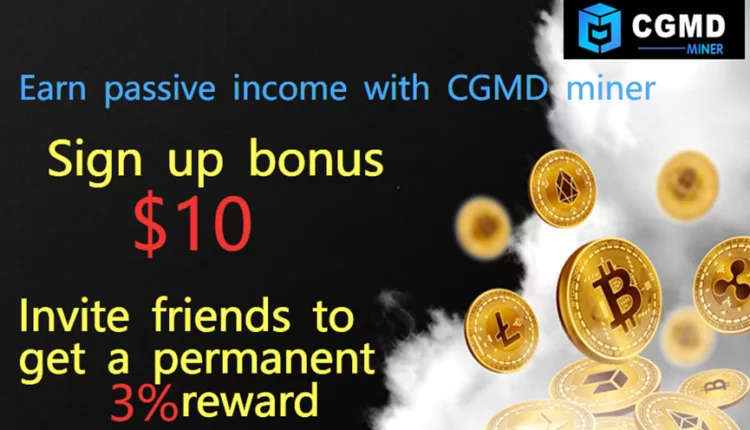 As more players enter the cryptocurrency market, mining becomes more complex and requires more computing power. As a result, many people who previously used their own equipment for cryptocurrency mining now find it unsustainable: high electricity bills and wear and tear on the equipment. Therefore, cloud mining is becoming an increasingly attractive option.
In the partner material, we go into more detail about its features and how it will help increase passive income.
What is cloud mining
Cloud mining is a mechanism that uses leased cloud computing power to mine cryptocurrencies such as Bitcoin. Hardware setup and startup, no software installation required.
Cloud mining companies make mining even more affordable by allowing you to open an account and participate in cryptocurrency mining remotely at rock-bottom prices. Since mining takes place in the cloud, there are fewer issues with equipment maintenance or direct electricity costs.
How to start cloud mining
Here are the basic steps you need to take before getting started.
Step 1: Choose a Cloud Mining Provider
CGMD Miner is a popular and powerful cryptocurrency mining platform and an excellent resource for passive income. CGMD Miner is a free Bitcoin mining program that allows you to passively earn Bitcoins without any strings attached, regardless of technical knowledge or financial resources. Once $12 worth of Bitcoins are mined, they can be transferred to your account and traded. Any profits are yours and you can withdraw them to your personal wallet.
Platform advantages:
Get $10 immediately after registration;
High levels of profitability and daily payout;
No additional services or administrative fees required;
Other currencies can be generated;
The company's Partner Program allows you to invite friends and earn up to $3,000 in referral bonuses;
McAfee security? Cloudflare® security protection;
24/7 technical support.
Step 2. Register an account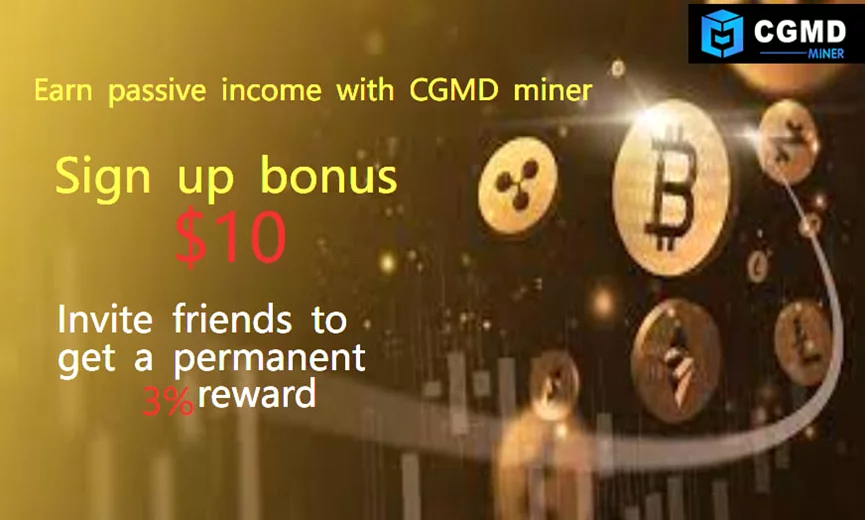 Go to the provider of your choice and sign up to create a new account.
CGMD Miner offers a simple registration process: all you need to do is enter your email address. After signing up, you can start mining Bitcoin immediately.
Step 3. Purchase a Mining Contract
Miner CGMD offers a variety of mining contract options: packages ranging from US$100 to US$5,000, each package has its own return on investment and a certain contract validity period. Right now:
The day after the contract is purchased, the revenue starts flowing in. When $100 is reached, the money can be withdrawn to a crypto wallet or continue to purchase other contracts.
Step 4: Earn passive income
Cloud mining is a great way to increase your passive income. Cryptocurrency capital can be grown via "autopilot" mode with minimal time outlay – less than any type of active trading. Passive income is the goal of every investor and trader, and with CGMD miners, achieving it is easier than ever.
CGMD Partner Program
Miner CGMD also offers an affiliate program, a platform that allows you to earn money by recommending the site to others. You can make money even without investing. A fixed one-time bonus of up to $3,000 will be charged for inviting positive referrals.
For more information about CGMD mining machines, please visit the official website https://365miner.com/
Read Also: OKX Achieves SOC 2 Type II Certification, Demonstrating its Industry-Leading User Safety, Security and Compliance Standards
Disclaimer: The information provided in this article is for informational purposes only and should not be construed as financial or investment advice. Cryptocurrency investments are subject to market risks, and individuals should seek professional advice before making any investment decisions.