Samurai Saga Is Set To Launch The 'ONNA-BUGEISHA' Drop Ahead Of The Launch Of Its First play-to-earn Game
Llanelli, Wales, 15th March, 2022, Chainwire
SAMURAI SAGA is not a typical NFT collection. It's an entire ecosystem, developed and revolving around three unique and industry-leading components – Artwork, Staking & Gaming. 
Much more than the standard NFT collection, Samurai Saga is a part of the Open World where collectors can hang out with other owners to fight and battle against monsters with state-of-the-art Samurai characters
Now Samurai Saga is set to unleash its latest NFT collection, 'ONNA-BUGEISHA', to continue the battle against evil.
6,666 ONNA-BUGEISHA will be available to mint exclusively between 16-18th March via https://www.samuraisaga.com/onna-bugeisha
The Battle Continues! The NFT collection, SAMURAI SAGA is set to unleash the ultimate drop titled 'ONNA-BUGEISHA' ahead of the highly anticipated launch of its first 'Play-to-Earn' gaming experience.
Dropping exclusively between 16-18th March in multiple phases, Samurai Saga will release a total of 6,666 NFTs which are expected to follow the earlier success of the collection's first drop which sold out in seconds.
ONNA-BUGEISHA's tale is one of strength and resistance, so collectors will now benefit from taking their state-of-the-art NFT into the Open World with a tribe of breeders, creators, and ultimate warriors who are ready to join the battle against Kaiju monsters. Read the full game background here.
This latest NFT collection from Samurai Saga will play a crucial role in enhancing its ecosystem, with every ONNA-BUGEISHA harvesting $GENKI tokens (native in-game currency) through Saga's staking system. The longer the duration, the more tokens will be harvested.
Not only will the new gripping addition amplify the wider staking system, but ONNA-BUGEISHA warriors are also unique, playable characters in the upcoming 'Play-To-Earn' game. Ownership of an ONNA-BUGEISHA NFT is required to gain access to this extraordinary game character universe with exclusive skills and attributes.
SAMURAI SAGA has recently released a gameplay demo, with its first demo version expected to be released in April 2022, Samurai Saga is set to launch a Web3 'Play-To-Earn' gaming experience. The multiplayer warrior-inspired game will allow NFT collectors to earn rewards and tokens through multiple game modes and various honours whilst they battle.
The fully-functional game with world-class graphics will allow NFT holders to unlock new playable characters, unique attributes, and in-game skills, giving them access to utilise towards earning rewards. Whether collectors are here to fight for good or evil, the new play-to-earn game releases not only NFT earnings but weapons, exclusive avatars, and tools essential for victory in Samurai Saga's Open World.
Samurai Saga is committed to creating an NFT collection that consists of only the best and most insanely-detailed artwork, thanks to their talented artist, Dino Tomic. The collection will continue to deliver unique artwork with every NFT produced, providing the finest visual gaming experience possible for holders to tackle each battle of glory as champions and rare legends.
As well as the drop of new NFTs and the game launch, Samurai Saga has a whole line-up of other features on the roadmap to keep collectors engaged in its ever-evolving project. From giveaways to marketing efforts, Samurai Saga is not slowing down and has big visions to continue building upon the current community that has grown to over 50,000 strong across digital platforms. 
More information on how 'ONNA-BUGEISHA' can be minted below: 
When Can Collectors Mint?
3/16 – 3 pm EST Genki Only Mint 
3/17 – 3 pm EST Samurai Holders Mint
3/17 – 6 pm EST Whitelist Mint
3/18 – 3 pm EST Public Mint
*Genki Mint: If users don't have enough GENKI to mint, they can buy GENKI on UNISWAP.
*Public Mint: In order to participate in public mint users need to pre-register with their wallet.
Where Can Collectors Mint? 
The 'ONNA-BUGEISHA' drop will be available to mint exclusively via – https://www.samuraisaga.com/onna-bugeisha
Price and Max Per Wallet 
18000 $Genki (Max 5 per wallet)
Samurai Holders: 0.25 ETH (Max 5 per wallet)
Whitelist: 0.25 ETH (Max 2 per wallet)
Public: 0.25 ETH (Max 2 per wallet)
Join Samurai Saga's community to get the latest announcements: Discord + Twitter. 
About Samurai Saga
Samurai Saga is not a typical NFT collection. It's an entire ecosystem, developed and revolving around 3 unique and industry-leading components: 
1) An NFT collection of extremely detailed artwork by in-house artist Dino Tomic, a collection consisting of the best and most insanely-detailed artwork. we will continuously deliver unique pieces of artwork with every NFT produced. 
2) Staking and tokenomics – Each of our NFTs can be staked to earn our $GENKI token which will be used for future NFT drops and in-game purchases.
3) A state-of-the-art Play-to-Earn – an online multiplayer game where players will be able to earn rewards while enjoying the ultimate gaming experience
Inspired by samurai lore and love of robots, The Samurai Saga is an army of 9999 randomly generated NFTs that represent various Samurais types 
As the story goes, The Samurais have been secretly watching over the world for the last 145 years, knowing that one day they would be needed again to fight evil – the time has come – but standing in the 21st century, the Samurais will need more than just their swords. That's why this team of developers has transformed them into cyber Samurais, aka playable NFT characters.
By April 2022, there will be 3D versions of all the Samurais, allowing the owners to join the game in the Metaverse 
Apart from the game development, Samurai Saga has a whole line-up of other features on the roadmap to keep collectors engaged in its ever-evolving project
Samurai Saga Social Media 
Contacts
Press Office
Anonymous Group
Disclaimer: The information provided in this article is for informational purposes only and should not be construed as financial or investment advice. Cryptocurrency investments are subject to market risks, and individuals should seek professional advice before making any investment decisions.
Web3 Builders Look to Alternate Growth Model with BNB Chain as Bear Market Funding Drops by 84%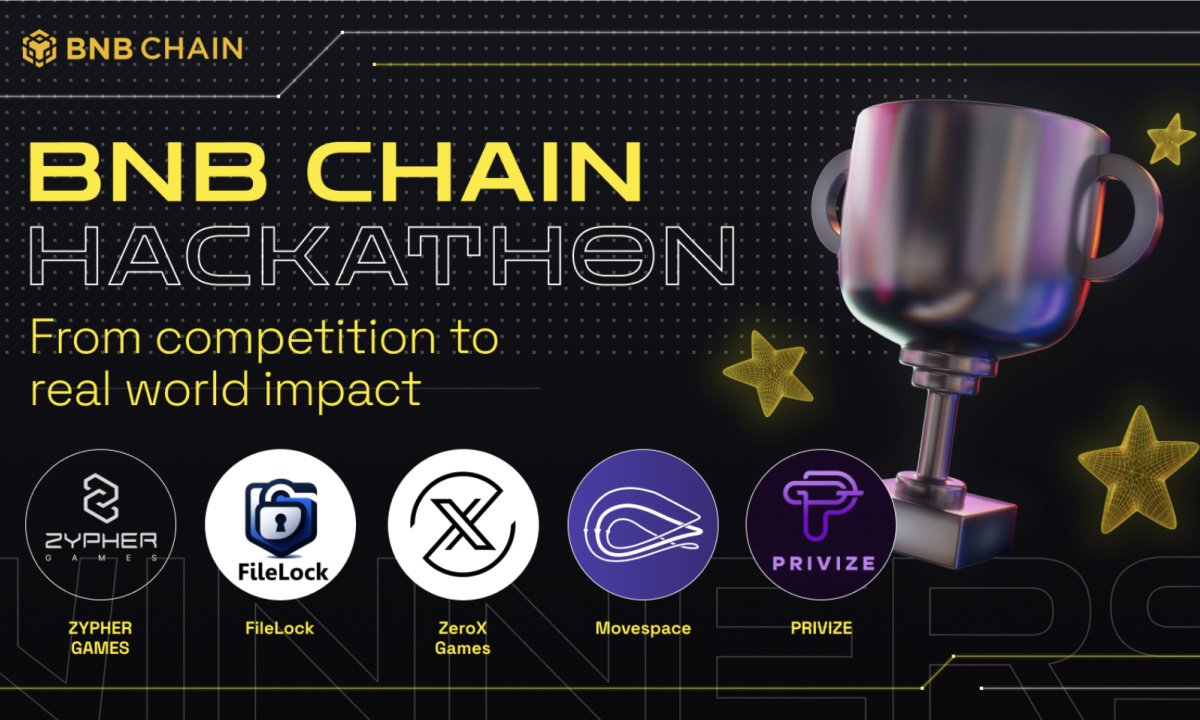 DUBAI, UAE, November 23rd, 2023, Chainwire
BNB Chain, the community-driven blockchain ecosystem that includes the world's largest smart contract blockchain, is highlighting the compelling growth stories of the projects that emerge from its project development program, starting with its hackathons. This comes in the wake of BNB Chain's Istanbul Hackathon, which saw the emergence of a number of strong projects.
The focus of the bear market is building quality Web3 projects – this is a time for developers to concentrate on identifying what real use cases need solving. However, quarterly funding for Web3 startups has dropped by approximately 84% this year. Against this backdrop, thousands of founders have looked to alternate ways to develop their projects to the point of launch readiness.
By providing constant guidance, in addition to routinely incentivising innovation with its global hackathons, BNB Chain mentors these projects through the various stages of their development journeys as they strive to realize the immense potential of Web3. 
Below are the steps that projects can expect to partner with BNB Chain on as they work to realize their vision:
Ideate and develop a killer idea at a BNB Chain hackathon
Win a reward at the hackathon that allows for initial development
Develop further with constant guidance from BNB Chain
Get introduced to incubators who can supercharge your project
Launch your project on-chain 
BNB Chain Hackathon winners also receive referral codes to apply to the Most Valuable Builder (MVB) to potentially increase their funding. The program – run by BNB Chain and Binance Labs – helps projects develop and grow through mentorship, funding and network support*.
BNB Chain's recent Istanbul Hackathon saw a number of exciting projects start on this journey, with a number of the winners sharing how they plan to utilize their winnings to advance their projects. 
MoveSpace, an on-chain data labeling and marketplace powered by a vector database, is addressing the data transparency issue in AI training to incentivise human interactions with data with BNB Greenfield. Using the funds they won at the BNB Chain Hackathon, they are further refining their concept – making data tradable as a regular commodity or asset – to make data ownership meaningful, setting them up for success at their first round of fundraising.
Another winning project exemplifying the practical applications of blockchain technology is ZeroX, a Web3 Gaming platform with a core mission of onboarding users to Web3 through gaming. Offering SDK and API services for traditional game development, they are lowering the barriers for traditional game developers and gamers to enter Web3. They will allocate the funds they won at the Istanbul hackathon to accelerate their growth and incorporate BNB Greenfield into their product, putting them in a leading position for their first funding round and upcoming public product launch. 
Learn more about all of the winning projects, their experiences of BNB Chain Hackathon Istanbul and how it is accelerating their growth here.
Tomasz Wojewoda, Head of Business Development at BNB Chain, said: "The quality of the projects that emerged from the BNB Chain Istanbul Hackathon was truly remarkable. It has been great to see their Web3 spirit on full display and to see how they are leveraging opBNB and BNB Greenfield to accelerate their development. Myself and the BNB Chain team look forward to being by the developers' sides and providing guidance as they continue to build towards realizing their vision."
*Disclaimer: There is no guarantee that projects will be accepted to the MVB program.  
About BNB Chain
BNB Chain is a community-driven ecosystem with multiple decentralized blockchains, powered by BNB. It consists of BNB Beacon Chain, its staking and governance layer, BNB Smart Chain (BSC), which is EVM compatible and facilitates a multi-chain ecosystem with its Layer-2 solutions including opBNB, and BNB Greenfield, its decentralized data storage network. 
The BNB Chain ecosystem has the world's largest smart contract blockchain (BSC) by daily active users and has processed 3 billion transactions to date from 232 Million unique addresses. This makes it the largest layer 1 blockchain globally and brings developers massive user access with ultra-low gas fees, higher transactions per second and has experienced zero crashes since its inception. The ecosystem has more than 1,500 estimated active dApps at any given time across multiple categories such as DeFi, Metaverse, Blockchain Gaming, SocialFi, NFT, Infrastructure, and more. There are numerous programs available to support the Web3 ecosystem including the Gas Grant, Builder Grant, Kickstart, Most Valuable Builder (MVB) and AvengerDAO.
Contact
Jack S
[email protected]

Read Also: BNB Chain Sees 1-year Transaction High; Demonstrates Network Reliability After BSC Surge
Disclaimer: The information provided in this article is for informational purposes only and should not be construed as financial or investment advice. Cryptocurrency investments are subject to market risks, and individuals should seek professional advice before making any investment decisions.