Abu Dhabi to Host Inaugural Middle East Blockchain Awards
Dubai, United Arab Emirates, 5th October, 2022, Chainwire
The first edition of the Middle East Blockchain Awards will be held in Abu Dhabi in November 2022, to recognise and reward outstanding efforts within the fields of blockchain and Web 3.0 innovations. Hoko Agency Middle East will host the Awards, in association with Abu Dhabi Global Market's flagship platform, Abu Dhabi Finance Week; and the Middle East, Africa and Asia Crypto and Blockchain Association (MEAACBA).  
Frontrunners in the industry will be recognised through the Middle East Blockchain Awards (MEBA), with all nominations assessed by a panel of prestigious experts. Judges include: 
● Dr. Marwan Al Zarouni, CEO of Dubai Blockchain Centre (DBCC) 
● Jehanzeb Awan, Board Member of MEAACBA, Founding Partner and CEO of J. Awan and Partners 
● Miriam Kiwan, Former Head of Digital Assets at ADGM, Board Member at BlackOack Global 
● Misha Hanin, Co-founder and CEO of BEDU 
● Saqr Ereiqat, Co-Founder and CCO of Crypto Oasis 
● Matthew Amlot, Managing Editor of Arabian Business 
MEBA will be held in the stunning Palm Garden at the five-star W Abu Dhabi – Yas Island on 18 November 2022 in the midst of the high-energy F1 Race Weekend. The black-tie event promises a spectacular evening of recognition, insight and entertainment, attended by high-profile individuals from across the GCC.  
Abu Dhabi was chosen as the host city for the inaugural awards because of the UAE leadership's commitment to progression and innovation in blockchain and digital transformation. The UAE as a whole has made significant moves towards the regulation, safety and transparency of blockchain and digital assets, driving the importance of global standards for industry compliance that will benefit all aspects of Web 3.0.
This forward-thinking approach has attracted numerous global players to establish their presence in the emirates, creating a strong ecosystem that contributes towards its reputation as a hub for crypto and beyond.  
Jehanzeb Awan, Board Member of MEAACBA, Founding Partner and CEO of J. Awan and Partners said: "Blockchain is creating a digital ecosystem which will support a new world of services and products ranging from financial services through to real economy. The Middle East Blockchain Awards will help drive innovation, reward excellence and provide a benchmark for companies to aspire to and in doing so contribute significantly to the regional ecosystem." 
Max Palethorpe, Founder and CEO of Hoko Group said: "The Middle East Blockchain Awards come at a time when people and businesses are pushing the boundaries of what was previously thought impossible, making significant headway into a digital-first world. This is a very exciting period for anyone involved in the Web 3.0 ecosystem. It's our privilege to honour those who are forging new paths with the recognition they deserve."
Award categories include Most Innovative DeFi Platform 2022, Most Promising DEX to Watch 2022, Most Powerful CEX 2022, Best Mobile Crypto Wallet 2022, Best NFT Marketplace 2022, Best Crypto Investment Fund 2022, Most Promising Web 3.0 Ecosystem 2022, Best Nft & Gamefi Project 2022, Top Global Crypto Youtuber / Influencer 2022, Most
Influential Woman in Blockchain & Crypto 2022, Most Influential CMO in Blockchain & Crypto 2022, Most Influential Global Crypto News Service 2022, Most Influential CEO In Blockchain & Crypto 2022, and Most Promising ESG Crypto Project.  
Entries can be submitted at www.mebawards.io 
For more updates follow Meba on:
Instagram: meba_awards 
Linkedin: MEBA Awards 
Twitter: @meba_awards 
Contact
Head of PR
Yousef Batter
White Label Strategy
+971 55 935 6531
Disclaimer: The information provided in this article is for informational purposes only and should not be construed as financial or investment advice. Cryptocurrency investments are subject to market risks, and individuals should seek professional advice before making any investment decisions.
Web3 Builders Look to Alternate Growth Model with BNB Chain as Bear Market Funding Drops by 84%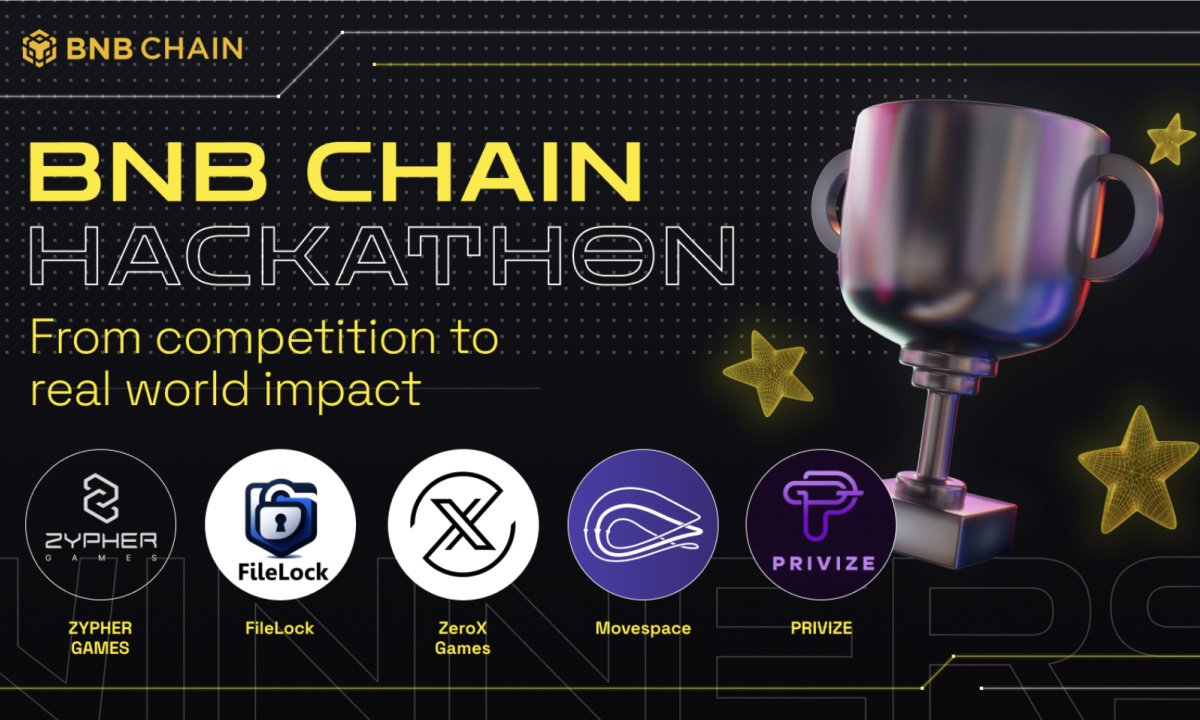 DUBAI, UAE, November 23rd, 2023, Chainwire
BNB Chain, the community-driven blockchain ecosystem that includes the world's largest smart contract blockchain, is highlighting the compelling growth stories of the projects that emerge from its project development program, starting with its hackathons. This comes in the wake of BNB Chain's Istanbul Hackathon, which saw the emergence of a number of strong projects.
The focus of the bear market is building quality Web3 projects – this is a time for developers to concentrate on identifying what real use cases need solving. However, quarterly funding for Web3 startups has dropped by approximately 84% this year. Against this backdrop, thousands of founders have looked to alternate ways to develop their projects to the point of launch readiness.
By providing constant guidance, in addition to routinely incentivising innovation with its global hackathons, BNB Chain mentors these projects through the various stages of their development journeys as they strive to realize the immense potential of Web3. 
Below are the steps that projects can expect to partner with BNB Chain on as they work to realize their vision:
Ideate and develop a killer idea at a BNB Chain hackathon
Win a reward at the hackathon that allows for initial development
Develop further with constant guidance from BNB Chain
Get introduced to incubators who can supercharge your project
Launch your project on-chain 
BNB Chain Hackathon winners also receive referral codes to apply to the Most Valuable Builder (MVB) to potentially increase their funding. The program – run by BNB Chain and Binance Labs – helps projects develop and grow through mentorship, funding and network support*.
BNB Chain's recent Istanbul Hackathon saw a number of exciting projects start on this journey, with a number of the winners sharing how they plan to utilize their winnings to advance their projects. 
MoveSpace, an on-chain data labeling and marketplace powered by a vector database, is addressing the data transparency issue in AI training to incentivise human interactions with data with BNB Greenfield. Using the funds they won at the BNB Chain Hackathon, they are further refining their concept – making data tradable as a regular commodity or asset – to make data ownership meaningful, setting them up for success at their first round of fundraising.
Another winning project exemplifying the practical applications of blockchain technology is ZeroX, a Web3 Gaming platform with a core mission of onboarding users to Web3 through gaming. Offering SDK and API services for traditional game development, they are lowering the barriers for traditional game developers and gamers to enter Web3. They will allocate the funds they won at the Istanbul hackathon to accelerate their growth and incorporate BNB Greenfield into their product, putting them in a leading position for their first funding round and upcoming public product launch. 
Learn more about all of the winning projects, their experiences of BNB Chain Hackathon Istanbul and how it is accelerating their growth here.
Tomasz Wojewoda, Head of Business Development at BNB Chain, said: "The quality of the projects that emerged from the BNB Chain Istanbul Hackathon was truly remarkable. It has been great to see their Web3 spirit on full display and to see how they are leveraging opBNB and BNB Greenfield to accelerate their development. Myself and the BNB Chain team look forward to being by the developers' sides and providing guidance as they continue to build towards realizing their vision."
*Disclaimer: There is no guarantee that projects will be accepted to the MVB program.  
About BNB Chain
BNB Chain is a community-driven ecosystem with multiple decentralized blockchains, powered by BNB. It consists of BNB Beacon Chain, its staking and governance layer, BNB Smart Chain (BSC), which is EVM compatible and facilitates a multi-chain ecosystem with its Layer-2 solutions including opBNB, and BNB Greenfield, its decentralized data storage network. 
The BNB Chain ecosystem has the world's largest smart contract blockchain (BSC) by daily active users and has processed 3 billion transactions to date from 232 Million unique addresses. This makes it the largest layer 1 blockchain globally and brings developers massive user access with ultra-low gas fees, higher transactions per second and has experienced zero crashes since its inception. The ecosystem has more than 1,500 estimated active dApps at any given time across multiple categories such as DeFi, Metaverse, Blockchain Gaming, SocialFi, NFT, Infrastructure, and more. There are numerous programs available to support the Web3 ecosystem including the Gas Grant, Builder Grant, Kickstart, Most Valuable Builder (MVB) and AvengerDAO.
Contact
Jack S
[email protected]

Read Also: BNB Chain Sees 1-year Transaction High; Demonstrates Network Reliability After BSC Surge
Disclaimer: The information provided in this article is for informational purposes only and should not be construed as financial or investment advice. Cryptocurrency investments are subject to market risks, and individuals should seek professional advice before making any investment decisions.