Swiss data and analytics service Nuant prepares for the Q4 launch of the first unified platform for digital asset data, analytics & portfolio intelligence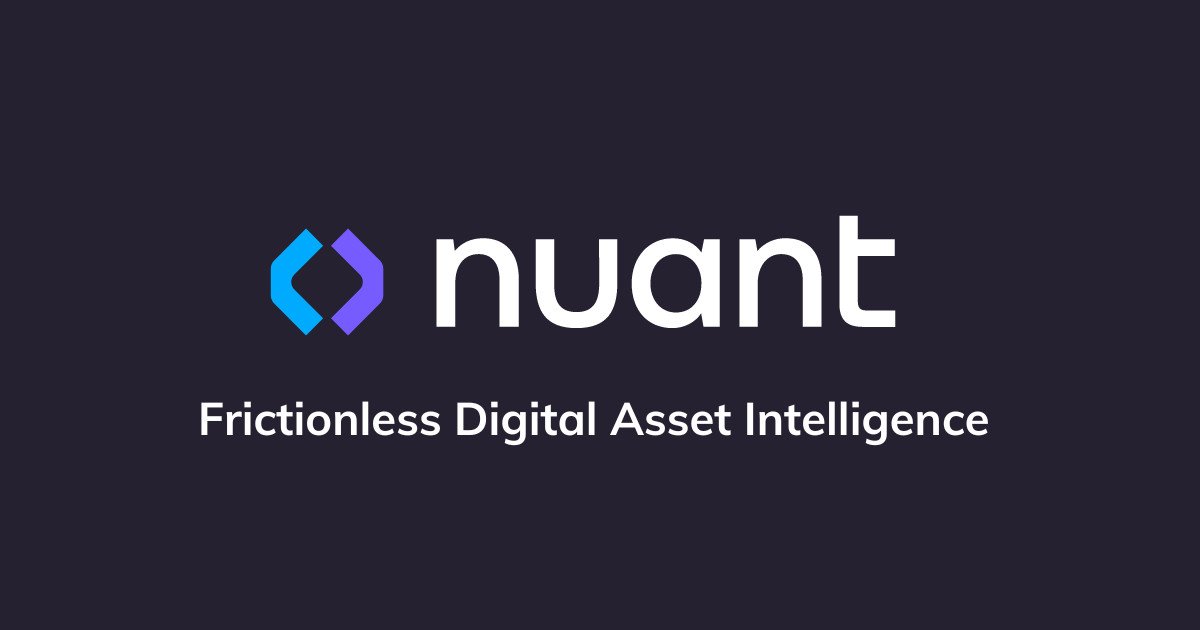 Zug, Switzerland, 5th October, 2022, Chainwire
Swiss-based digital asset data and analytics Fintech, Nuant, is launching a platform that solves a critical industry-wide portfolio management problem for institutional funds invested in digital assets: namely data fragmentation from exchange accounts, on-chain wallets, custodial wallets, on-chain data and market data by providing a single unified hub to manage, monitor and make accurate data-driven investment decisions for digital asset portfolios. For the first time, funds will now have access to accurate on-chain and market data, metrics, analytics and compliance tools for all current holdings as well as potential new assets into a portfolio, in one place, in real-time.
The new service, which is targeted at digital asset portfolio managers, analysts, researchers and data scientists, will provide a single dashboard and tools for portfolio management, analytics, research, and compliance. Through seamless integration of cryptocurrency wallets, custody solutions and exchange accounts married to integrated on-chain and market data, Nuant will allow users to gain a comprehensive overview of their entire digital asset portfolio, regardless of where assets are managed and stored.
Founded in the Swiss Crypto Valley in March 2021 by a leadership team that spans the finance, technology, digital asset, and quantitative research sectors, Nuant has developed a number of proprietary capabilities specifically tailored to digital asset portfolio analytics. These include its own on-chain data and insights service, providing curated insights for decision support, as well as a data query engine to rapidly interrogate and analyze on-chain data in addition to dedicated tools to examine specific wallets or tokens for compliance or risk management purposes.
In addition, Nuant has developed its own domain-specific language, Nuant Query Language (NQL), which significantly reduces the time and code needed to execute custom queries and calls, allowing clients to rapidly build, prototype, backtest, stress test, and deploy their own proprietary analytics and strategies to find that desired alpha. These proprietary technologies along with Nuant's own on-chain data service are combined with off-chain market data from leading providers to offer 360-degree visibility of the digital asset market.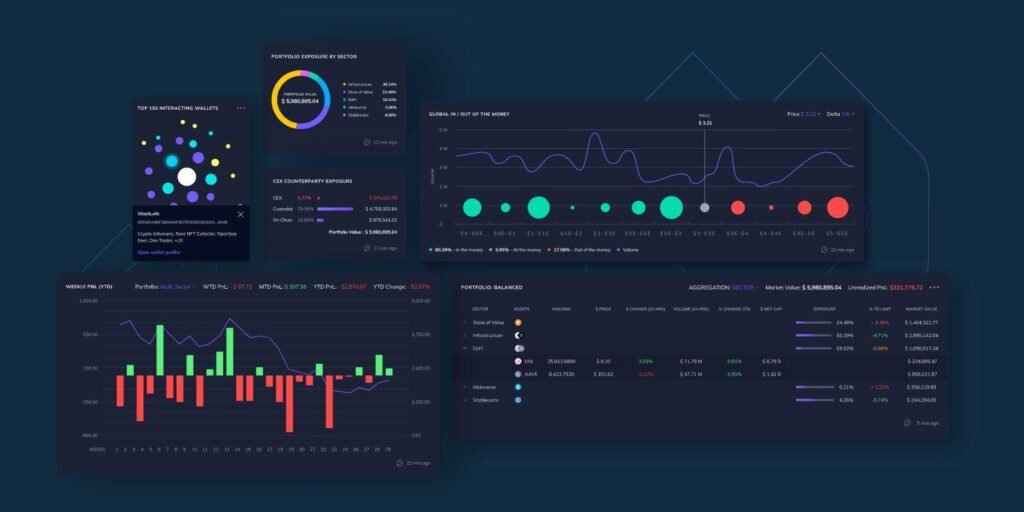 "Successful investment management starts with accurately understanding the market, its risks and opportunities, which is where accurate data and intelligence play a crucial role. And unlike the traditional markets, the digital asset market has some very unique characteristics that require a very specialized lens to fully understand them. For example, the vast amount of data that is required to generate actionable alpha is very challenging to extract, process and leverage", Nuant's co-founder & CEO Rachid Ajaja explained. "Nuant offers the complete range of data, metrics, analytics, insights, and applications truly needed to identify risks and market opportunities".
Nuant's Chief Revenue Officer Stuart Petersen added: "For far too long, institutional professionals in the cryptocurrency space have been forced to rely on a patchwork of disparate platforms, data services, self-managed connectivity to their accounts and wallets, their own Excel sheets, formulas and analytics to gain even the most basic understanding of the market value of a portfolio. Most funds have not even begun to think about the additional data, analytics and tools required to actively manage portfolios and gain those valuable insights that highlight risk and uncover opportunities in an operationally robust and cost-efficient manner. Nuant offers that unified platform to assess the risk and performance of all existing holdings, and gain real-time actionable intelligence to drive future decisions."
Nuant expects to onboard the first customers onto its SaaS platform towards the end of 2022.
About Nuant
Nuant is an integrated platform for portfolio management, analytics, and due diligence of crypto assets. Through seamless integration with cryptocurrency wallets, custody solutions, and exchange accounts, Nuant provides portfolio managers, researchers and analysts a comprehensive overview of their entire portfolio in one place, in real-time. A clean and intuitive UI provides access to a wide range of customizable metrics, analytics and charts derived from both on-chain and market sources. In addition, Nuant greatly simplifies the process and client experience of making custom queries as well as building, backtesting and deploying custom analytics through its proprietary querying & scripting language.
Contact
Head of Marketing
Disclaimer: The information provided in this article is for informational purposes only and should not be construed as financial or investment advice. Cryptocurrency investments are subject to market risks, and individuals should seek professional advice before making any investment decisions.
Mining Contracts From $10: How To Invest And Earn Passive Income With Mining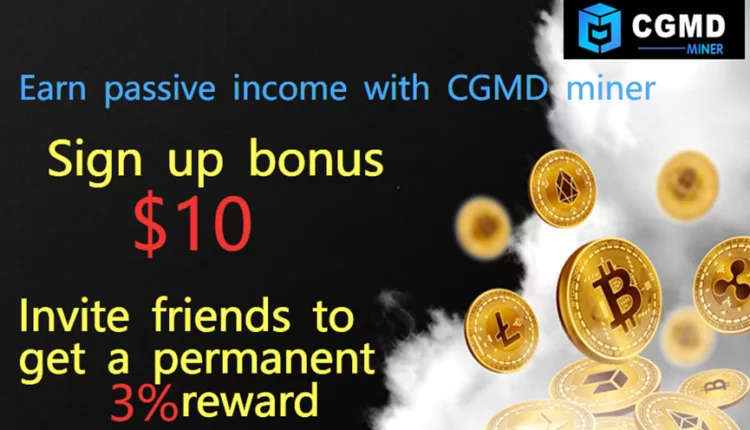 As more players enter the cryptocurrency market, mining becomes more complex and requires more computing power. As a result, many people who previously used their own equipment for cryptocurrency mining now find it unsustainable: high electricity bills and wear and tear on the equipment. Therefore, cloud mining is becoming an increasingly attractive option.
In the partner material, we go into more detail about its features and how it will help increase passive income.
What is cloud mining
Cloud mining is a mechanism that uses leased cloud computing power to mine cryptocurrencies such as Bitcoin. Hardware setup and startup, no software installation required.
Cloud mining companies make mining even more affordable by allowing you to open an account and participate in cryptocurrency mining remotely at rock-bottom prices. Since mining takes place in the cloud, there are fewer issues with equipment maintenance or direct electricity costs.
How to start cloud mining
Here are the basic steps you need to take before getting started.
Step 1: Choose a Cloud Mining Provider
CGMD Miner is a popular and powerful cryptocurrency mining platform and an excellent resource for passive income. CGMD Miner is a free Bitcoin mining program that allows you to passively earn Bitcoins without any strings attached, regardless of technical knowledge or financial resources. Once $12 worth of Bitcoins are mined, they can be transferred to your account and traded. Any profits are yours and you can withdraw them to your personal wallet.
Platform advantages:
Get $10 immediately after registration;
High levels of profitability and daily payout;
No additional services or administrative fees required;
Other currencies can be generated;
The company's Partner Program allows you to invite friends and earn up to $3,000 in referral bonuses;
McAfee security? Cloudflare® security protection;
24/7 technical support.
Step 2. Register an account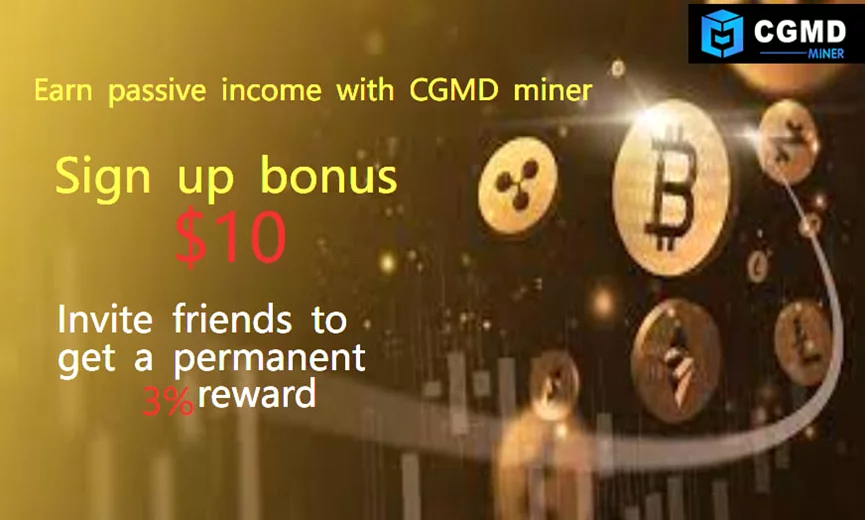 Go to the provider of your choice and sign up to create a new account.
CGMD Miner offers a simple registration process: all you need to do is enter your email address. After signing up, you can start mining Bitcoin immediately.
Step 3. Purchase a Mining Contract
Miner CGMD offers a variety of mining contract options: packages ranging from US$100 to US$5,000, each package has its own return on investment and a certain contract validity period. Right now:
The day after the contract is purchased, the revenue starts flowing in. When $100 is reached, the money can be withdrawn to a crypto wallet or continue to purchase other contracts.
Step 4: Earn passive income
Cloud mining is a great way to increase your passive income. Cryptocurrency capital can be grown via "autopilot" mode with minimal time outlay – less than any type of active trading. Passive income is the goal of every investor and trader, and with CGMD miners, achieving it is easier than ever.
CGMD Partner Program
Miner CGMD also offers an affiliate program, a platform that allows you to earn money by recommending the site to others. You can make money even without investing. A fixed one-time bonus of up to $3,000 will be charged for inviting positive referrals.
For more information about CGMD mining machines, please visit the official website https://365miner.com/
Read Also: OKX Achieves SOC 2 Type II Certification, Demonstrating its Industry-Leading User Safety, Security and Compliance Standards
Disclaimer: The information provided in this article is for informational purposes only and should not be construed as financial or investment advice. Cryptocurrency investments are subject to market risks, and individuals should seek professional advice before making any investment decisions.