Thales Announces the Launch of Its New Referral Program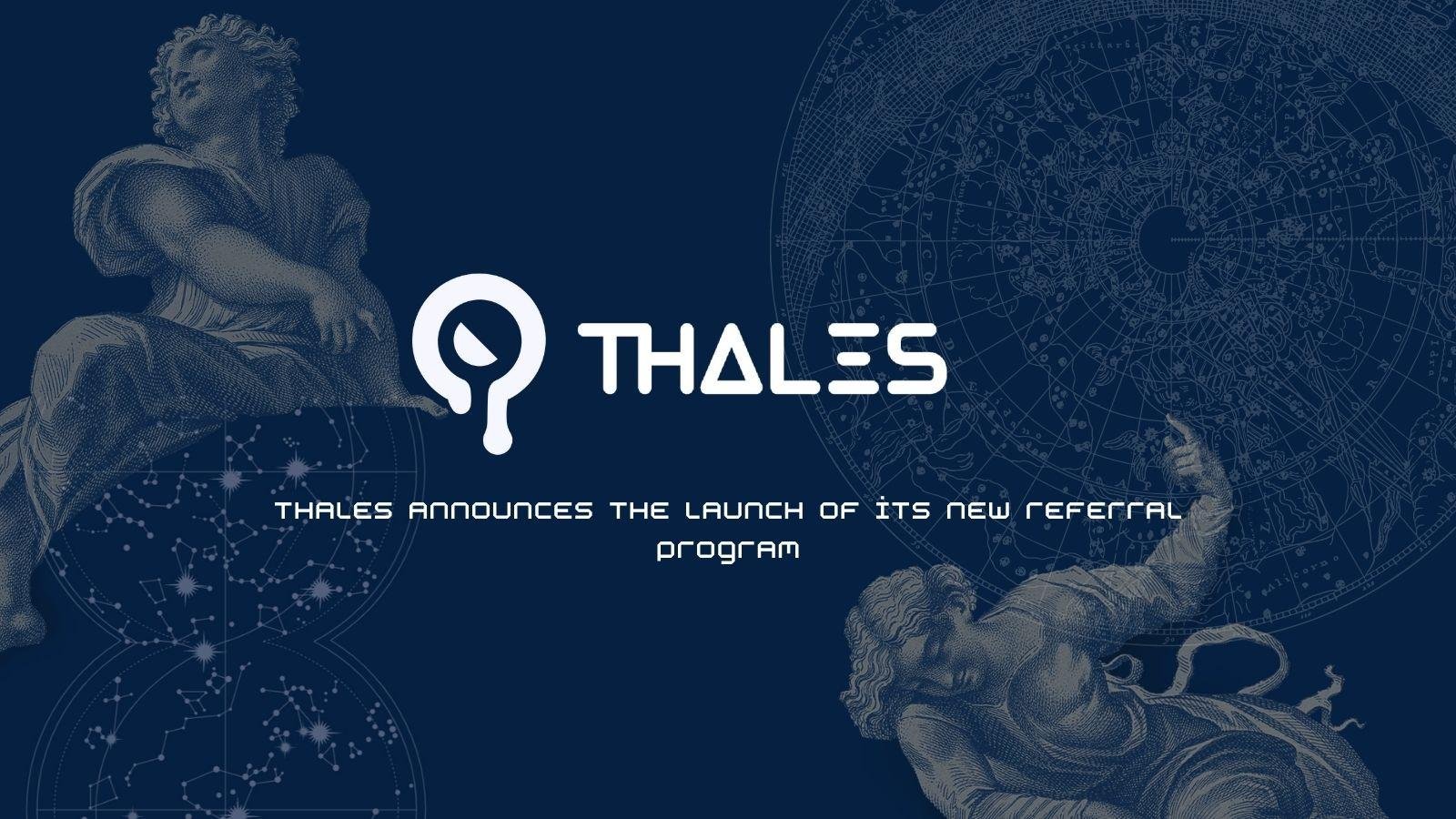 Madrid, Spain, 7th June, 2022, Chainwire
Thales announces the launch of its new referral program

Thales, an innovative DeFi protocol dedicated to parimutuel markets, has announced the launch of its affiliate referral campaign.
The affiliate program will create on-chain incentives to gather new users, allowing them to earn by generating a referral link and sharing it with friends, traders, and potential buyers. The program is an excellent opportunity to benefit from others' trading volume while helping Thales expand its ecosystem with novel parimutuel markets, increased volume, and brand exposure.


Referral Program Details
By sharing their referral link, users will receive an equivalent of 50% of the trading fee (1% of total volume) from each trade the new user they onboarded executes.
Funds generated through the referral program are automatically deposited in users' wallets in the form of sUSD, the stablecoin of the Synthetix ecosystem.
As a way to kick off the referral program and further gamify its protocol, Thales is distributing a total of 20,000 $OP tokens among participants who make it to the top of the affiliate leaderboard. Thus, on top of a percentage of trades made by referrals, users will also have the chance to gain exposure to the $OP token.
About Thales
Named after a historical Greek philosopher, Thales is a multi-chain protocol that allows the creation of simple positioning markets. It was created originally on Ethereum and now operates on the Optimism and Polygon blockchains.
The team behind Thales aims to explore a new frontier in on-chain derivatives, allowing users to create their own parimutuel market where others can take positions through its unique and capital-efficient architecture, Thales offers probability-based pricing with fully collateralized positions so the exact profit/loss of any position is calculated beforehand.
All markets are fully collateralized and backed by a liquidity pool, which guarantees payouts for winners and staking opportunities for THALES holders with added OP token incentives as well. Thales also leverages Chainlink oracle services to provide the most accurate and reliable information to its markets.
Looking ahead
Thales Automatic Market Makers (AMM) have gathered over $2 million in volume since its launch. While the exotic markets are all about taking positions based on real-life outcomes, the Thales markets allow all-or-nothing tokenized UP, DOWN, IN, and OUT positions to be taken based on crypto assets' performance.
The Thales DAO is now looking to grow its reach with an aggressive marketing campaign, a new affiliate program, and the addition of a new market fully dedicated to sports (Overtime Sports Markets).
For more information about the potential of its non-custodial parimutuel markets, check the official documentation and their socials on Discord, Telegram, and Twitter.
For more information visit the Thales Walkthrough video.
Contacts
CEO
Disclaimer: The information provided in this article is for informational purposes only and should not be construed as financial or investment advice. Cryptocurrency investments are subject to market risks, and individuals should seek professional advice before making any investment decisions.
Mining Contracts From $10: How To Invest And Earn Passive Income With Mining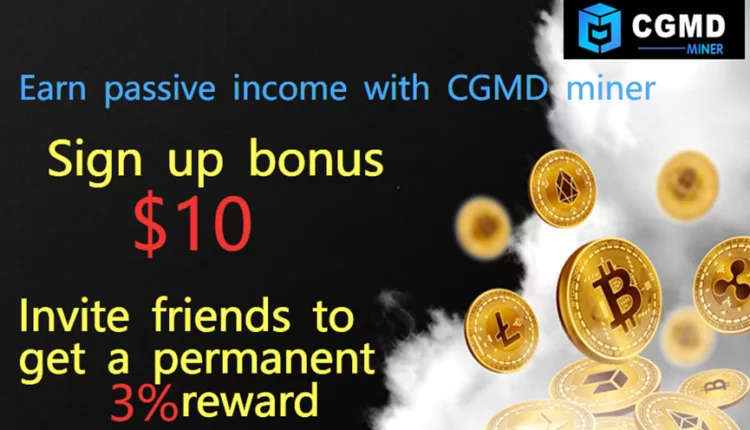 As more players enter the cryptocurrency market, mining becomes more complex and requires more computing power. As a result, many people who previously used their own equipment for cryptocurrency mining now find it unsustainable: high electricity bills and wear and tear on the equipment. Therefore, cloud mining is becoming an increasingly attractive option.
In the partner material, we go into more detail about its features and how it will help increase passive income.
What is cloud mining
Cloud mining is a mechanism that uses leased cloud computing power to mine cryptocurrencies such as Bitcoin. Hardware setup and startup, no software installation required.
Cloud mining companies make mining even more affordable by allowing you to open an account and participate in cryptocurrency mining remotely at rock-bottom prices. Since mining takes place in the cloud, there are fewer issues with equipment maintenance or direct electricity costs.
How to start cloud mining
Here are the basic steps you need to take before getting started.
Step 1: Choose a Cloud Mining Provider
CGMD Miner is a popular and powerful cryptocurrency mining platform and an excellent resource for passive income. CGMD Miner is a free Bitcoin mining program that allows you to passively earn Bitcoins without any strings attached, regardless of technical knowledge or financial resources. Once $12 worth of Bitcoins are mined, they can be transferred to your account and traded. Any profits are yours and you can withdraw them to your personal wallet.
Platform advantages:
Get $10 immediately after registration;
High levels of profitability and daily payout;
No additional services or administrative fees required;
Other currencies can be generated;
The company's Partner Program allows you to invite friends and earn up to $3,000 in referral bonuses;
McAfee security? Cloudflare® security protection;
24/7 technical support.
Step 2. Register an account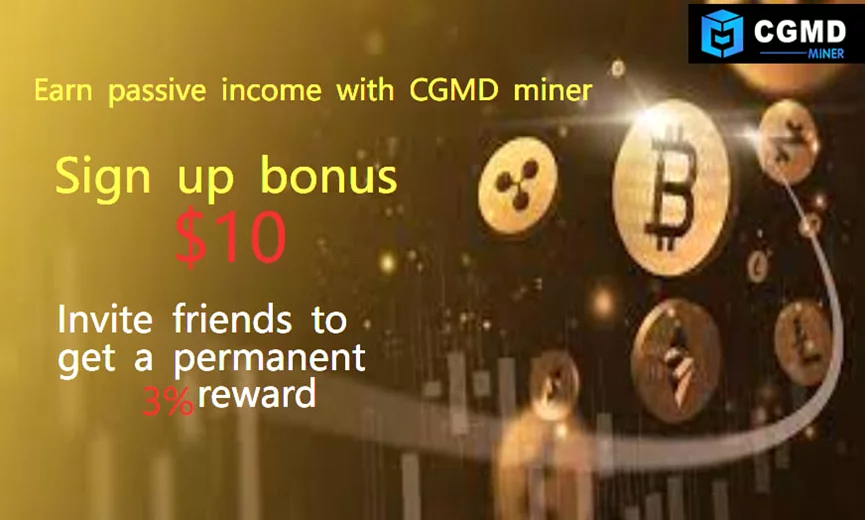 Go to the provider of your choice and sign up to create a new account.
CGMD Miner offers a simple registration process: all you need to do is enter your email address. After signing up, you can start mining Bitcoin immediately.
Step 3. Purchase a Mining Contract
Miner CGMD offers a variety of mining contract options: packages ranging from US$100 to US$5,000, each package has its own return on investment and a certain contract validity period. Right now:
The day after the contract is purchased, the revenue starts flowing in. When $100 is reached, the money can be withdrawn to a crypto wallet or continue to purchase other contracts.
Step 4: Earn passive income
Cloud mining is a great way to increase your passive income. Cryptocurrency capital can be grown via "autopilot" mode with minimal time outlay – less than any type of active trading. Passive income is the goal of every investor and trader, and with CGMD miners, achieving it is easier than ever.
CGMD Partner Program
Miner CGMD also offers an affiliate program, a platform that allows you to earn money by recommending the site to others. You can make money even without investing. A fixed one-time bonus of up to $3,000 will be charged for inviting positive referrals.
For more information about CGMD mining machines, please visit the official website https://365miner.com/
Read Also: OKX Achieves SOC 2 Type II Certification, Demonstrating its Industry-Leading User Safety, Security and Compliance Standards
Disclaimer: The information provided in this article is for informational purposes only and should not be construed as financial or investment advice. Cryptocurrency investments are subject to market risks, and individuals should seek professional advice before making any investment decisions.