Poloniex adds cross-margin mode for spot trading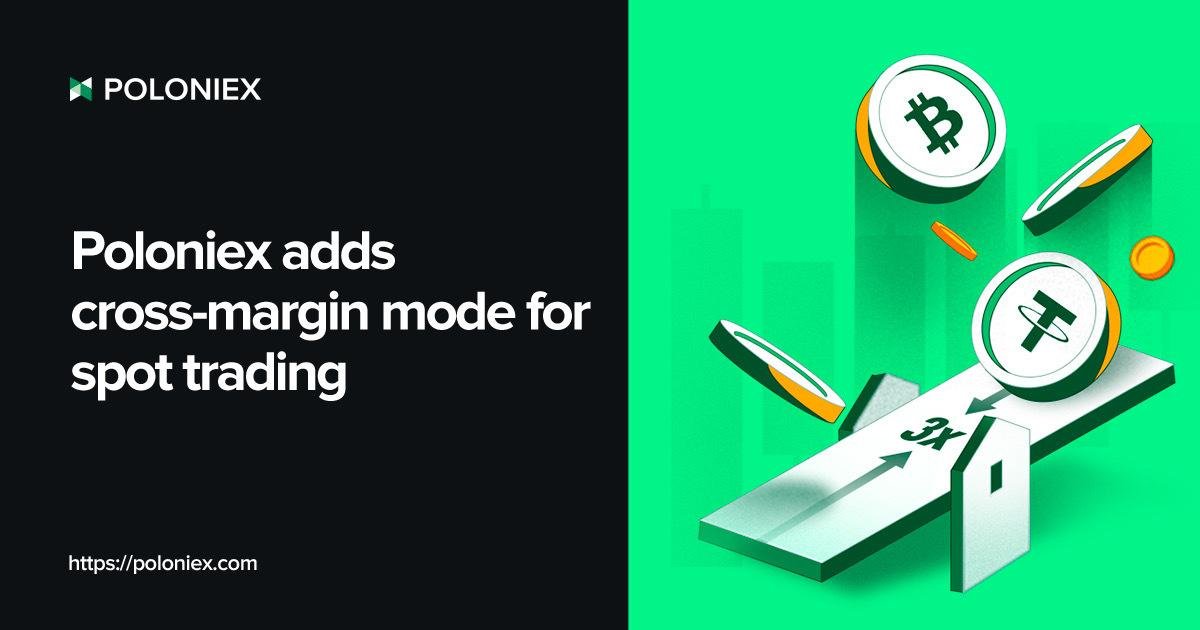 Panama City, Panama City, 12th December, 2022, Chainwire
Poloniex, a global crypto exchange, is thrilled to announce the launch of its cross margin mode for spot trading to further enhance users' trading experience in an ever changing market. 
With up to 3x leverage, Poloniex's cross-margin mode enhances users' capital and financing flexibility. It features a unified spot and cross-margin account so that users don't need to transfer assets to a different margin account. This makes the operation more convenient. 
Poloniex's cross-margin mode also comes with auto-borrow and repay functions. After the user enables "auto-borrow" on the trade page, they can initiate a loan when trading, transferring, or withdrawing tokens. The user's maximum borrowable amount will be determined according to the overall margin level of the user's spot account.
As for the "repay" capability, every time a user trades, transfers or deposits a token, the asset will be used to automatically repay the loan while avoiding additional interest burdens on the user.
With a convenient user interface and low-interest rates, Poloniex is enhancing the users' overall trading experience with the possibility of increased gains. For example, users can search and switch to different trading pairs with a clearer and more optimized interface on top of a new onboarding user guide and asset information. Currently, Poloniex supports USDT, BTC, ETH, and TRX as margin assets, and will support more in the future. 
To celebrate the debut of its cross-margin mode, Poloniex is running a campaign to reward its users. Additionally, more exciting products are also in the pipeline for 2023. 
For more information, please visit https://support.poloniex.com/hc/en-us/articles/10750566481047
About Poloniex
Founded in January 2014, Poloniex is a global cryptocurrency exchange that supports spot and futures trading. With a world-class trading platform, Poloniex received funding from H.E. Justin Sun, Founder of TRON, in 2019 to widen its international customer base. Poloniex now provides services in over 100 countries and regions, in various languages. In 2022, Poloniex launched its new trading system with higher speed, stability, and usability. Joining hands with TRON, which is the national blockchain for the Commonwealth of Dominica with TRX granted statutory status as legal tender in the country, Poloniex will continue on its mission to connect users to the power of cryptocurrency.
Website | Twitter | LinkedIn | Telegram | Facebook  | Instagram
Contact
Sana Fong
[email protected]

Disclaimer: The information provided in this article is for informational purposes only and should not be construed as financial or investment advice. Cryptocurrency investments are subject to market risks, and individuals should seek professional advice before making any investment decisions.
Mining Contracts From $10: How To Invest And Earn Passive Income With Mining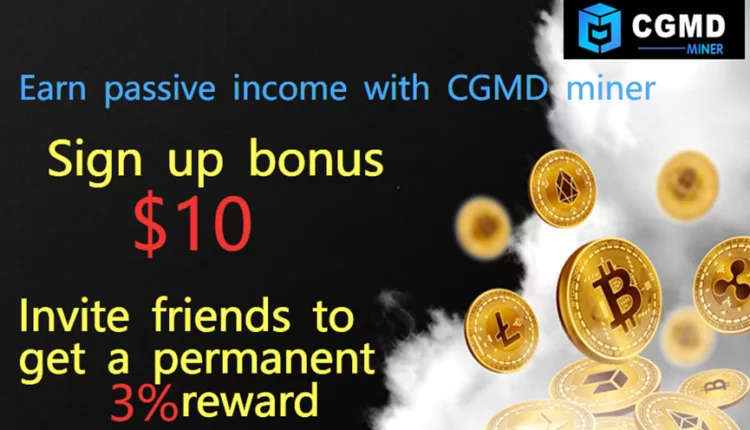 As more players enter the cryptocurrency market, mining becomes more complex and requires more computing power. As a result, many people who previously used their own equipment for cryptocurrency mining now find it unsustainable: high electricity bills and wear and tear on the equipment. Therefore, cloud mining is becoming an increasingly attractive option.
In the partner material, we go into more detail about its features and how it will help increase passive income.
What is cloud mining
Cloud mining is a mechanism that uses leased cloud computing power to mine cryptocurrencies such as Bitcoin. Hardware setup and startup, no software installation required.
Cloud mining companies make mining even more affordable by allowing you to open an account and participate in cryptocurrency mining remotely at rock-bottom prices. Since mining takes place in the cloud, there are fewer issues with equipment maintenance or direct electricity costs.
How to start cloud mining
Here are the basic steps you need to take before getting started.
Step 1: Choose a Cloud Mining Provider
CGMD Miner is a popular and powerful cryptocurrency mining platform and an excellent resource for passive income. CGMD Miner is a free Bitcoin mining program that allows you to passively earn Bitcoins without any strings attached, regardless of technical knowledge or financial resources. Once $12 worth of Bitcoins are mined, they can be transferred to your account and traded. Any profits are yours and you can withdraw them to your personal wallet.
Platform advantages:
Get $10 immediately after registration;
High levels of profitability and daily payout;
No additional services or administrative fees required;
Other currencies can be generated;
The company's Partner Program allows you to invite friends and earn up to $3,000 in referral bonuses;
McAfee security? Cloudflare® security protection;
24/7 technical support.
Step 2. Register an account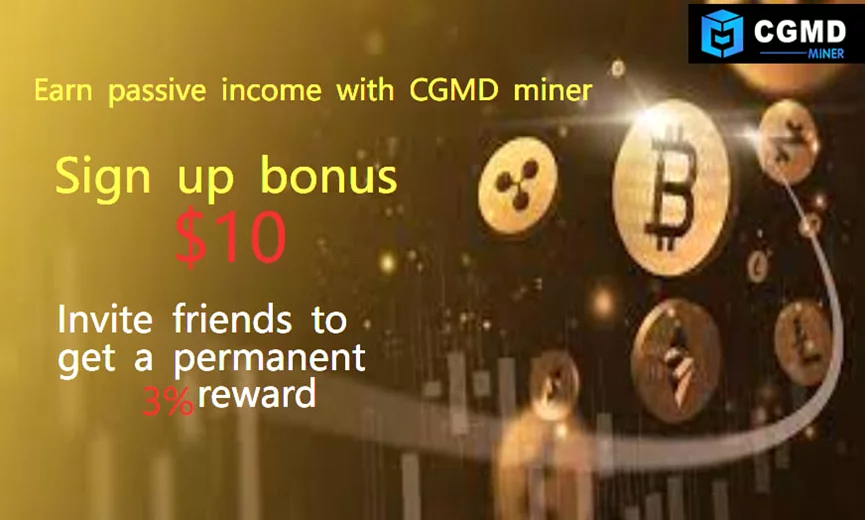 Go to the provider of your choice and sign up to create a new account.
CGMD Miner offers a simple registration process: all you need to do is enter your email address. After signing up, you can start mining Bitcoin immediately.
Step 3. Purchase a Mining Contract
Miner CGMD offers a variety of mining contract options: packages ranging from US$100 to US$5,000, each package has its own return on investment and a certain contract validity period. Right now:
The day after the contract is purchased, the revenue starts flowing in. When $100 is reached, the money can be withdrawn to a crypto wallet or continue to purchase other contracts.
Step 4: Earn passive income
Cloud mining is a great way to increase your passive income. Cryptocurrency capital can be grown via "autopilot" mode with minimal time outlay – less than any type of active trading. Passive income is the goal of every investor and trader, and with CGMD miners, achieving it is easier than ever.
CGMD Partner Program
Miner CGMD also offers an affiliate program, a platform that allows you to earn money by recommending the site to others. You can make money even without investing. A fixed one-time bonus of up to $3,000 will be charged for inviting positive referrals.
For more information about CGMD mining machines, please visit the official website https://365miner.com/
Read Also: OKX Achieves SOC 2 Type II Certification, Demonstrating its Industry-Leading User Safety, Security and Compliance Standards
Disclaimer: The information provided in this article is for informational purposes only and should not be construed as financial or investment advice. Cryptocurrency investments are subject to market risks, and individuals should seek professional advice before making any investment decisions.