APENFT Auctions Five Vanity Fair NFT Covers
Singapore, Singapore, 11th June, 2022, Chainwire
 APENFT and Valuart completed the first Vanity Fair NFT Cover Drops on Monday, May 23. The collection, consisting of four 1:1 edition NFTs and a 1000-mint run of the original "H.E. Justin Sun 2022" edition NFT, marks a true crossover collaboration between art, entertainment, and the crypto industry.
Four of the NFTs were auctioned on the APENFT marketplace from Monday, May 23, to Monday, May 30 at 7 p.m. GMT. Starting bid was set at 1500 TRX, roughly $120. 
At the conclusion of the auction, all four NFTs were won at incredible hammer prices: 
Say The Words That I Can't Say: 310,000 WTRX ($25,420)
The Plum Thief: 310,000 WTRX ($25,420)
Ludwig: 322,888 WTRX ($26,476)
Ratty Portrait: 299,999 WTRX ($24,599)
The fifth cover featuring Exclusive Edition H.E. Justin Sun was for sale at a fixed price of 999 TRX, roughly $80. The NFT, entitled "H.E. Justin Sun 2022," was created by Valuart to celebrate the entrepreneur and his exceptional year. The artwork, composed of a series of stylized portraits of H.E. Justin Sun, is an ideal symbol of the crypto movement revolutionizing the art and entertainment world. The community-oriented NFT will be available in a larger collection and is bound to become a valuable collectible for the APENFT ecosystem.
As of Tuesday, May 31, the H.E. Justin Sun Exclusive NFT cover is still available for purchase. Vanity Fair NFT Cover dedicated to H.E. Justin Sun, 2021.
The four captivating covers, Say The Words That I Can't Say, The Plum Thief, Ludwig, and Ratty Portrait, are designed by four talented artists, meticulously selected by Valuart and Vanity Fair for this pioneering initiative to Support Digital Art. 
Valuart carefully curated this collection to find artists that genuinely represented the growing crypto-art movement and collaborated closely with Vanity Fair to provide the artworks a well-deserved presence on the iconic digital Cover of the Magazine. 
Say The Words That I Can't Say was created by The Isolationist and represents the value of art to express what cannot be put into words. The Plum Thief, envisioned by Coup of Grace, is a visual journey of an ordinary yet absurd scene in a coffee shop. Ludwig, an artwork by Von Doyl, is an experimentation process with 30 different deep neural networks, reimagining the famous original portrait of Beethoven, aiming to capture the essence of his music. Ratty Portrait, imagined by Matteo Ingrao, is a unique examination of reinventing the physical characteristics of the human body to achieve one's self-acceptance.
"Valuart x Vanity Fair – You Say The Words That I Can't Say" & "Valuart x Vanity Fair – The Plum Thief"
"Valuart x Vanity Fair – Ratty Portrait" & "Valuart x Vanity Fair – Ludwig"
APENFT offers a range of benefits to final bidders of the four 1:1 NFTs, including:
(1) Vanity Fair physical magazine and annual subscription; 
(2) A regular edition of the Genesis NFT badge from APENFT; 
(3) TRX token airdrops; 
(4) Invitation to all APENFT's offline VIP events and exhibitions in 2022.
About APENFT
Officially registered in Singapore on March 29, 2021, APENFT is backed by the underlying technology of the TRON blockchain, with additional support from the world's largest distributed storage system BitTorrent File System (BTFS). At the core of our mission, APENFT aims to facilitate the creator economy while catalyzing both financial and cultural inclusion in the metaverse. Our vision is to integrate both the virtual and the real worlds seamlessly. APENFT Foundation is the world's first NFT art foundation that realizes crossover purchases. We aim to bridge conversations between stakeholders in the traditional art world and the digital art community emerging around NFTs, promote inclusiveness and diversity, broaden our multimedia audience, and increase all members' engagement. In the future, our collection will be made available to the entire community through a series of curated online exhibitions in the metaverse.
Contacts
Disclaimer: The information provided in this article is for informational purposes only and should not be construed as financial or investment advice. Cryptocurrency investments are subject to market risks, and individuals should seek professional advice before making any investment decisions.
Mining Contracts From $10: How To Invest And Earn Passive Income With Mining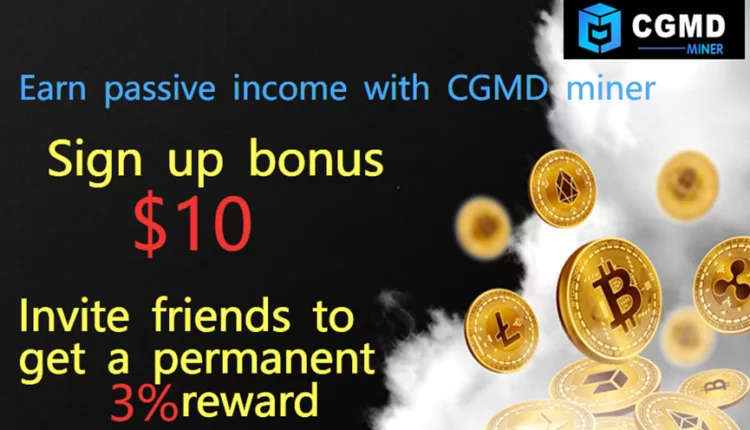 As more players enter the cryptocurrency market, mining becomes more complex and requires more computing power. As a result, many people who previously used their own equipment for cryptocurrency mining now find it unsustainable: high electricity bills and wear and tear on the equipment. Therefore, cloud mining is becoming an increasingly attractive option.
In the partner material, we go into more detail about its features and how it will help increase passive income.
What is cloud mining
Cloud mining is a mechanism that uses leased cloud computing power to mine cryptocurrencies such as Bitcoin. Hardware setup and startup, no software installation required.
Cloud mining companies make mining even more affordable by allowing you to open an account and participate in cryptocurrency mining remotely at rock-bottom prices. Since mining takes place in the cloud, there are fewer issues with equipment maintenance or direct electricity costs.
How to start cloud mining
Here are the basic steps you need to take before getting started.
Step 1: Choose a Cloud Mining Provider
CGMD Miner is a popular and powerful cryptocurrency mining platform and an excellent resource for passive income. CGMD Miner is a free Bitcoin mining program that allows you to passively earn Bitcoins without any strings attached, regardless of technical knowledge or financial resources. Once $12 worth of Bitcoins are mined, they can be transferred to your account and traded. Any profits are yours and you can withdraw them to your personal wallet.
Platform advantages:
Get $10 immediately after registration;
High levels of profitability and daily payout;
No additional services or administrative fees required;
Other currencies can be generated;
The company's Partner Program allows you to invite friends and earn up to $3,000 in referral bonuses;
McAfee security? Cloudflare® security protection;
24/7 technical support.
Step 2. Register an account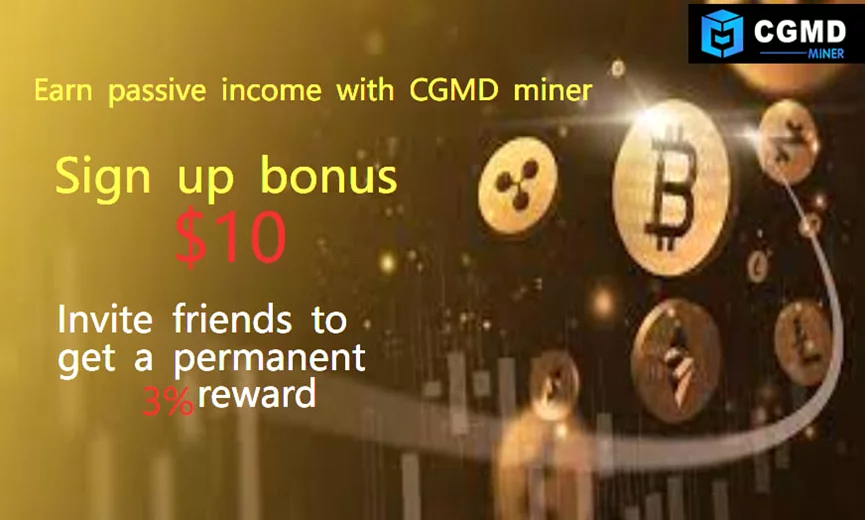 Go to the provider of your choice and sign up to create a new account.
CGMD Miner offers a simple registration process: all you need to do is enter your email address. After signing up, you can start mining Bitcoin immediately.
Step 3. Purchase a Mining Contract
Miner CGMD offers a variety of mining contract options: packages ranging from US$100 to US$5,000, each package has its own return on investment and a certain contract validity period. Right now:
The day after the contract is purchased, the revenue starts flowing in. When $100 is reached, the money can be withdrawn to a crypto wallet or continue to purchase other contracts.
Step 4: Earn passive income
Cloud mining is a great way to increase your passive income. Cryptocurrency capital can be grown via "autopilot" mode with minimal time outlay – less than any type of active trading. Passive income is the goal of every investor and trader, and with CGMD miners, achieving it is easier than ever.
CGMD Partner Program
Miner CGMD also offers an affiliate program, a platform that allows you to earn money by recommending the site to others. You can make money even without investing. A fixed one-time bonus of up to $3,000 will be charged for inviting positive referrals.
For more information about CGMD mining machines, please visit the official website https://365miner.com/
Read Also: OKX Achieves SOC 2 Type II Certification, Demonstrating its Industry-Leading User Safety, Security and Compliance Standards
Disclaimer: The information provided in this article is for informational purposes only and should not be construed as financial or investment advice. Cryptocurrency investments are subject to market risks, and individuals should seek professional advice before making any investment decisions.