Maison Hennessy Announces The Launch Of Web3 Platform H3nsy
New York, United States, 23rd February, 2023, Chainwire
Following exciting Maison Hennessy Web3 projects last year, including its first NFT-connected bottle and launch of Cafe 11 social club in partnership with Friends with Benefits DAO, Hennessy introduces H3NSY with a new brand mark, website and Twitter handle dedicated to the brand's Web3 ventures and innovative practices. 
Hennessy, the world's leading producer of cognac, has unveiled its latest initative in the Web3 space. The H3NSY eco-system, which features a new brand mark, website, and Twitter handle, reinforces the brand's commitment to Web3 projects, collaborations, and innovations. 
Over the past year, Hennessy has introduced several exciting Web3 projects, including the launch of its first NFT-connected bottle, H8, which saw the bottles sold via Blockbar for $250,000 each, another Blockbar drop with Paradis Gold, as well as the introduction of a cultural NFT social club, Cafe 11, in collaboration with DAO Friends with Benefits (FWB). Through Cafe 11 NFT holders are given access to a program of Hennessy cultural events, with the inaugural event taking place last December in Miami and more programming updates to be released soon. These initiatives have established Hennessy as a strong player in the Web3 space and a driving force for innovation in the industry. 
With the launch of H3NSY, the 250-year-old cognac brand is taking its entrance into the blockchain universe one step further, allowing dedicated focus and communication around its endeavors and providing a hub for its community to learn about and engage with these initatives. 
"For Hennessy." explains Laurent Boillot, CEO of Hennessy, "Web3 extends past NFTs into traceability and other practices that will improve the future of our business. The introduction of H3NSY now allows us to put dedicated focus and communication around these endeavors and gives our community a place to connect with this new part of our business." 
The goal of H3NSY is to serve as a membership platform and hub for creators, cultures and communities, along with future NFT partnerships and Cafe 11 program annnouncements, Web3 bottle drops, and other blockchain innovations that the brand is currently investing in. 
To learn more about H3NSY and the innovative work that Hennessy is doing in the Web3 space, visit the platform at www.h3nsy.com and Twitter handle, @h3nsy.
About Hennessy 
The leader in Cognac, the Maison Hennessy has shone around the world with its exceptional know-how for more than 250 years. Built on founder Richard Hennessy's spirit of conquest, the brand is present in more than 160 countries. Based in the heart of the Charente region, Hennessy is also a steadfast pillar of the regional economy. The Maison's success and longevity are rooted in the excellence of it's cognac, each of which is born of a unique process of transmission of know-how from generation to generation. The first spirits Maison to be certified ISO 14001, Hennessy unites its capacity for innovation and support of all of its partners to protect this exceptional area. As a crown jewel of LVMH Group, Hennessy is a major contributor to French international trade, with 99% of production sold in export, and a worldwide ambassador for the French art de vivre.
PLEASE DRINK RESPONSIBLY.
Contacts
Direcotr
Michael O'Brien
North Six
[email protected]
Web3 Development Director
Danielle Barich
Hennessy
[email protected]

Disclaimer: The information provided in this article is for informational purposes only and should not be construed as financial or investment advice. Cryptocurrency investments are subject to market risks, and individuals should seek professional advice before making any investment decisions.
Mining Contracts From $10: How To Invest And Earn Passive Income With Mining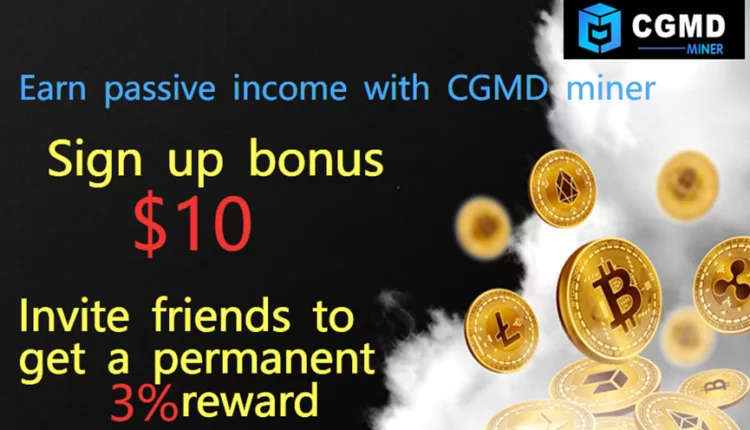 As more players enter the cryptocurrency market, mining becomes more complex and requires more computing power. As a result, many people who previously used their own equipment for cryptocurrency mining now find it unsustainable: high electricity bills and wear and tear on the equipment. Therefore, cloud mining is becoming an increasingly attractive option.
In the partner material, we go into more detail about its features and how it will help increase passive income.
What is cloud mining
Cloud mining is a mechanism that uses leased cloud computing power to mine cryptocurrencies such as Bitcoin. Hardware setup and startup, no software installation required.
Cloud mining companies make mining even more affordable by allowing you to open an account and participate in cryptocurrency mining remotely at rock-bottom prices. Since mining takes place in the cloud, there are fewer issues with equipment maintenance or direct electricity costs.
How to start cloud mining
Here are the basic steps you need to take before getting started.
Step 1: Choose a Cloud Mining Provider
CGMD Miner is a popular and powerful cryptocurrency mining platform and an excellent resource for passive income. CGMD Miner is a free Bitcoin mining program that allows you to passively earn Bitcoins without any strings attached, regardless of technical knowledge or financial resources. Once $12 worth of Bitcoins are mined, they can be transferred to your account and traded. Any profits are yours and you can withdraw them to your personal wallet.
Platform advantages:
Get $10 immediately after registration;
High levels of profitability and daily payout;
No additional services or administrative fees required;
Other currencies can be generated;
The company's Partner Program allows you to invite friends and earn up to $3,000 in referral bonuses;
McAfee security? Cloudflare® security protection;
24/7 technical support.
Step 2. Register an account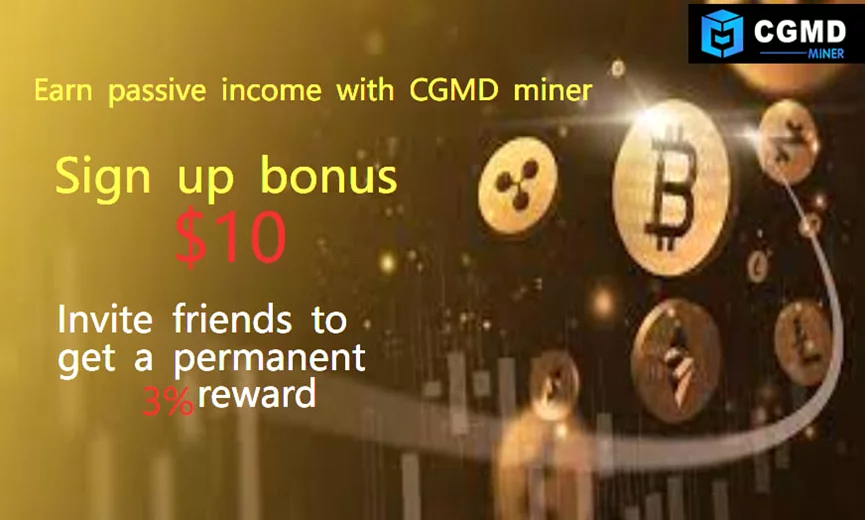 Go to the provider of your choice and sign up to create a new account.
CGMD Miner offers a simple registration process: all you need to do is enter your email address. After signing up, you can start mining Bitcoin immediately.
Step 3. Purchase a Mining Contract
Miner CGMD offers a variety of mining contract options: packages ranging from US$100 to US$5,000, each package has its own return on investment and a certain contract validity period. Right now:
The day after the contract is purchased, the revenue starts flowing in. When $100 is reached, the money can be withdrawn to a crypto wallet or continue to purchase other contracts.
Step 4: Earn passive income
Cloud mining is a great way to increase your passive income. Cryptocurrency capital can be grown via "autopilot" mode with minimal time outlay – less than any type of active trading. Passive income is the goal of every investor and trader, and with CGMD miners, achieving it is easier than ever.
CGMD Partner Program
Miner CGMD also offers an affiliate program, a platform that allows you to earn money by recommending the site to others. You can make money even without investing. A fixed one-time bonus of up to $3,000 will be charged for inviting positive referrals.
For more information about CGMD mining machines, please visit the official website https://365miner.com/
Read Also: OKX Achieves SOC 2 Type II Certification, Demonstrating its Industry-Leading User Safety, Security and Compliance Standards
Disclaimer: The information provided in this article is for informational purposes only and should not be construed as financial or investment advice. Cryptocurrency investments are subject to market risks, and individuals should seek professional advice before making any investment decisions.