Impel Adds Bitcoin to ISO 20022 Financial Messaging on XDC Network
Dallas, Texas, 2nd August, 2022, Chainwire
New Cross-chain Interoperability via WanBridge Provides More Robust Options for Instant Settlement 
Impel is pleased to announce today that bitcoin (BTC) has been added to its ISO 20022 financial messaging API as optional collateral for making payments. This addition enables BTC to be used in the instant settlement process for traditional banking services and other organizations that utilize the new ISO 20022 messaging standard. It offers the opportunity for improved customer experience, increased security, and significant operating cost savings.  
The technology industry's future lies in the broad range of techniques that allow different blockchains to communicate with each other. The transfer of digital assets and data between one blockchain to another is referred to as cross-chain compatibility. Interoperable bridges play a crucial role in providing these robust options for desired digital assets to be used for payment. 
Through its collaboration with DIMO and Wanchain, Impel's userbase can move BTC from its native network to the XDC Network as a wrapped digital asset called "XBTC," referred to as an XRC-20 token. Both DIMO and Wanchain aim to make the blockchain ecosystem completely interoperable, one bridge at a time. "We see this bridge between the Bitcoin and XDC Networks as an important step in creating real-world interoperability in the blockchain ecosystem," said Bhavesh Thakkar, Co-Founder, and CEO at DIMO. 
Wanchain's WanBridge uses an advanced version of the Lock-Mint-Burn-Unlock method to transfer digital assets between blockchains. No intermediaries or relay networks are involved, as assets are transferred directly from the source chain to the destination chain. For example, when moving BTC to the XDC Network, it is locked on the Bitcoin Network by the bridge's nodes before the XBTC is minted on the XDC Network. The $XBTC can then be used as collateral for ISO 20022 payments. 
The bridge, operated by a group of permissionless, decentralized nodes, is required to stake sufficient funds and is elected monthly. Collectively, the nodes use a combination of Secure Multipart Computation (sMPC) and Shamir's Secret Sharing (SSS) to generate signatures, securing these cross-chain assets. This is an approach far more secure than the current multisig standard. Additionally, no single node or entity will have direct access to these wrapped assets, which are secured by a shared pool of digital assets to overcollateralize the cross-chain assets.  
Access the WanBridge here: https://bridge.wanchain.org/#/  
"Impel offers no-brainer solutions via an API for any organization in the world that needs to use the ISO 20022 compliant financial messaging standard," said Troy S. Wood, CEO and Founder of Impel. "Plus, we sweeten the deal with the option of adding collateral to the message's payload for instant settlement."  
Impel's ISO 20022 financial messaging is a standard that is already widely adopted in more than 70 countries, and it is one the United States aims to implement by 2025. Impel's platform offers optional instant settlement using $XDC, the native coin on the XDC Network, XRC-20 tokens, such as $XBTC, and the wrapped stable coin USDC ($XUSDC). 
Impel's service offerings are built and operate on the XDC Network, a Layer 1 blockchain protocol that is a highly optimized, bespoke fork of Ethereum. The network offers significant benefits, such as near-zero gas fees, and it reaches consensus through its delegated proof-of-stake (XDPoS) mechanism, thus using virtually no energy and allowing for fast processing at two second transaction times and over 2,000 transactions per second. The XDC Network provides cross-chain interoperability with its smart contracts. As an Ethereum Virtual Machine (EVM) compatible blockchain, project migrations to the network are seamless. 
Security is important at Impel, and financial transactions are routed through a highly secure API, utilizing a Layer 2 solution that prevents data exposure to unauthorized parties. It was developed by a team with decades of information technology experience in providing secure technology infrastructure for banks and fintechs. 
Impel will not charge implementation, annual membership, or per-usage fees for its financial messaging service. The only cost for banks and financial institutions is the XDC Network's near-zero gas fee to send messages and payments, which is only a fraction of a cent ($0.00001) or less per transaction. Notably, financial transactions can be rolled up into just one message, meaning that multiple messages can be sent in one transaction allowing for customization that meets the demands and desires of the involved parties. 
Impel offers a self-paced ISO 20022 financial messaging demo that allows anyone to create and send transaction requests over the XDC Network's mainnet, with the option to add collateral, such as $XDC. $XBTC, or $XUSDC to the message's payload. The demo is available on Impel's website: https://impel.global. 
About Impel
Impel is a fintech innovator that uses blockchain technology to deliver financial messaging, instant settlement, and a bridge to the R3 Corda platform to future-facing banks and fintechs. Created to provide a cost-effective alternative to legacy solutions like SWIFT and SEPA, Impel's service offerings run on the XDC Network using a decentralized, enterprise-ready hybrid blockchain to securely and quickly send financial messages and payments using $XDC or XRC-20 tokens. Leveraging outstanding security, Impel offers real-time payment settlement, instead of the current 2+ day standard via the central banking system. Impel's financial messaging meets the ISO 20022 standard, with no cost other than the XDC Network's near-zero gas fee to send messages or payments. Utilizing a bridge to the R3 Corda platform, $XDC or XRC-20 tokens move to and from the public Corda Network and can be used as a settlement vehicle inside the Corda ecosystem. Financial institutions can use Impel as a catalyst to strategically transform their businesses and unlock value-added opportunities enabled by the new standard. Learn more at https://impel.global. 
Contacts
CEO and Founder
Disclaimer: The information provided in this article is for informational purposes only and should not be construed as financial or investment advice. Cryptocurrency investments are subject to market risks, and individuals should seek professional advice before making any investment decisions.
Web3 Builders Look to Alternate Growth Model with BNB Chain as Bear Market Funding Drops by 84%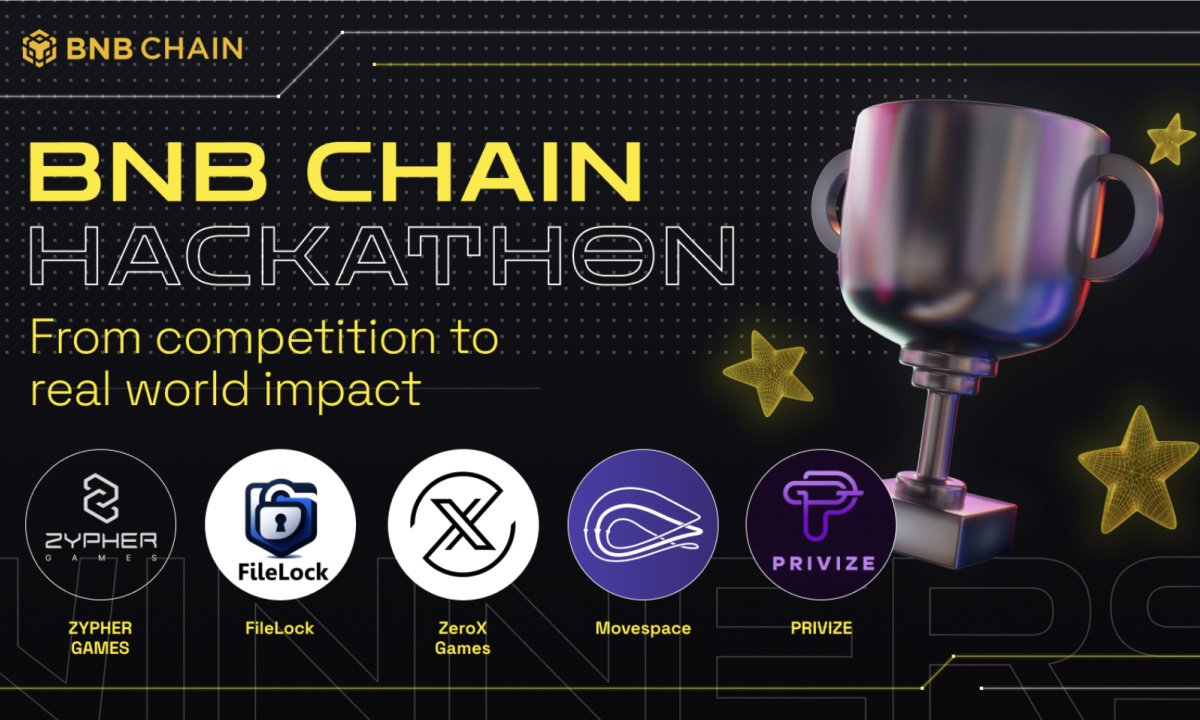 DUBAI, UAE, November 23rd, 2023, Chainwire
BNB Chain, the community-driven blockchain ecosystem that includes the world's largest smart contract blockchain, is highlighting the compelling growth stories of the projects that emerge from its project development program, starting with its hackathons. This comes in the wake of BNB Chain's Istanbul Hackathon, which saw the emergence of a number of strong projects.
The focus of the bear market is building quality Web3 projects – this is a time for developers to concentrate on identifying what real use cases need solving. However, quarterly funding for Web3 startups has dropped by approximately 84% this year. Against this backdrop, thousands of founders have looked to alternate ways to develop their projects to the point of launch readiness.
By providing constant guidance, in addition to routinely incentivising innovation with its global hackathons, BNB Chain mentors these projects through the various stages of their development journeys as they strive to realize the immense potential of Web3. 
Below are the steps that projects can expect to partner with BNB Chain on as they work to realize their vision:
Ideate and develop a killer idea at a BNB Chain hackathon
Win a reward at the hackathon that allows for initial development
Develop further with constant guidance from BNB Chain
Get introduced to incubators who can supercharge your project
Launch your project on-chain 
BNB Chain Hackathon winners also receive referral codes to apply to the Most Valuable Builder (MVB) to potentially increase their funding. The program – run by BNB Chain and Binance Labs – helps projects develop and grow through mentorship, funding and network support*.
BNB Chain's recent Istanbul Hackathon saw a number of exciting projects start on this journey, with a number of the winners sharing how they plan to utilize their winnings to advance their projects. 
MoveSpace, an on-chain data labeling and marketplace powered by a vector database, is addressing the data transparency issue in AI training to incentivise human interactions with data with BNB Greenfield. Using the funds they won at the BNB Chain Hackathon, they are further refining their concept – making data tradable as a regular commodity or asset – to make data ownership meaningful, setting them up for success at their first round of fundraising.
Another winning project exemplifying the practical applications of blockchain technology is ZeroX, a Web3 Gaming platform with a core mission of onboarding users to Web3 through gaming. Offering SDK and API services for traditional game development, they are lowering the barriers for traditional game developers and gamers to enter Web3. They will allocate the funds they won at the Istanbul hackathon to accelerate their growth and incorporate BNB Greenfield into their product, putting them in a leading position for their first funding round and upcoming public product launch. 
Learn more about all of the winning projects, their experiences of BNB Chain Hackathon Istanbul and how it is accelerating their growth here.
Tomasz Wojewoda, Head of Business Development at BNB Chain, said: "The quality of the projects that emerged from the BNB Chain Istanbul Hackathon was truly remarkable. It has been great to see their Web3 spirit on full display and to see how they are leveraging opBNB and BNB Greenfield to accelerate their development. Myself and the BNB Chain team look forward to being by the developers' sides and providing guidance as they continue to build towards realizing their vision."
*Disclaimer: There is no guarantee that projects will be accepted to the MVB program.  
About BNB Chain
BNB Chain is a community-driven ecosystem with multiple decentralized blockchains, powered by BNB. It consists of BNB Beacon Chain, its staking and governance layer, BNB Smart Chain (BSC), which is EVM compatible and facilitates a multi-chain ecosystem with its Layer-2 solutions including opBNB, and BNB Greenfield, its decentralized data storage network. 
The BNB Chain ecosystem has the world's largest smart contract blockchain (BSC) by daily active users and has processed 3 billion transactions to date from 232 Million unique addresses. This makes it the largest layer 1 blockchain globally and brings developers massive user access with ultra-low gas fees, higher transactions per second and has experienced zero crashes since its inception. The ecosystem has more than 1,500 estimated active dApps at any given time across multiple categories such as DeFi, Metaverse, Blockchain Gaming, SocialFi, NFT, Infrastructure, and more. There are numerous programs available to support the Web3 ecosystem including the Gas Grant, Builder Grant, Kickstart, Most Valuable Builder (MVB) and AvengerDAO.
Contact
Jack S
[email protected]

Read Also: BNB Chain Sees 1-year Transaction High; Demonstrates Network Reliability After BSC Surge
Disclaimer: The information provided in this article is for informational purposes only and should not be construed as financial or investment advice. Cryptocurrency investments are subject to market risks, and individuals should seek professional advice before making any investment decisions.