OKX Switch McLaren MCL60 Race Car To Stealth Mode For The Singapore Grand Prix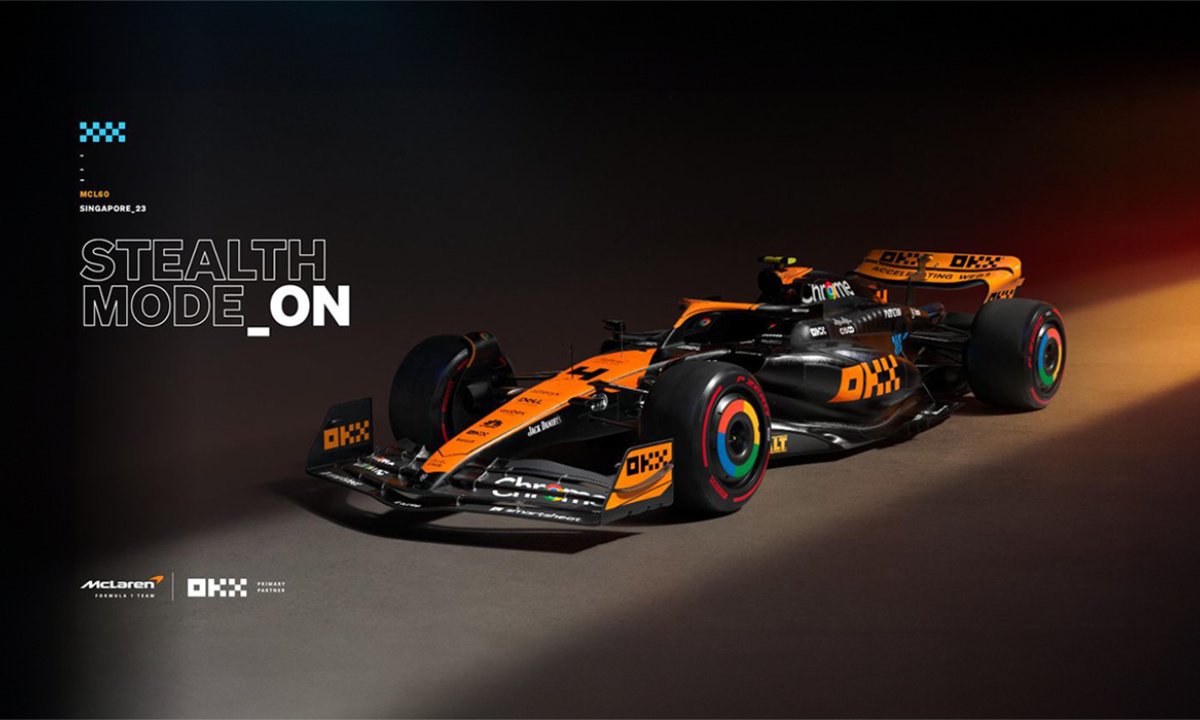 SINGAPORE, SINGAPORE, September 14th, 2023, Chainwire
McLaren Racing and OKX, a leading Web3 technology company and Official Primary Partner of the McLaren Formula 1 Team, today revealed a limited-edition Stealth Mode livery design to be carried on the McLaren MCL60 F1 cars at the 2023 Singapore Grand Prix (15-17 September) and the 2023 Japanese Grand Prix (22-24 September).
The Stealth Mode livery was co-designed by OKX and McLaren, and will switch McLaren's livery colourway, augmenting black against the team's classic papaya trim. The sleek and understated design represents the two brands' belief in putting in hard work behind the scenes to strive for excellence, while embracing change and innovation.
The MCL60 was revealed in Stealth Mode on Wednesday 13 September at an exclusive media event in Singapore at Lantern, Fullerton Bay Hotel. The event was attended by OKX Chief Marketing Officer Haider Rafique, McLaren F1 Team drivers Lando Norris and Oscar Piastri, and McLaren Racing Executive Director, Partnerships & Accelerator, Matt Dennington.
A limited-edition t-shirt will be made available through the McLaren Store, and at a limited giveaway for attendees of Token2049, the Web3 conference taking place in Singapore prior to the race.
To bring fans closer to Stealth Mode, OKX will host a McLaren-themed fan zone, OKX Race Club, at Chijmes, Singapore. The OKX Race Club will run from Thursday 14 September to Sunday 17 September, featuring a Stealth Mode show car, racing simulators, giveaways and surprise guests over the race weekend. This will be officially opened at 14:00 SGT on Thursday 14 September, and free tickets are available here.
Zak Brown, CEO, McLaren Racing, said: "Our partnership with OKX goes from strength to strength, and it's fantastic to celebrate it with this incredible livery. Stealth Mode flips our race car's colours, bringing something exciting and different to these two great races in Singapore and Japan. We hope fans will love it as much as we do and get a chance to enjoy the fan zone to connect with our team. OKX are a dedicated supporter of McLaren's journey, and in turn we're proud to bring our partnership to life on track through the global platform of Formula 1."
Haider Rafique, Chief Marketing Officer, OKX, said: "Success on the track, and in the Web3 world, is only possible through teamwork, creativity and innovation. Stealth Mode is inspired by these common principles. It's also a way for us to celebrate the return of F1 to the Asia Pacific region, which is the epicentre of Web3 in many ways. As Stealth Mode hits the track this weekend we wish the best of luck to Lando and Oscar in what we hope will be a strong performing MCL60."
For further information, please contact:
Steve Atkins, Chief Communications Officer, McLaren Racing
[email protected] / +44 (0) 7590 771 849
Saskia Wirth, Director, Corporate Communications, McLaren Racing
[email protected] / +44 (0) 7442 934 149
Curtis Nice, Communications Manager, McLaren Racing
[email protected] / +44 (0) 7765 742 300
Fran Campbell, Communications Executive, McLaren Racing
[email protected] / +44 (0) 7442 692 253
About McLaren Racing
McLaren Racing was founded by racing driver Bruce McLaren 60 years ago in 1963. The team entered its first Formula 1 race in 1966. McLaren has since won 20 Formula 1 world championships, 183 Formula 1 grands prix, the Indianapolis 500 three times, and the Le Mans 24 Hours at its first attempt.
McLaren Racing competes across five racing series. In 2023, the team will compete in the FIA Formula 1 World Championship with McLaren F1 drivers Lando Norris and Oscar Piastri, the NTT INDYCAR SERIES with Arrow McLaren drivers Pato O'Ward, Felix Rosenqvist and Alexander Rossi, the ABB FIA Formula E World Championship with NEOM McLaren Formula E Team drivers René Rast and Jake Hughes, and the Extreme E Championship with NEOM McLaren Extreme E Team drivers Emma Gilmour and Tanner Foust. The team also competes in the F1 Esports Pro Championship as McLaren Shadow, having won the 2022 Constructors' and Drivers' Championships.
McLaren is a champion for sustainability in the sport and a signatory to the UN Sports for Climate Action Commitment. It is committed to achieving net zero by 2040 and fostering a diverse and inclusive culture in the motorsport industry.
McLaren Racing – Official Website
About OKX
OKX is a leading Web3 ecosystem.
As a top partner of English Premier League champions Manchester City FC, McLaren Formula 1, Olympian Scotty James, and F1 driver Daniel Ricciardo, OKX aims to supercharge the fan experience with new engagement opportunities. OKX is also the top partner of the Tribeca Festival as part of an initiative to bring more creators into Web3.
The OKX Wallet is the platform's latest offering for people looking to explore the world of NFTs and the metaverse while trading GameFi and DeFi tokens.
OKX is committed to transparency and security and publishes its Proof of Reserves on a monthly basis. To learn more about OKX, download our app or visit: okx.com
Disclaimer
This announcement is provided for informational purposes only. It is not intended to provide any investment, tax, or legal advice, nor should it be considered an offer to purchase, sell, hold or offer any services relating to digital assets. Digital assets, including stablecoins, involve a high degree of risk, can fluctuate greatly, and can even become worthless. You should carefully consider whether trading or holding digital assets is suitable for you in light of your financial condition and risk tolerance. OKX does not provide investment or asset recommendations. You are solely responsible for your investment decisions, and OKX is not responsible for any potential losses. Past performance is not indicative of future results. Please consult your legal/tax/investment professional for questions about your specific circumstances.
Contact
Read Also: Crypto vs. Traditional Investments: Which Is Right for You
Disclaimer: The information provided in this article is for informational purposes only and should not be construed as financial or investment advice. Cryptocurrency investments are subject to market risks, and individuals should seek professional advice before making any investment decisions.
Web3 Builders Look to Alternate Growth Model with BNB Chain as Bear Market Funding Drops by 84%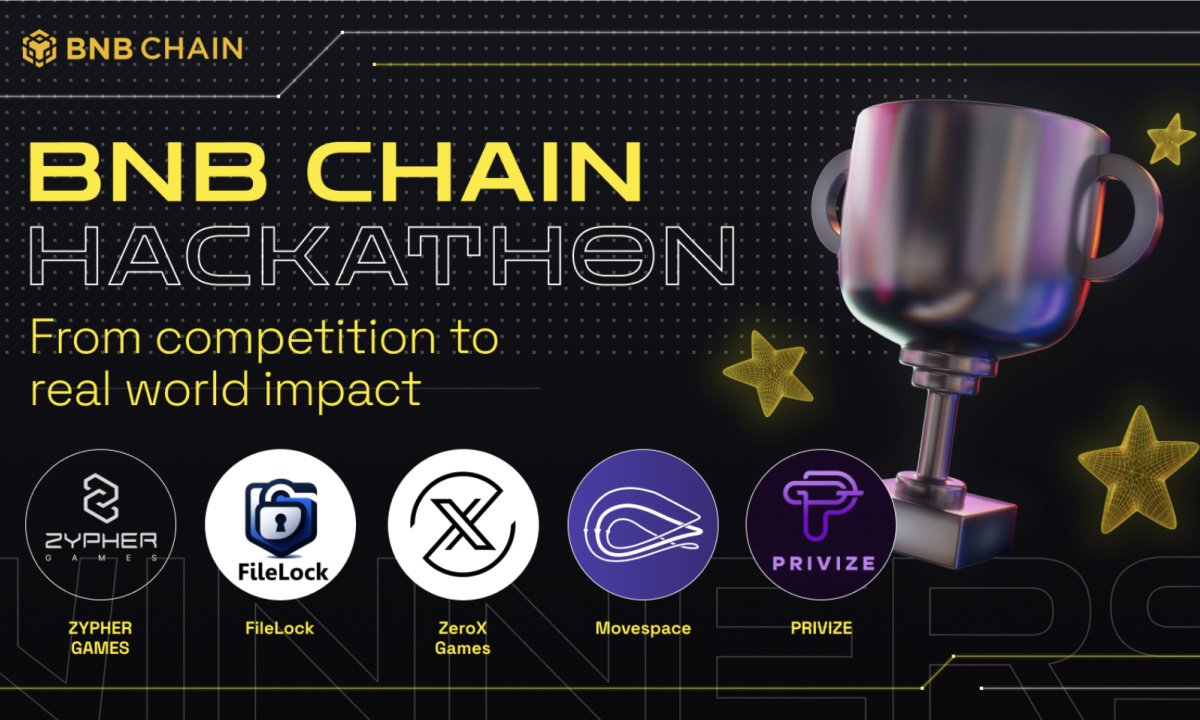 DUBAI, UAE, November 23rd, 2023, Chainwire
BNB Chain, the community-driven blockchain ecosystem that includes the world's largest smart contract blockchain, is highlighting the compelling growth stories of the projects that emerge from its project development program, starting with its hackathons. This comes in the wake of BNB Chain's Istanbul Hackathon, which saw the emergence of a number of strong projects.
The focus of the bear market is building quality Web3 projects – this is a time for developers to concentrate on identifying what real use cases need solving. However, quarterly funding for Web3 startups has dropped by approximately 84% this year. Against this backdrop, thousands of founders have looked to alternate ways to develop their projects to the point of launch readiness.
By providing constant guidance, in addition to routinely incentivising innovation with its global hackathons, BNB Chain mentors these projects through the various stages of their development journeys as they strive to realize the immense potential of Web3. 
Below are the steps that projects can expect to partner with BNB Chain on as they work to realize their vision:
Ideate and develop a killer idea at a BNB Chain hackathon
Win a reward at the hackathon that allows for initial development
Develop further with constant guidance from BNB Chain
Get introduced to incubators who can supercharge your project
Launch your project on-chain 
BNB Chain Hackathon winners also receive referral codes to apply to the Most Valuable Builder (MVB) to potentially increase their funding. The program – run by BNB Chain and Binance Labs – helps projects develop and grow through mentorship, funding and network support*.
BNB Chain's recent Istanbul Hackathon saw a number of exciting projects start on this journey, with a number of the winners sharing how they plan to utilize their winnings to advance their projects. 
MoveSpace, an on-chain data labeling and marketplace powered by a vector database, is addressing the data transparency issue in AI training to incentivise human interactions with data with BNB Greenfield. Using the funds they won at the BNB Chain Hackathon, they are further refining their concept – making data tradable as a regular commodity or asset – to make data ownership meaningful, setting them up for success at their first round of fundraising.
Another winning project exemplifying the practical applications of blockchain technology is ZeroX, a Web3 Gaming platform with a core mission of onboarding users to Web3 through gaming. Offering SDK and API services for traditional game development, they are lowering the barriers for traditional game developers and gamers to enter Web3. They will allocate the funds they won at the Istanbul hackathon to accelerate their growth and incorporate BNB Greenfield into their product, putting them in a leading position for their first funding round and upcoming public product launch. 
Learn more about all of the winning projects, their experiences of BNB Chain Hackathon Istanbul and how it is accelerating their growth here.
Tomasz Wojewoda, Head of Business Development at BNB Chain, said: "The quality of the projects that emerged from the BNB Chain Istanbul Hackathon was truly remarkable. It has been great to see their Web3 spirit on full display and to see how they are leveraging opBNB and BNB Greenfield to accelerate their development. Myself and the BNB Chain team look forward to being by the developers' sides and providing guidance as they continue to build towards realizing their vision."
*Disclaimer: There is no guarantee that projects will be accepted to the MVB program.  
About BNB Chain
BNB Chain is a community-driven ecosystem with multiple decentralized blockchains, powered by BNB. It consists of BNB Beacon Chain, its staking and governance layer, BNB Smart Chain (BSC), which is EVM compatible and facilitates a multi-chain ecosystem with its Layer-2 solutions including opBNB, and BNB Greenfield, its decentralized data storage network. 
The BNB Chain ecosystem has the world's largest smart contract blockchain (BSC) by daily active users and has processed 3 billion transactions to date from 232 Million unique addresses. This makes it the largest layer 1 blockchain globally and brings developers massive user access with ultra-low gas fees, higher transactions per second and has experienced zero crashes since its inception. The ecosystem has more than 1,500 estimated active dApps at any given time across multiple categories such as DeFi, Metaverse, Blockchain Gaming, SocialFi, NFT, Infrastructure, and more. There are numerous programs available to support the Web3 ecosystem including the Gas Grant, Builder Grant, Kickstart, Most Valuable Builder (MVB) and AvengerDAO.
Contact
Jack S
[email protected]

Read Also: BNB Chain Sees 1-year Transaction High; Demonstrates Network Reliability After BSC Surge
Disclaimer: The information provided in this article is for informational purposes only and should not be construed as financial or investment advice. Cryptocurrency investments are subject to market risks, and individuals should seek professional advice before making any investment decisions.