OKX Releases Industry Leading 9th Consecutive Proof of Reserves in July, Showing USD$11.3 billion in Primary Assets
HONG KONG, HONG KONG, July 26th, 2023, Chainwire
OKX, a leading crypto exchange by trading volume and Web3 technology company, has published its industry-best ninth consecutive monthly Proof of Reserves (PoR), showing a balance of USD$11.3 billion in BTC, ETH and USDT.
OKX's PoR covers 22 commonly used digital assets and demonstrates that OKX has maintained a reserve ratio exceeding 100% for nine consecutive months across all those assets. In addition to BTC, ETH and USDT, the assets included in OKX's PoR are: USDC, XRP, DOGE, SOL, OKB, APT, DASH, DOT, ELF, EOS, ETC, FIL, LINK, LTC, OKT, PEOPLE, TON, TRX and UNI.
OKX stores the majority of its reserves in highly secure off-chain cold storage. It has seen hundreds of thousands of users engage with its PoR, visit its PoR page and view their self-audits since first launching its PoR page in late 2022.
OKX's current reserve ratios are as follows:
BTC: 103%
ETH: 103%
USDT: 103%
OKX Global Chief Commercial Officer Lennix Lai said: "Public-facing disclosures of both reserves and liabilities are essential to ensure long-term accountability in our industry. However, point-in-time attestations of reserve holdings mean little—instead, sustained and consistent disclosures are needed. As the industry leader when it comes to monthly PoR reporting, with more consecutive monthly snapshots than any other top exchange, our commitment to transparency is unwavering."
OKX will continue to publish its monthly PoR while providing a self-audit tool to all users. The open-source verification tool enables users to independently verify OKX's solvency and confirm their assets are backed by OKX reserves while maintaining their privacy.
OKX has published over 210,000 addresses for its PoR program, and will continue to allow the public to view its asset flows.
Users can view the latest PoR report, reserve ratios, and verify OKX's solvency here.
For further information, please contact:
About OKX
OKX is a leading global crypto exchange and Web3 ecosystem. Trusted by more than 50 million global users, OKX is known for being the fastest and most reliable crypto trading app for traders everywhere.
As a top partner of English Premier League champions Manchester City FC, McLaren Formula 1, Olympian Scotty James, and F1 driver Daniel Ricciardo, OKX aims to supercharge the fan experience with new engagement opportunities. OKX is also the top partner of the Tribeca Festival as part of an initiative to bring more creators into web3.
Beyond OKX's exchange, the OKX Wallet is the platform's latest offering for people looking to explore the world of NFTs and the metaverse while trading GameFi and DeFi tokens.
OKX is committed to transparency and security and publishes its Proof of Reserves on a monthly basis.
To learn more about OKX, download our app or visit: okx.com
Disclaimer
THIS ANNOUNCEMENT IS PROVIDED FOR INFORMATIONAL PURPOSES ONLY. IT IS NOT INTENDED TO PROVIDE ANY INVESTMENT, TAX, OR LEGAL ADVICE, NOR SHOULD IT BE CONSIDERED AN OFFER TO PURCHASE, SELL, OR HOLD DIGITAL ASSETS. DIGITAL ASSETS, INCLUDING STABLECOINS, INVOLVE A HIGH DEGREE OF RISK, CAN FLUCTUATE GREATLY, AND CAN EVEN BECOME WORTHLESS. OKX IS NOT REGULATED BY THE FCA, THUS, PROTECTIONS SUCH AS THE FINANCIAL OMBUDSMAN SERVICE OR FINANCIAL SERVICES COMPENSATION SCHEME WILL NOT BE AVAILABLE. YOU SHOULD CONSIDER WHETHER YOU UNDERSTAND HOW CRYPTO WORKS AND WHETHER TRADING OR HOLDING DIGITAL ASSETS IS SUITABLE FOR YOU IN LIGHT OF YOUR FINANCIAL CONDITION. THE VALUE OF YOUR DIGITAL ASSETS, INCLUDING STABLECOINS, CAN INCREASE OR DECREASE AND PROFITS MAY BE SUBJECT TO CAPITAL GAINS TAX. PAST PERFORMANCE DOES NOT INDICATE FUTURE RESULTS. PLEASE CONSULT YOUR LEGAL/TAX/INVESTMENT PROFESSIONAL FOR QUESTIONS ABOUT YOUR SPECIFIC CIRCUMSTANCES.
Contact
Read Also: Quant Analyst PlanB Forecasts Full-Fledged Bitcoin Bull Market in Progress, Anticipates BTC Surpassing Key Asset Classes
Disclaimer: The information provided in this article is for informational purposes only and should not be construed as financial or investment advice. Cryptocurrency investments are subject to market risks, and individuals should seek professional advice before making any investment decisions.
Mining Contracts From $10: How To Invest And Earn Passive Income With Mining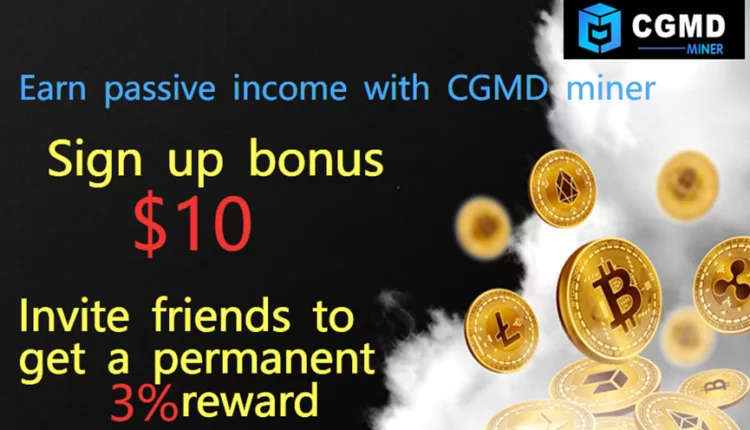 As more players enter the cryptocurrency market, mining becomes more complex and requires more computing power. As a result, many people who previously used their own equipment for cryptocurrency mining now find it unsustainable: high electricity bills and wear and tear on the equipment. Therefore, cloud mining is becoming an increasingly attractive option.
In the partner material, we go into more detail about its features and how it will help increase passive income.
What is cloud mining
Cloud mining is a mechanism that uses leased cloud computing power to mine cryptocurrencies such as Bitcoin. Hardware setup and startup, no software installation required.
Cloud mining companies make mining even more affordable by allowing you to open an account and participate in cryptocurrency mining remotely at rock-bottom prices. Since mining takes place in the cloud, there are fewer issues with equipment maintenance or direct electricity costs.
How to start cloud mining
Here are the basic steps you need to take before getting started.
Step 1: Choose a Cloud Mining Provider
CGMD Miner is a popular and powerful cryptocurrency mining platform and an excellent resource for passive income. CGMD Miner is a free Bitcoin mining program that allows you to passively earn Bitcoins without any strings attached, regardless of technical knowledge or financial resources. Once $12 worth of Bitcoins are mined, they can be transferred to your account and traded. Any profits are yours and you can withdraw them to your personal wallet.
Platform advantages:
Get $10 immediately after registration;
High levels of profitability and daily payout;
No additional services or administrative fees required;
Other currencies can be generated;
The company's Partner Program allows you to invite friends and earn up to $3,000 in referral bonuses;
McAfee security? Cloudflare® security protection;
24/7 technical support.
Step 2. Register an account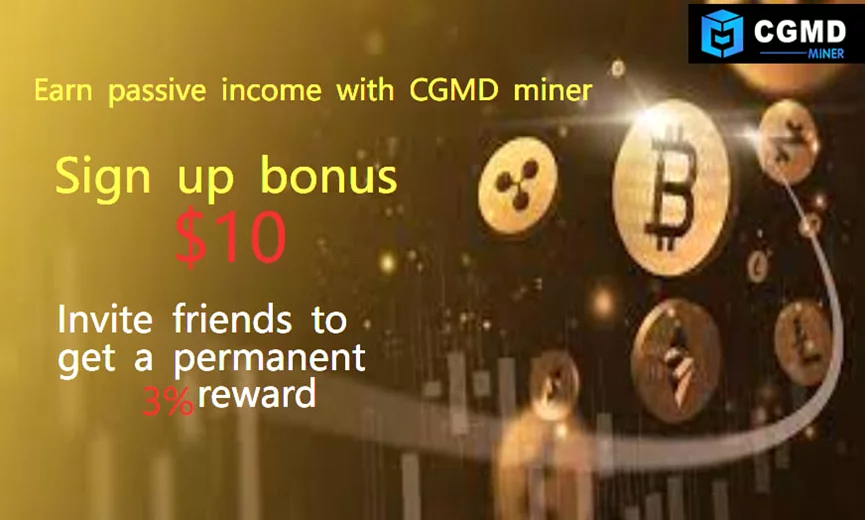 Go to the provider of your choice and sign up to create a new account.
CGMD Miner offers a simple registration process: all you need to do is enter your email address. After signing up, you can start mining Bitcoin immediately.
Step 3. Purchase a Mining Contract
Miner CGMD offers a variety of mining contract options: packages ranging from US$100 to US$5,000, each package has its own return on investment and a certain contract validity period. Right now:
The day after the contract is purchased, the revenue starts flowing in. When $100 is reached, the money can be withdrawn to a crypto wallet or continue to purchase other contracts.
Step 4: Earn passive income
Cloud mining is a great way to increase your passive income. Cryptocurrency capital can be grown via "autopilot" mode with minimal time outlay – less than any type of active trading. Passive income is the goal of every investor and trader, and with CGMD miners, achieving it is easier than ever.
CGMD Partner Program
Miner CGMD also offers an affiliate program, a platform that allows you to earn money by recommending the site to others. You can make money even without investing. A fixed one-time bonus of up to $3,000 will be charged for inviting positive referrals.
For more information about CGMD mining machines, please visit the official website https://365miner.com/
Read Also: OKX Achieves SOC 2 Type II Certification, Demonstrating its Industry-Leading User Safety, Security and Compliance Standards
Disclaimer: The information provided in this article is for informational purposes only and should not be construed as financial or investment advice. Cryptocurrency investments are subject to market risks, and individuals should seek professional advice before making any investment decisions.