OKX Proposes Industry-First BRC-30 Token Standard to Enable Bitcoin and BRC-20 Token Staking
SAN FRANCISCO, UNITED STATES, June 1st, 2023, Chainwire
With BRC-30, OKX Wallet users will soon be able to stake BRC-20 tokens and Bitcoin to earn passive income on their digital assets
OKX, a leading Web3 company, today introduced its proposal for a new, open-source BRC-30 protocol that enables staking of BRC-20 tokens and Bitcoin in order to earn BRC-30 tokens. The protocol is open-source and available for all developers to build upon.
OKX Wallet will add support for the BRC-30 standard according to the protocol, enabling users to earn passive income by staking BRC-20 tokens or Bitcoin on Web3 Earn without actively trading. This complements the existing range of curated DeFi earning products already available through the platform.
The introduction of BRC-30 and its staking functionalities is driven by OKX's goal to provide users with additional opportunities to participate in the Bitcoin ecosystem and earn passive income.
OKX Chief Innovation Officer Jason Lau said: "We're thrilled to have proposed and pioneered the BRC-30 standard to enable Bitcoin and BRC-20 token staking. With the OKX Wallet soon to incorporate BRC-30 support, users will be able to access Bitcoin staking and earn opportunities across multiple-chains. With the Bitcoin ecosystem seeing an explosion of new development, we're proud to work with developers and projects across the community to contribute to the growth of the wider ecosystem."
OKX is a longstanding supporter of Bitcoin, having integrated the Lightning Network to its centralized exchange over two years ago. OKX Wallet is also the first multi-chain wallet to support BRC-20 trading with the launch of its Ordinals Marketplace, as well as the viewing and transfer of Bitcoin Ordinals.
About OKX
A leading global technology company driving the future of Web3, OKX provides a comprehensive suite of products to meet the needs of beginners and experts alike, including the OKX Wallet, NFT Marketplace, DEX and Web3 Earn.
OKX partners with a number of the world's top brands and athletes, including: English Premier League champions Manchester City F.C., McLaren Formula 1, The Tribeca Festival, golfer Ian Poulter, Olympian Scotty James, and F1 driver Daniel Ricciardo.
As a leader building innovative technology products, OKX believes in challenging the status quo. The company recently launched a global brand campaign entitled, The System Needs a Rewrite, which advocates for a new paradigm led by Web3 self-managed technology to replace existing centralized systems.
To learn more about OKX, download our app or visit: okx.com
Disclaimer
THIS ANNOUNCEMENT IS PROVIDED FOR INFORMATIONAL PURPOSES ONLY. IT IS NOT INTENDED TO PROVIDE ANY INVESTMENT, TAX, OR LEGAL ADVICE, NOR SHOULD IT BE CONSIDERED AN OFFER TO PURCHASE, SELL, OR HOLD DIGITAL ASSETS. DIGITAL ASSETS, INCLUDING STABLECOINS, INVOLVE A HIGH DEGREE OF RISK, CAN FLUCTUATE GREATLY, AND CAN EVEN BECOME WORTHLESS. OKX IS NOT REGULATED BY THE FCA, THUS, PROTECTIONS SUCH AS THE FINANCIAL OMBUDSMAN SERVICE OR FINANCIAL SERVICES COMPENSATION SCHEME WILL NOT BE AVAILABLE. YOU SHOULD CONSIDER WHETHER YOU UNDERSTAND HOW CRYPTO WORKS AND WHETHER TRADING OR HOLDING DIGITAL ASSETS IS SUITABLE FOR YOU IN LIGHT OF YOUR FINANCIAL CONDITION. THE VALUE OF YOUR DIGITAL ASSETS, INCLUDING STABLECOINS, CAN INCREASE OR DECREASE AND PROFITS MAY BE SUBJECT TO CAPITAL GAINS TAX. PAST PERFORMANCE DOES NOT INDICATE FUTURE RESULTS. OKX IS NOT ASSOCIATED WITH ANY PARTICULAR DEFI PROTOCOL, MAKES NO WARRANTIES, REPRESENTATIONS OR UNDERTAKINGS RELATING TO ANY DEFI PROTOCOL'S OFFERINGS, AND IS NOT RESPONSIBLE OR LIABLE FOR ANY DIRECT OR INDIRECT LOSS OR OTHER DAMAGE ARISING FROM YOUR USE OF ANY DEFI PROTOCOL. OKX WALLET IS AN AGGREGATOR; ALL DISPLAYED ESTIMATED RETURN RATES ARE PROVIDED BY THE DEFI PROTOCOL, AND ARE NOT GUARANTEED NOR INDICATIVE OF FUTURE RETURNS. PLEASE CONDUCT YOUR OWN DUE DILIGENCE BEFORE INVESTING IN ANY DEFI PROTOCOL. PLEASE CONSULT YOUR LEGAL/TAX/INVESTMENT PROFESSIONAL FOR QUESTIONS ABOUT YOUR SPECIFIC CIRCUMSTANCES.
Contact
Read Also: Polygon co-founder says gaming is the largest-scale opportunity for crypto
Disclaimer: The information provided in this article is for informational purposes only and should not be construed as financial or investment advice. Cryptocurrency investments are subject to market risks, and individuals should seek professional advice before making any investment decisions.
Mining Contracts From $10: How To Invest And Earn Passive Income With Mining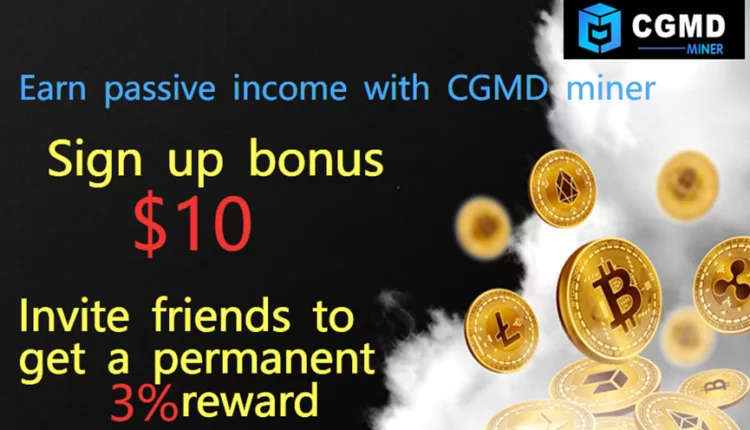 As more players enter the cryptocurrency market, mining becomes more complex and requires more computing power. As a result, many people who previously used their own equipment for cryptocurrency mining now find it unsustainable: high electricity bills and wear and tear on the equipment. Therefore, cloud mining is becoming an increasingly attractive option.
In the partner material, we go into more detail about its features and how it will help increase passive income.
What is cloud mining
Cloud mining is a mechanism that uses leased cloud computing power to mine cryptocurrencies such as Bitcoin. Hardware setup and startup, no software installation required.
Cloud mining companies make mining even more affordable by allowing you to open an account and participate in cryptocurrency mining remotely at rock-bottom prices. Since mining takes place in the cloud, there are fewer issues with equipment maintenance or direct electricity costs.
How to start cloud mining
Here are the basic steps you need to take before getting started.
Step 1: Choose a Cloud Mining Provider
CGMD Miner is a popular and powerful cryptocurrency mining platform and an excellent resource for passive income. CGMD Miner is a free Bitcoin mining program that allows you to passively earn Bitcoins without any strings attached, regardless of technical knowledge or financial resources. Once $12 worth of Bitcoins are mined, they can be transferred to your account and traded. Any profits are yours and you can withdraw them to your personal wallet.
Platform advantages:
Get $10 immediately after registration;
High levels of profitability and daily payout;
No additional services or administrative fees required;
Other currencies can be generated;
The company's Partner Program allows you to invite friends and earn up to $3,000 in referral bonuses;
McAfee security? Cloudflare® security protection;
24/7 technical support.
Step 2. Register an account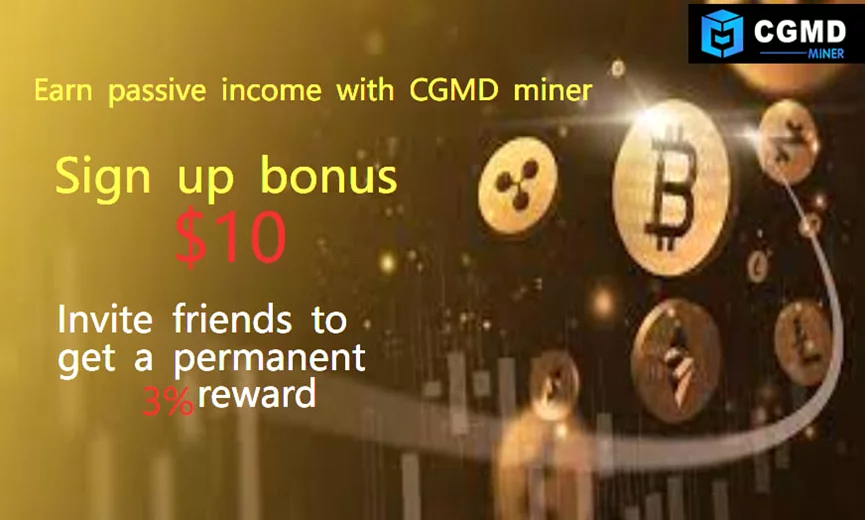 Go to the provider of your choice and sign up to create a new account.
CGMD Miner offers a simple registration process: all you need to do is enter your email address. After signing up, you can start mining Bitcoin immediately.
Step 3. Purchase a Mining Contract
Miner CGMD offers a variety of mining contract options: packages ranging from US$100 to US$5,000, each package has its own return on investment and a certain contract validity period. Right now:
The day after the contract is purchased, the revenue starts flowing in. When $100 is reached, the money can be withdrawn to a crypto wallet or continue to purchase other contracts.
Step 4: Earn passive income
Cloud mining is a great way to increase your passive income. Cryptocurrency capital can be grown via "autopilot" mode with minimal time outlay – less than any type of active trading. Passive income is the goal of every investor and trader, and with CGMD miners, achieving it is easier than ever.
CGMD Partner Program
Miner CGMD also offers an affiliate program, a platform that allows you to earn money by recommending the site to others. You can make money even without investing. A fixed one-time bonus of up to $3,000 will be charged for inviting positive referrals.
For more information about CGMD mining machines, please visit the official website https://365miner.com/
Read Also: OKX Achieves SOC 2 Type II Certification, Demonstrating its Industry-Leading User Safety, Security and Compliance Standards
Disclaimer: The information provided in this article is for informational purposes only and should not be construed as financial or investment advice. Cryptocurrency investments are subject to market risks, and individuals should seek professional advice before making any investment decisions.