Everdome Announces Upcoming Metaverse Land Auction Date
Dubai, United Arab Emirates, 23rd May, 2022, Chainwire
Everdome, the most hyper-realistic metaverse, is giving investors the unique opportunity to own a piece of Mars with land auction(s) set to begin on Monday, May 30, 2022. 12,000 plots of metaverse land, located throughout the Everdome ecosystem, will be available for purchase over eight weeks.   
Set to launch in three phases throughout 2022, Everdome takes users on an immersive journey from Hatta in the UAE to colonize Mars. The platform leverages cutting-edge 3D scanning technology and Epic Games' Unreal Engine 5 to deliver state-of-the-art photo-realistic graphics that will leave players wondering about the boundaries between gameplay and reality.  
From late May, Everdome will offer 12,000 hexagonal plots of land for sale through auctions held over eight weeks. Each auction will feature 1,500 plots and will run for 1 week, located in-game areas across Everdome's 6 unique districts. 
Rob Gryn, CEO and Founder of Everdome and Metahero, said: "Society's shift towards a more connected way of living was accelerated due to pandemic restrictions. This paved the way for the metaverse, which is free from the restrictions and limitations of everyday life, to grow at an immense rate. The future is in the metaverse, now more than ever before; people want their real-world experiences available at the press of a button, which is exactly what the metaverse offers.
From sales and marketing to hospitality, education, and everything in between, the metaverse is the solution to delivering premium experiences." 
Purchasing a plot of land within Everdome will give owners the right to develop it as they see fit, with the opportunity to generate revenue or even re-sell in the future. The Everdome team is fully equipped and staffed to design, architect, and develop partnerships and individual lands as the settlement grows. 
"The possibilities are endless," added Gryn. "In the metaverse, the only limits are our imagination."
Built on Unreal Engine 5, Everdome will deliver a fully immersive web experience – pulling on the talents and vision of renowned concept artists, game creators, 3D designers, Hollywood VFX specialists, urban planning professionals, and a development team that has been delivering graphics and effects for more than a decade, and a marketing team that has already found bounds of success in numerous industries. 
Everdome's Phase 1 includes the pre-launch phase, set in Hatta, during which users can explore the launch room and learn more about space exploration and the journey to come. Phases 2 and 3 continue the Everdome journey, from mission launch and life aboard the vessel to landing and settling on Mars. 
To learn more about the land sales please visit https://map.everdome.io  
About Everdome 
Everdome is creating the most hyper-realistic metaverse. Bringing brands and users together in a digital life meets real-world experience, all with the purpose of interconnecting the digital and physical worlds seamlessly – ultimately creating the most realistic web3 experience. 
Contacts
Senior Account Manager
Yousef Batter
H+K Strategies
+971 55 935 6531
Disclaimer: The information provided in this article is for informational purposes only and should not be construed as financial or investment advice. Cryptocurrency investments are subject to market risks, and individuals should seek professional advice before making any investment decisions.
Mining Contracts From $10: How To Invest And Earn Passive Income With Mining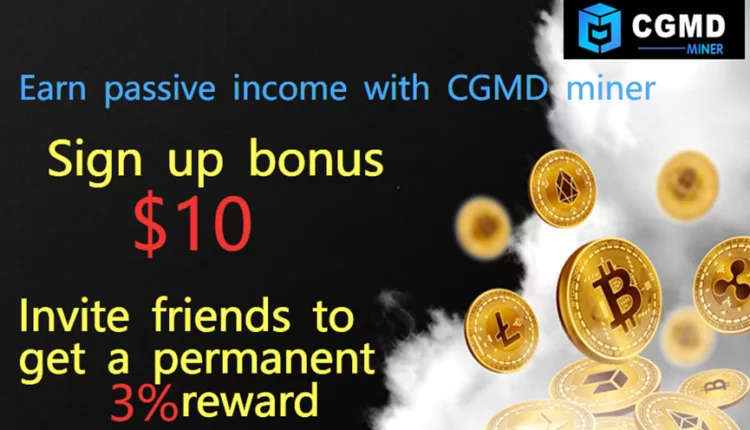 As more players enter the cryptocurrency market, mining becomes more complex and requires more computing power. As a result, many people who previously used their own equipment for cryptocurrency mining now find it unsustainable: high electricity bills and wear and tear on the equipment. Therefore, cloud mining is becoming an increasingly attractive option.
In the partner material, we go into more detail about its features and how it will help increase passive income.
What is cloud mining
Cloud mining is a mechanism that uses leased cloud computing power to mine cryptocurrencies such as Bitcoin. Hardware setup and startup, no software installation required.
Cloud mining companies make mining even more affordable by allowing you to open an account and participate in cryptocurrency mining remotely at rock-bottom prices. Since mining takes place in the cloud, there are fewer issues with equipment maintenance or direct electricity costs.
How to start cloud mining
Here are the basic steps you need to take before getting started.
Step 1: Choose a Cloud Mining Provider
CGMD Miner is a popular and powerful cryptocurrency mining platform and an excellent resource for passive income. CGMD Miner is a free Bitcoin mining program that allows you to passively earn Bitcoins without any strings attached, regardless of technical knowledge or financial resources. Once $12 worth of Bitcoins are mined, they can be transferred to your account and traded. Any profits are yours and you can withdraw them to your personal wallet.
Platform advantages:
Get $10 immediately after registration;
High levels of profitability and daily payout;
No additional services or administrative fees required;
Other currencies can be generated;
The company's Partner Program allows you to invite friends and earn up to $3,000 in referral bonuses;
McAfee security? Cloudflare® security protection;
24/7 technical support.
Step 2. Register an account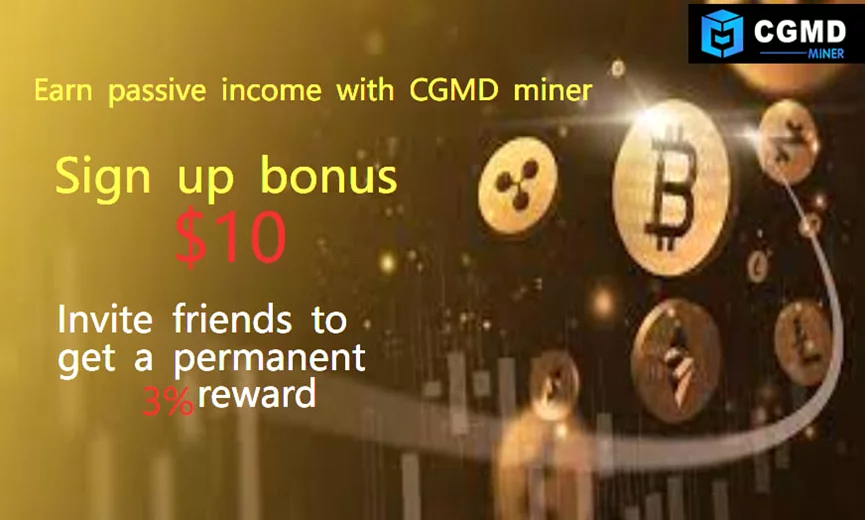 Go to the provider of your choice and sign up to create a new account.
CGMD Miner offers a simple registration process: all you need to do is enter your email address. After signing up, you can start mining Bitcoin immediately.
Step 3. Purchase a Mining Contract
Miner CGMD offers a variety of mining contract options: packages ranging from US$100 to US$5,000, each package has its own return on investment and a certain contract validity period. Right now:
The day after the contract is purchased, the revenue starts flowing in. When $100 is reached, the money can be withdrawn to a crypto wallet or continue to purchase other contracts.
Step 4: Earn passive income
Cloud mining is a great way to increase your passive income. Cryptocurrency capital can be grown via "autopilot" mode with minimal time outlay – less than any type of active trading. Passive income is the goal of every investor and trader, and with CGMD miners, achieving it is easier than ever.
CGMD Partner Program
Miner CGMD also offers an affiliate program, a platform that allows you to earn money by recommending the site to others. You can make money even without investing. A fixed one-time bonus of up to $3,000 will be charged for inviting positive referrals.
For more information about CGMD mining machines, please visit the official website https://365miner.com/
Read Also: OKX Achieves SOC 2 Type II Certification, Demonstrating its Industry-Leading User Safety, Security and Compliance Standards
Disclaimer: The information provided in this article is for informational purposes only and should not be construed as financial or investment advice. Cryptocurrency investments are subject to market risks, and individuals should seek professional advice before making any investment decisions.