Automobili Lamborghini drops its limited edition "World Tour" themed NFTs this October
New York City, United States of America, 20th October, 2022, Chainwire
Fasten your metaversal seatbelts, as Automobili Lamborghini is releasing a series of limited edition 'World Tour' themed NFTs this October. In collaboration with Web3 Pro™ and INVNT.ATOM™ (the Web3-focused digital innovation division of [INVNT GROUP]™), the iconic Italian company will release four unique "World tour" themed NFTs available for a limited time.
"The Epic Road Trip" collection launched in August has had super sports car fans and the crypto community racing to purchase a collection of four limited-edition NFTs released each month for 4 consecutive days, each available for 24 hours only. 
This month represents the third month of the campaign, with October's ultimate set of digital collectibles set to be released from the 24th of October 2022 at 4PM CET/10AM EST/12AM AEST. 
There will be 3 x limited edition (of 1,963) NFTs at USD$196.30 each, and 1 x rare edition (with only 63 globally available) at USD$1,963. Only those who purchase the series of three (3) base collectible NFTs during Drop 3 will have whitelist access to the Drop 3 rare NFT. Each animated NFT is curated with 30 seconds of bespoke audio. 1963 signifies a nod to the genesis of Automobili Lamborghini's foundation.
Drops (available for only 24 hours each):
Collectors can take the wheel and own unique digital pieces ranging in rarity and exclusivity this October:
Limited Edition 1 (Released on October 24) – A ride through Times Square – Aventador Ultimae Roadster races around the billboard "track" filled with the electrifying lights of the Big Apple. 
Limited Edition 2 (Released on October 25) – Sakura Dream. Immerse yourself into a journey filled with serenity, as the Aventador Ultimae Roadster cruises along Mount Fuji, cherry blossoms blowing in the breeze.
Limited Edition 3 (Released on October 26) – The Emirates Express. Turn up the heat, as the Aventador Ultimae Roadster travels on a palm tree-lined road in the bustling city of Dubai.
Rare Edition – Home (Released on October 27) – The journey will conclude with the Aventador Ultimae Roadster driving into Sant'Agata Bolognese, the Headquarters of Automobili Lamborghini.
Utilities
As an incentive to the journey, collectors can continue acquiring unique representative pieces of the Automobili Lamborghini legacy. The community can expect to see utilities such as:
Lamborghini GLB File – Lamborghini GLB File – Collect all base and rare NFTs (24 base NFTs + 8 Rare) to earn the complete gold NFT puzzle. For this achievement, you receive a Lamborghini GLB file allowing you to "virtualize" a to-be-determined Lamborghini model in the Metaverse.
Whitelist / Early Access to Rare Limited Edition NFT – For each drop, collect all three base edition collectible NFTs (1,963 available of each) and receive early access (60 minutes) to that month's rare limited edition NFT — only 63 are available each month to mint.
Wallpapers – Collect all three base edition available NFTs, and receive a commemorative digital wallpaper (both mobile and desktop).
Lamborghini Centro Stile Sketch – Collect two consecutive monthly NFT collections (six base edition collectible NFTs and two rare limited edition NFTs) and receive a digital sketch created specifically for The Epic Road Trip campaign by Mitja Borkert, Head of Design at Lamborghini.
VIP Tour – Experience a special tour of the Lamborghini Sant'Agata Bolognese's Headquarters for you and a guest if you purchase the complete monthly drop series (3 base edition and 1 limited edition) for each of the first 4 months of The Epic Road Trip. Additional details for the date of the visit will be communicated by the end of November 2022 with the special tour taking place in 2023. Travel and accommodations are not included in this reward.
During the 8-month campaign of "The Epic Road Trip", customers who purchase all three base NFT drops will also receive an NFT token revealing a piece of the final limited NFT (silver puzzle). Collectors who purchase all three base NFTs as well as the rare NFT will receive an NFT token revealing a piece of the final limited NFT (gold puzzle).
From the lights of Times Square to the cherry-blossomed dream of Mount Fuji, this month's Drop of "The Epic Road Trip", brought to you by Web3 Pro™, INVNT.ATOM™, and Automobili Lamborghini, is set to have fans and enthusiasts around the globe racing to collect the ultra-rare and exclusive utilities. Register today at nft.lamborghini.com.
About INVNT.ATOM™ 
INVNT.ATOM, part of INVNT GROUP  THE GLOBAL BRANDSTORY PROJECT™, is an innovation and brand experience agency devoted to helping global brands chart a course, navigate, activate, and create new opportunities at the digital frontier of Web3. Based in Singapore, the collective of strategists, marketers, creators, programmers, matchmakers, and thought leaders, turn strategies into stories and stories into experiences, that engage communities on the global stage. 
For more information about INVNT.ATOM, visit: www.invntatom.com
About Web3 PRO™ 
Headquartered in Palo Alto, California, Web3 Pro Inc. is the #1 Web3 onramp for enterprises. Web3Pro's clients include Lamborghini, Ducati, Atari, Adidas, and Sotheby's and the company board of advisors includes leaders across several different industries.
The brand's NFTPRO platform is the engagement multiplier most trusted by brands. Its GEER platform is the pioneer in connecting brands with gaming studios and unleashing new revenue streams for all. Its NAAS platform enables companies to harness the power of an open system and achieve new heights in efficiency. 
For more information, visit web3pro.com. 
Lamborghini photos and videos for media use
October Drop 3 images for media use
Media Kit: (High res imagery & bios) 
Contact
Senior PR and Marketing Manager, APAC
Anna O'Young
INVNT
[email protected]
+61421938383

Disclaimer: The information provided in this article is for informational purposes only and should not be construed as financial or investment advice. Cryptocurrency investments are subject to market risks, and individuals should seek professional advice before making any investment decisions.
Web3 Builders Look to Alternate Growth Model with BNB Chain as Bear Market Funding Drops by 84%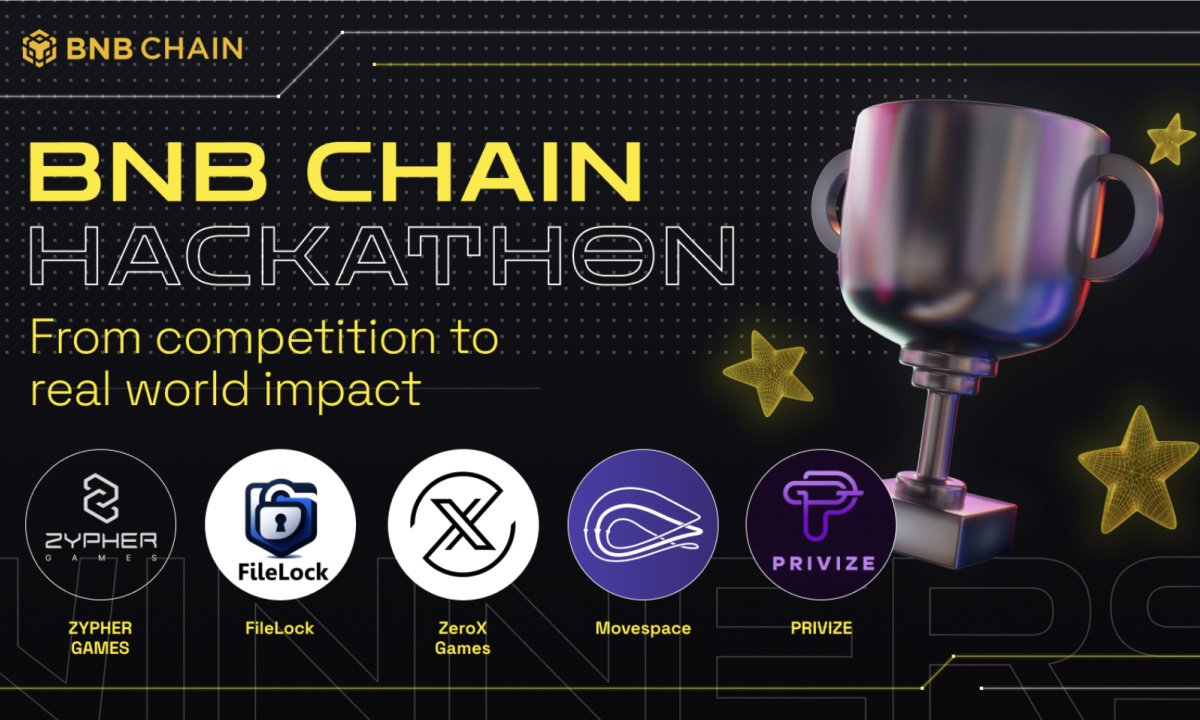 DUBAI, UAE, November 23rd, 2023, Chainwire
BNB Chain, the community-driven blockchain ecosystem that includes the world's largest smart contract blockchain, is highlighting the compelling growth stories of the projects that emerge from its project development program, starting with its hackathons. This comes in the wake of BNB Chain's Istanbul Hackathon, which saw the emergence of a number of strong projects.
The focus of the bear market is building quality Web3 projects – this is a time for developers to concentrate on identifying what real use cases need solving. However, quarterly funding for Web3 startups has dropped by approximately 84% this year. Against this backdrop, thousands of founders have looked to alternate ways to develop their projects to the point of launch readiness.
By providing constant guidance, in addition to routinely incentivising innovation with its global hackathons, BNB Chain mentors these projects through the various stages of their development journeys as they strive to realize the immense potential of Web3. 
Below are the steps that projects can expect to partner with BNB Chain on as they work to realize their vision:
Ideate and develop a killer idea at a BNB Chain hackathon
Win a reward at the hackathon that allows for initial development
Develop further with constant guidance from BNB Chain
Get introduced to incubators who can supercharge your project
Launch your project on-chain 
BNB Chain Hackathon winners also receive referral codes to apply to the Most Valuable Builder (MVB) to potentially increase their funding. The program – run by BNB Chain and Binance Labs – helps projects develop and grow through mentorship, funding and network support*.
BNB Chain's recent Istanbul Hackathon saw a number of exciting projects start on this journey, with a number of the winners sharing how they plan to utilize their winnings to advance their projects. 
MoveSpace, an on-chain data labeling and marketplace powered by a vector database, is addressing the data transparency issue in AI training to incentivise human interactions with data with BNB Greenfield. Using the funds they won at the BNB Chain Hackathon, they are further refining their concept – making data tradable as a regular commodity or asset – to make data ownership meaningful, setting them up for success at their first round of fundraising.
Another winning project exemplifying the practical applications of blockchain technology is ZeroX, a Web3 Gaming platform with a core mission of onboarding users to Web3 through gaming. Offering SDK and API services for traditional game development, they are lowering the barriers for traditional game developers and gamers to enter Web3. They will allocate the funds they won at the Istanbul hackathon to accelerate their growth and incorporate BNB Greenfield into their product, putting them in a leading position for their first funding round and upcoming public product launch. 
Learn more about all of the winning projects, their experiences of BNB Chain Hackathon Istanbul and how it is accelerating their growth here.
Tomasz Wojewoda, Head of Business Development at BNB Chain, said: "The quality of the projects that emerged from the BNB Chain Istanbul Hackathon was truly remarkable. It has been great to see their Web3 spirit on full display and to see how they are leveraging opBNB and BNB Greenfield to accelerate their development. Myself and the BNB Chain team look forward to being by the developers' sides and providing guidance as they continue to build towards realizing their vision."
*Disclaimer: There is no guarantee that projects will be accepted to the MVB program.  
About BNB Chain
BNB Chain is a community-driven ecosystem with multiple decentralized blockchains, powered by BNB. It consists of BNB Beacon Chain, its staking and governance layer, BNB Smart Chain (BSC), which is EVM compatible and facilitates a multi-chain ecosystem with its Layer-2 solutions including opBNB, and BNB Greenfield, its decentralized data storage network. 
The BNB Chain ecosystem has the world's largest smart contract blockchain (BSC) by daily active users and has processed 3 billion transactions to date from 232 Million unique addresses. This makes it the largest layer 1 blockchain globally and brings developers massive user access with ultra-low gas fees, higher transactions per second and has experienced zero crashes since its inception. The ecosystem has more than 1,500 estimated active dApps at any given time across multiple categories such as DeFi, Metaverse, Blockchain Gaming, SocialFi, NFT, Infrastructure, and more. There are numerous programs available to support the Web3 ecosystem including the Gas Grant, Builder Grant, Kickstart, Most Valuable Builder (MVB) and AvengerDAO.
Contact
Jack S
[email protected]

Read Also: BNB Chain Sees 1-year Transaction High; Demonstrates Network Reliability After BSC Surge
Disclaimer: The information provided in this article is for informational purposes only and should not be construed as financial or investment advice. Cryptocurrency investments are subject to market risks, and individuals should seek professional advice before making any investment decisions.