DeFiChain Releases Decentralized Bridge to Connect With BNB Chain
Singapore, Singapore, 27th April, 2022, Chainwire
DeFiChain, the world's leading blockchain on the Bitcoin network dedicated to bringing decentralized financial applications and services to everyone, officially announces the launch of DeFiChain Bridge. It's a fully decentralized bridge connecting DeFiChain with Binance's BNB Chain to facilitate fast, secure, and low-cost transfer of liquidity between the two chains.
The DeFiChain Bridge will allow users to swap tokens between chains within seconds, unlocking new opportunities for arbitrageurs and staking optimizers alike. Removing the complexity and friction from cross-chain transactions would help DeFiChain attract new capital from the BNB Chain. It is also planning to launch a direct bridge to Ethereum in the coming months.
Moving tokens from one blockchain to another via centralized exchanges is a tedious process, often requiring manual verification for large transactions. Moreover, using centralized services requires additional efforts from the user such as sign-up, KYC, and verifications. It renders cross-chain arbitrage useless. Traders seeking arbitrage opportunities need to execute the swaps swiftly when prices differ on two different chains.
"It has never been easier to enter the DeFiChain ecosystem from the BNB Chain. Now it's possible for the BNB Chain investors to access DeFiChain's high rewards and decentralized stocks. That allows users to leverage the benefits of both worlds without the need for centralized exchanges and the tedious processes involved in setting up the necessary accounts and credentials" said Dr. Daniel Cagara, the Lead Project Owner of DeFiChain Bridge. 
DeFiChain's DFI will act as the bridge token to transfer assets between the two chains. Users can lock native DFI on DeFiChain to mint wrapped DFI on the BNB Chain, which they can convert to BNB or any other asset of their choice. To send tokens from BNB Chain to DeFiChain, users burn the wrapped DFI and get native DFI on DeFiChain. The entire process is decentralized and at no point does any one entity control the funds.
Currently, there is no wrapped version of BNB token on DeFiChain, meaning users won't be able to create a composite swap from BNB to dBNB. As the DeFiChain Bridge adoption grows, DeFiChain plans to make composite swaps possible by allowing users to automatically convert BNB to dBNB and ETH to dETH.
The DeFiChain Bridge also offers an API to let wallets and service providers integrate this service seamlessly. Developers building their protocols on top of DeFiChain get access to a larger and growing user base, as the bridge facilitates large capital flows from one ecosystem to another independent of KYC processes.
To keep user funds secure, the DeFiChain Bridge is designed to do just one thing, unlike most other bridges that try to be the "Jack of All Trades." Its simple design dramatically reduces the attack surface for potential exploits. The bridge's cryptography relies on Binance's Threshold Signature Scheme (TSS), which replaces all private key related commands with distributed computations. The libraries used have therefore been certified and audited several times by Binance itself.
About DeFiChain
DeFiChain is a decentralized Proof-of-Stake blockchain created as a hard fork of the Bitcoin network to enable advanced DeFi applications. It is dedicated to enabling fast, intelligent, and transparent decentralized financial services. DeFiChain offers liquidity mining, staking, decentralized assets, and decentralized loans. The DeFiChain Foundation's mission is to bring DeFi to the Bitcoin ecosystem.
Contacts
Disclaimer: The information provided in this article is for informational purposes only and should not be construed as financial or investment advice. Cryptocurrency investments are subject to market risks, and individuals should seek professional advice before making any investment decisions.
Mining Contracts From $10: How To Invest And Earn Passive Income With Mining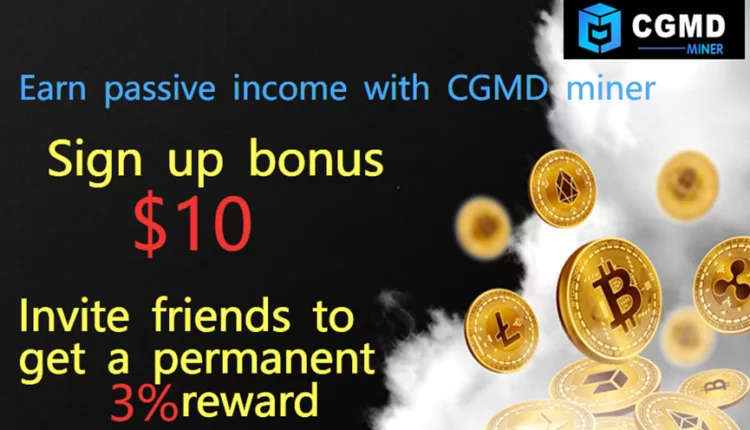 As more players enter the cryptocurrency market, mining becomes more complex and requires more computing power. As a result, many people who previously used their own equipment for cryptocurrency mining now find it unsustainable: high electricity bills and wear and tear on the equipment. Therefore, cloud mining is becoming an increasingly attractive option.
In the partner material, we go into more detail about its features and how it will help increase passive income.
What is cloud mining
Cloud mining is a mechanism that uses leased cloud computing power to mine cryptocurrencies such as Bitcoin. Hardware setup and startup, no software installation required.
Cloud mining companies make mining even more affordable by allowing you to open an account and participate in cryptocurrency mining remotely at rock-bottom prices. Since mining takes place in the cloud, there are fewer issues with equipment maintenance or direct electricity costs.
How to start cloud mining
Here are the basic steps you need to take before getting started.
Step 1: Choose a Cloud Mining Provider
CGMD Miner is a popular and powerful cryptocurrency mining platform and an excellent resource for passive income. CGMD Miner is a free Bitcoin mining program that allows you to passively earn Bitcoins without any strings attached, regardless of technical knowledge or financial resources. Once $12 worth of Bitcoins are mined, they can be transferred to your account and traded. Any profits are yours and you can withdraw them to your personal wallet.
Platform advantages:
Get $10 immediately after registration;
High levels of profitability and daily payout;
No additional services or administrative fees required;
Other currencies can be generated;
The company's Partner Program allows you to invite friends and earn up to $3,000 in referral bonuses;
McAfee security? Cloudflare® security protection;
24/7 technical support.
Step 2. Register an account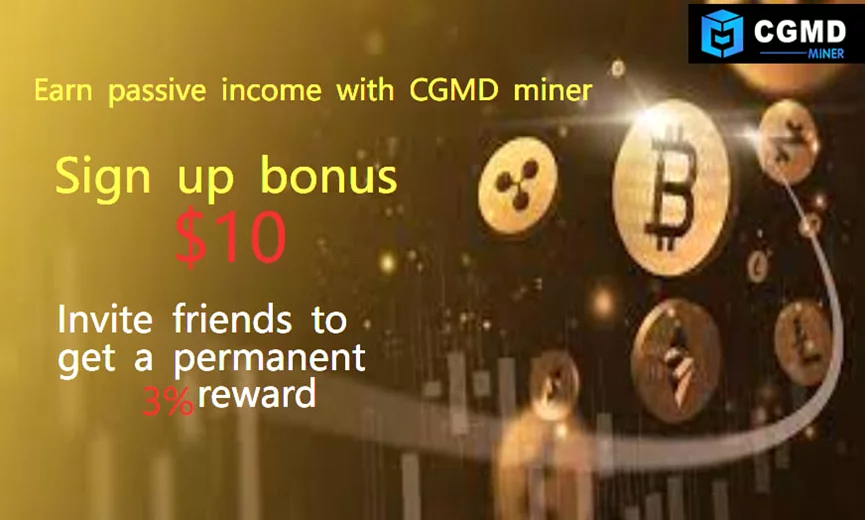 Go to the provider of your choice and sign up to create a new account.
CGMD Miner offers a simple registration process: all you need to do is enter your email address. After signing up, you can start mining Bitcoin immediately.
Step 3. Purchase a Mining Contract
Miner CGMD offers a variety of mining contract options: packages ranging from US$100 to US$5,000, each package has its own return on investment and a certain contract validity period. Right now:
The day after the contract is purchased, the revenue starts flowing in. When $100 is reached, the money can be withdrawn to a crypto wallet or continue to purchase other contracts.
Step 4: Earn passive income
Cloud mining is a great way to increase your passive income. Cryptocurrency capital can be grown via "autopilot" mode with minimal time outlay – less than any type of active trading. Passive income is the goal of every investor and trader, and with CGMD miners, achieving it is easier than ever.
CGMD Partner Program
Miner CGMD also offers an affiliate program, a platform that allows you to earn money by recommending the site to others. You can make money even without investing. A fixed one-time bonus of up to $3,000 will be charged for inviting positive referrals.
For more information about CGMD mining machines, please visit the official website https://365miner.com/
Read Also: OKX Achieves SOC 2 Type II Certification, Demonstrating its Industry-Leading User Safety, Security and Compliance Standards
Disclaimer: The information provided in this article is for informational purposes only and should not be construed as financial or investment advice. Cryptocurrency investments are subject to market risks, and individuals should seek professional advice before making any investment decisions.