Bitsliced, the revolution behind asset tokenization
Zug, Switzerland, 4th July, 2022, Chainwire
While the adoption of cryptocurrencies continues to grow, as evidenced by last year's bull market, there is still an abundant need to integrate real-world assets onto the blockchain.
Bitsliced's purpose is to fill this gap by bridging blockchain technology with the physical world. Through Bitsliced's app and set of smart contracts, Bitsliced will make it intuitive and easy to tokenize and fractionalize assets from different markets such as collectibles, real estate, traditional art, and several other use cases.
Overview of Sliced App
Bitsliced's flagship product, Sliced, is a SocialFi app and marketplace where users can mint and trade different NFTs (non-fungible tokens) and tokens that represent real-world assets. 
Through the Sliced app, anyone can create a digital representation of an owned asset, be it an art piece, propriety, vehicle, piece of clothing, etc. In doing so, Bitsliced contributes to the creation of a parallel digital market that eases the trading of items across borders and unlocks additional value through novel revenue streams.
Leveraging blockchain technology, the Sliced app guarantees an extra layer of security and transparency through all trades. Further down the line, it will be possible to fractionalize and divide ownership of assets through different users (verifiable co-ownership). 
The app will be available on all mobile devices, including the iOS and Android operating systems, and desktop users can also access it through the web browser version. 
Unique Features
To increase retention and user engagement, the Sliced app will be gamified. Badges and a leaderboard system will be included in the app's architecture, incentivizing users to keep using Bitsliced's services.
The Slice app will also include social media elements. Bitsliced will be leveraging an innovative approach to socialization through Bitsliced's NFT channels. Acting as a personal digital space, NFT channels will enable users to socialize in unique ways while showcasing their portfolios and NFT in a sort of "digital gallery".
NFT channels will be a place where Bitsliced's community can hang out, trade, and discuss their favorite topics, be it in real estate, collectibles, fashion, and any other industry disrupted by Sliced NFTs. Bitsliced expects to create a vibrant and active community of investors, collectors, and NFT enthusiasts thanks to the high-profile channels.
Another component of the Bitsliced SocialFi app is staking and yield farming. Several passive income possibilities will be available to SLICED token holders. By staking and helping keep the network running, users can be rewarded with an estimated annual percentage yield (APY) of 15%. Alternatively, SLICED token holders can also earn an expected 25% APY by providing liquidity to Bitsliced's protocol and marketplace. 
The SLICED token will be the cornerstone of the app, powering all trades within the marketplace. Each transaction within the marketplace is immediately rewarded with a 1% cashback, with real estate purchases potentially having up to 8% cashback depending on the broker. The Bitsliced Debit Card will also be introduced, offering a convenient way for users to spend their crypto funds and cashback earnings to make purchases or convert into fiat. 
Sliced NFTs – Legal Background
Thanks to Bitsliced's proprietary Sliced NFT System, we'll be able to issue universal digital certificates with a seal of trust. All certificates are unique NFTs that represent ownership of a specific asset.
Sliced, alongside its network of partners and brokers, will be responsible for ensuring all the necessary legal due diligence is done beforehand. Bitsliced proprietary code will then check and verify the integrity of the data, and only then will the NFT certificate be minted.
About Bitsliced
Bitsliced is a blockchain-based protocol aimed at the tokenization of real-world assets. Its platform enables anyone to mint, collect, and trade physical items on the blockchain.
The Bitslice ecosystem, which is comprised of a SocialFi app and NFT marketplace, offers an innovative business model through which a parallel digital economy is born. Anything from real estate, collectibles, fashion wearables, and several other physical items can be traded efficiently across the world. 
The Bitslice app also features social and gamified elements, allowing the community to socialize, compete, and display their NFTs in "digital galleries", as well as the opportunity to stake and earn SLICE, the native token powering the Bitsliced ecosystem. 
Learn more about Bitsliced and join Bitsliced's community by visiting the official website or following Bitsliced on Twitter, Telegram, and Instagram.
Contacts
CEO
Randy van Brienen
Bitsliced
Disclaimer: The information provided in this article is for informational purposes only and should not be construed as financial or investment advice. Cryptocurrency investments are subject to market risks, and individuals should seek professional advice before making any investment decisions.
Mining Contracts From $10: How To Invest And Earn Passive Income With Mining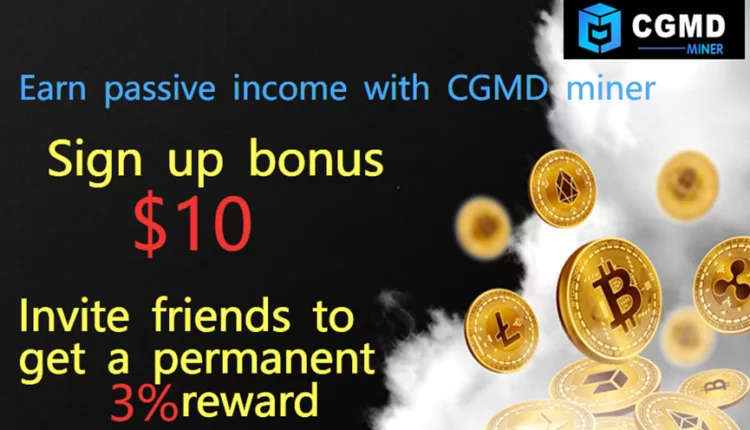 As more players enter the cryptocurrency market, mining becomes more complex and requires more computing power. As a result, many people who previously used their own equipment for cryptocurrency mining now find it unsustainable: high electricity bills and wear and tear on the equipment. Therefore, cloud mining is becoming an increasingly attractive option.
In the partner material, we go into more detail about its features and how it will help increase passive income.
What is cloud mining
Cloud mining is a mechanism that uses leased cloud computing power to mine cryptocurrencies such as Bitcoin. Hardware setup and startup, no software installation required.
Cloud mining companies make mining even more affordable by allowing you to open an account and participate in cryptocurrency mining remotely at rock-bottom prices. Since mining takes place in the cloud, there are fewer issues with equipment maintenance or direct electricity costs.
How to start cloud mining
Here are the basic steps you need to take before getting started.
Step 1: Choose a Cloud Mining Provider
CGMD Miner is a popular and powerful cryptocurrency mining platform and an excellent resource for passive income. CGMD Miner is a free Bitcoin mining program that allows you to passively earn Bitcoins without any strings attached, regardless of technical knowledge or financial resources. Once $12 worth of Bitcoins are mined, they can be transferred to your account and traded. Any profits are yours and you can withdraw them to your personal wallet.
Platform advantages:
Get $10 immediately after registration;
High levels of profitability and daily payout;
No additional services or administrative fees required;
Other currencies can be generated;
The company's Partner Program allows you to invite friends and earn up to $3,000 in referral bonuses;
McAfee security? Cloudflare® security protection;
24/7 technical support.
Step 2. Register an account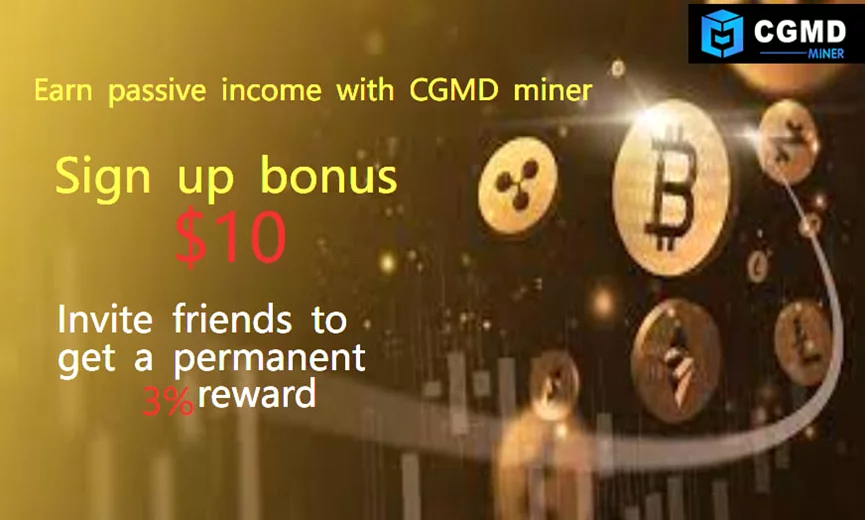 Go to the provider of your choice and sign up to create a new account.
CGMD Miner offers a simple registration process: all you need to do is enter your email address. After signing up, you can start mining Bitcoin immediately.
Step 3. Purchase a Mining Contract
Miner CGMD offers a variety of mining contract options: packages ranging from US$100 to US$5,000, each package has its own return on investment and a certain contract validity period. Right now:
The day after the contract is purchased, the revenue starts flowing in. When $100 is reached, the money can be withdrawn to a crypto wallet or continue to purchase other contracts.
Step 4: Earn passive income
Cloud mining is a great way to increase your passive income. Cryptocurrency capital can be grown via "autopilot" mode with minimal time outlay – less than any type of active trading. Passive income is the goal of every investor and trader, and with CGMD miners, achieving it is easier than ever.
CGMD Partner Program
Miner CGMD also offers an affiliate program, a platform that allows you to earn money by recommending the site to others. You can make money even without investing. A fixed one-time bonus of up to $3,000 will be charged for inviting positive referrals.
For more information about CGMD mining machines, please visit the official website https://365miner.com/
Read Also: OKX Achieves SOC 2 Type II Certification, Demonstrating its Industry-Leading User Safety, Security and Compliance Standards
Disclaimer: The information provided in this article is for informational purposes only and should not be construed as financial or investment advice. Cryptocurrency investments are subject to market risks, and individuals should seek professional advice before making any investment decisions.