Mortgage giant Sun West Up to give away 5 ETH as they introduce blockchain technology during the Game on event June 25th via livestream from Vegas
Las Vegas, United States, 24th June, 2022, Chainwire
Sun West CEO and Morgan's innovator Pavan Agarwal was welcomed by Hall of Famers Terrell 'TO' Owens and 'Ivan' Pudge Rodriguez as part of the leadership coaching event 'Game On'.
The event showcases the recently developed empathetic technology mortgage product which seeks to achieve unbiased and fair lending and greater equality in the house buying experience with integrated blockchain technology.
In tandem, the event will be making a donation to The Autism Community in Action (TACA) based on Total attendees and Livestream viewership count
Football and baseball Hall of Fame icons Terrell 'TO' Owens and Ivan 'Pudge' Rodriguez today will induct leading mortgage originator Sun West's recently developed empathetic technology product Morgan into the Mortgage Hall of Fame at Resorts World, Las Vegas. 
Pavan Agarwal, founder, and CEO of Sun West's technology sister company Celligence, will explain how Morgan will eliminate the stress, anxiety, uncertainty, and the overall risk of the home buying process while broadening, and equalizing access to those from more modest income and credit backgrounds. This latest event will see blockchain technology introduced to the platform with high-value utility. Thomas Smith, CTO has been leading up the project and said, "this is like nothing you've seen before".
'Game On' hosts TO Owens and Pudge Rodriguez will provide expert business and leadership coaching drawing from their respective "Hall of Fame" careers in Football and Baseball. The stage will provide an opportunity for Mr. Agarwal to showcase Morgan and how it seeks to make the dream of home ownership a reality to many more people, with Sun West Ambassador Pudge Rodriguez formally welcoming it into the Mortgage Hall of Fame. 
Acquiring a mortgage has become even harder in recent times, partly driven by high inflation, continually rising property prices, and coupled with many US banks and financial institutions not issuing small-dollar mortgage loans to families with modest incomes and means. When combined with the complexities of the lending process and an unwillingness of many lenders to invest the time and resources on potential customers with non-traditional financial circumstances, there are major obstacles to affordable housing, especially among underserved communities. 
Mr. Agarwal, in creating Morgan, has committed to address these inequality issues. The traditional process of mortgage applications has typically precluded those with a challenging credit and employment history, and the use of technology, such as Morgan, seeks to level that playing field by considering multiple mitigating factors. By employing artificial intelligence and 'empathetic technology' to consider the applicant's language, emotional state, and other factors, Morgan has already proven to increase mortgage approval rates for those from lower-income with lower-down payment FHA/VA/USDA loans. 
Pavan Agarwal, CEO of Sun West Mortgage Company, said: "I am thrilled to be welcomed by such inspiring sports icons and leaders like TO Owens and Pudge Rodriguez, and to have Morgan inducted into the Hall of Fame. Their inspiring words and coaching in both the world of business and in everyday life are testament to their stellar careers in Football and Baseball, and their commitment to improving the lives of others is a positive testament to their characters. 
"Borrowers in underserved communities deserve the opportunity to apply for a mortgage and to present their offers to sellers with the same confidence and dignity as buyers in high-income brackets. At Sun West Mortgage Company, we pride ourselves on 'The Home of Fair Lending' and are continually looking to deliver this level of service equally across borrower demographics and profiles. As a firm, we will continue to invest in the creation of transformative technology that will make low-cost financing more accessible and equal than ever before."
About Sun West Mortgage
Sun West Mortgage Company dedicates itself to offering stellar service to its customers. To accomplish this, Sun West Mortgage empower its loan officers so that they can find great rates and provide the most fitting loan options for each customer – at amazing speed. Sun West Mortgage's focus on technology has given an edge in the mortgage industry to offer some of the fastest turn times available – so the customer can get into the home of their dreams sooner!
Sun West Mortgage is committed to its core values of people, experience, technology, and product. Sun West was founded in 1980 with the perspective of "customers first" and the desire to make the mortgage process easy and stress-free for prospective homeowners. Since then, Sun West services a multi-billion-dollar loan portfolio and is licensed in 48 states, the District of Columbia, Puerto Rico, and the US Virgin Islands. Sun West Mortgage's 41 years of experience have been passed down to everyone here at Sun West through excellent leadership and capabilities.
Website: https://www.swmc.com/ 
Event Website: https://swmc.com/gameon 
Twitter: @SunWestMortgage 
Contacts
Press Office
Anonymous Group LTD
07535337772
Disclaimer: The information provided in this article is for informational purposes only and should not be construed as financial or investment advice. Cryptocurrency investments are subject to market risks, and individuals should seek professional advice before making any investment decisions.
Mining Contracts From $10: How To Invest And Earn Passive Income With Mining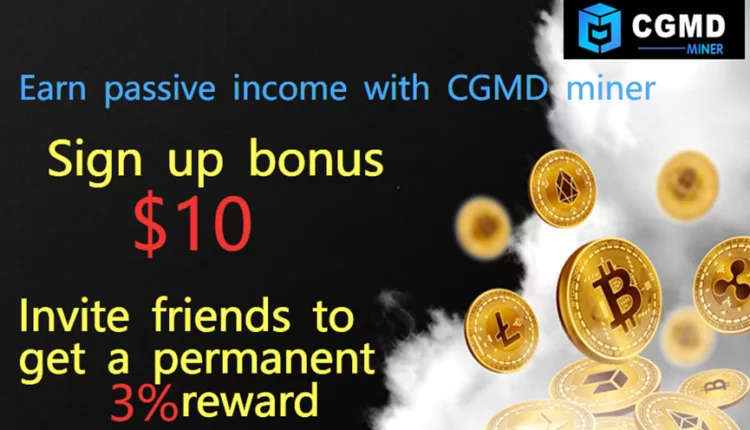 As more players enter the cryptocurrency market, mining becomes more complex and requires more computing power. As a result, many people who previously used their own equipment for cryptocurrency mining now find it unsustainable: high electricity bills and wear and tear on the equipment. Therefore, cloud mining is becoming an increasingly attractive option.
In the partner material, we go into more detail about its features and how it will help increase passive income.
What is cloud mining
Cloud mining is a mechanism that uses leased cloud computing power to mine cryptocurrencies such as Bitcoin. Hardware setup and startup, no software installation required.
Cloud mining companies make mining even more affordable by allowing you to open an account and participate in cryptocurrency mining remotely at rock-bottom prices. Since mining takes place in the cloud, there are fewer issues with equipment maintenance or direct electricity costs.
How to start cloud mining
Here are the basic steps you need to take before getting started.
Step 1: Choose a Cloud Mining Provider
CGMD Miner is a popular and powerful cryptocurrency mining platform and an excellent resource for passive income. CGMD Miner is a free Bitcoin mining program that allows you to passively earn Bitcoins without any strings attached, regardless of technical knowledge or financial resources. Once $12 worth of Bitcoins are mined, they can be transferred to your account and traded. Any profits are yours and you can withdraw them to your personal wallet.
Platform advantages:
Get $10 immediately after registration;
High levels of profitability and daily payout;
No additional services or administrative fees required;
Other currencies can be generated;
The company's Partner Program allows you to invite friends and earn up to $3,000 in referral bonuses;
McAfee security? Cloudflare® security protection;
24/7 technical support.
Step 2. Register an account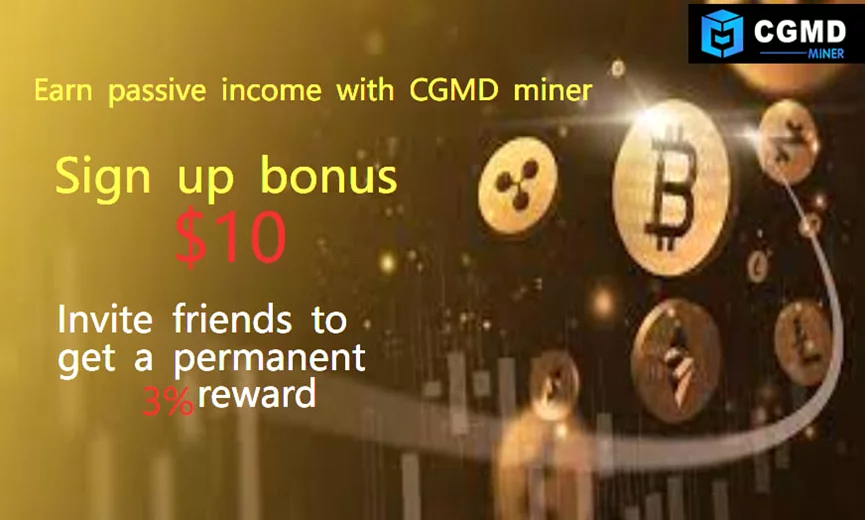 Go to the provider of your choice and sign up to create a new account.
CGMD Miner offers a simple registration process: all you need to do is enter your email address. After signing up, you can start mining Bitcoin immediately.
Step 3. Purchase a Mining Contract
Miner CGMD offers a variety of mining contract options: packages ranging from US$100 to US$5,000, each package has its own return on investment and a certain contract validity period. Right now:
The day after the contract is purchased, the revenue starts flowing in. When $100 is reached, the money can be withdrawn to a crypto wallet or continue to purchase other contracts.
Step 4: Earn passive income
Cloud mining is a great way to increase your passive income. Cryptocurrency capital can be grown via "autopilot" mode with minimal time outlay – less than any type of active trading. Passive income is the goal of every investor and trader, and with CGMD miners, achieving it is easier than ever.
CGMD Partner Program
Miner CGMD also offers an affiliate program, a platform that allows you to earn money by recommending the site to others. You can make money even without investing. A fixed one-time bonus of up to $3,000 will be charged for inviting positive referrals.
For more information about CGMD mining machines, please visit the official website https://365miner.com/
Read Also: OKX Achieves SOC 2 Type II Certification, Demonstrating its Industry-Leading User Safety, Security and Compliance Standards
Disclaimer: The information provided in this article is for informational purposes only and should not be construed as financial or investment advice. Cryptocurrency investments are subject to market risks, and individuals should seek professional advice before making any investment decisions.