Kryptomon lists its KMON token on Bybit Global Exchange on 6th of May
Amsterdam, Holland, 2nd May, 2022, Chainwire
Bridging the gap between blockchain technology and AAA-level gameplay, Kryptomon lists its KMON token on Bybit to expand its gaming universe to a new audience
Kryptomon, the living NFT-powered play-and-earn gaming project merging nostalgic appeal with modern blockchain technology, announces the listing of its KMON token on Bybit. Through the listing, Bybit's global user base can buy, sell, and trade KMON,  Kryptomon's native token which powers all in-game actions, including the KMarket NFT marketplace where users can support their evolving NFT creatures and purchase gameplay add-ons.
Drawing inspiration from classic titles like Pokemon & Tamagotchi, Kryptomon brings to life collectible living NFT creatures with distinct, mutable genetic features and characteristics in its play-and-earn game. Players are able to nurture, raise, and battle with other players with their unique monsters while exploring the expansive lore of Kryptomon's Metaverse ecosystem. Part of this exploration includes monthly augmented reality "Treasure Hunt" events. This unique move-to-earn feature allows Kryptomon's community to hunt for treasure chests that may include NFT eggs, KMON tokens, and in-game items, encouraging players to discover their natural surroundings to improve their gameplay experience.
Through this listing, Kryptomon users unlock instant utility within the game's universe, which combines real-world and Metaverse gameplay. As a one-stop crypto destination, Bybit enables the growing Kryptomon community to easily acquire KMON tokens that drive all facets of the Kryptomon play-and-earn experience. The token listing grants a head-start for players ready to grow their Kryptomon roster, in addition to the treasure hunts and in-game opportunities to generate KMON.
"Listing our token on Bybit is a really exciting step forward in growing our community on a global scale," says Umberto Canessa Cerchi, Co-Founder and CEO of Kryptomon. "Our game and Metaverse are nothing without our community, and having our token listed on a renowned platform allows us to develop an even greater and more rewarding experience for the next generation of players while expanding our international community."
"Bybit is all about offering a diverse selection of tokens and digital assets to our user-base around the world," says May Liu, Listing Manager at Bybit. "Listing the KMON token on our platform will further allow users to easily support new projects and tokens in the crypto sphere."
About Kryptomon:
Set in the Kryptomon metaverse, community members play as "Trainers," taking care of their own NFT pet monsters, which have a unique and mutable genetic code made up of 38 randomized parameters that determine their physical and behavioral characteristics. They are capable of learning, falling sick, getting hungry, and protecting their trainers when out on an adventure in the physical world. In turn, trainers will have to care for, feed, and train their Kryptomon partners in order to grow and prepare for the battles ahead. Kryptomon aims to create the next step in the evolution of crypto and Metaverse gaming by using blockchain, digital genetics, and location-based technologies. To see how Kryptomon is creating its gaming universe, please visit https://kryptomon.co/
About Bybit:
Bybit is an innovative, highly advanced, user-friendly crypto trading and exchange platform. Designed from the ground up using best-in-class infrastructure, Bybit provides users with the industry's safest, fastest, fairest, and most transparent trading experience. Created around customer-centric values, Bybit is built with passion to help crypto believers achieve their dreams and their freedom. To learn more about Bybit's global exchange platform, visit https://www.bybit.com/en-US/
Contacts
CMO
Tomer Warschauer Nuni
The Kryptomon Company B.V.
+31-202-170887
Disclaimer: The information provided in this article is for informational purposes only and should not be construed as financial or investment advice. Cryptocurrency investments are subject to market risks, and individuals should seek professional advice before making any investment decisions.
Web3 Builders Look to Alternate Growth Model with BNB Chain as Bear Market Funding Drops by 84%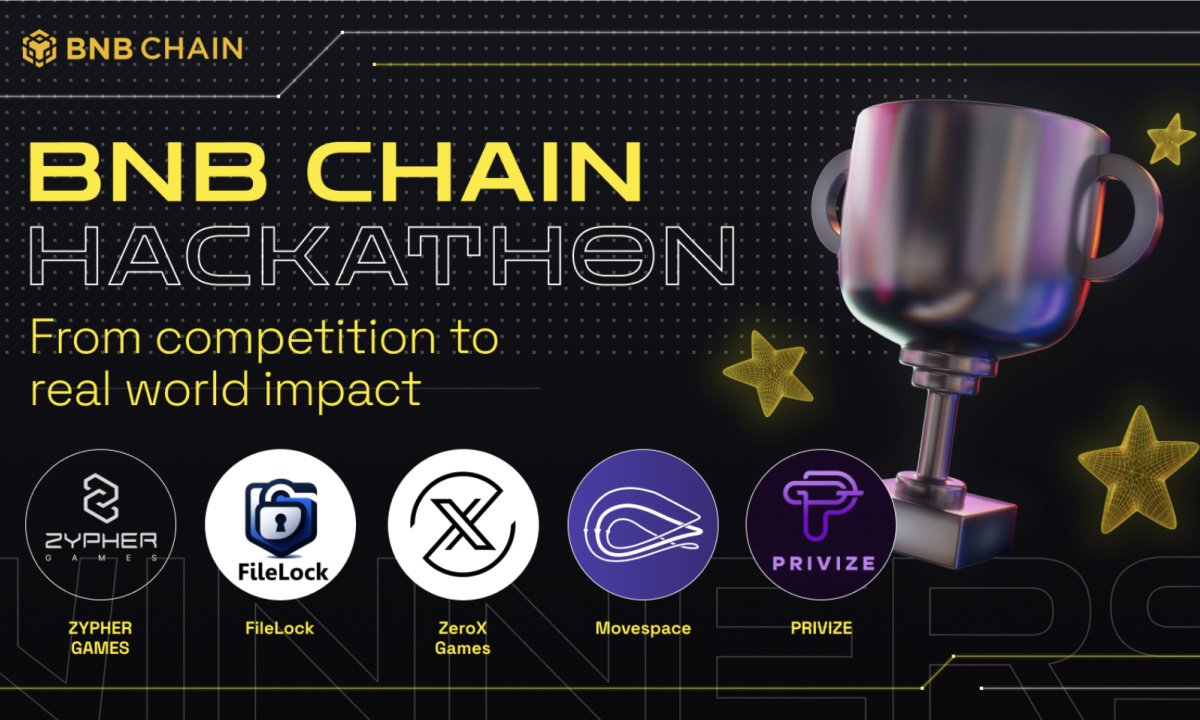 DUBAI, UAE, November 23rd, 2023, Chainwire
BNB Chain, the community-driven blockchain ecosystem that includes the world's largest smart contract blockchain, is highlighting the compelling growth stories of the projects that emerge from its project development program, starting with its hackathons. This comes in the wake of BNB Chain's Istanbul Hackathon, which saw the emergence of a number of strong projects.
The focus of the bear market is building quality Web3 projects – this is a time for developers to concentrate on identifying what real use cases need solving. However, quarterly funding for Web3 startups has dropped by approximately 84% this year. Against this backdrop, thousands of founders have looked to alternate ways to develop their projects to the point of launch readiness.
By providing constant guidance, in addition to routinely incentivising innovation with its global hackathons, BNB Chain mentors these projects through the various stages of their development journeys as they strive to realize the immense potential of Web3. 
Below are the steps that projects can expect to partner with BNB Chain on as they work to realize their vision:
Ideate and develop a killer idea at a BNB Chain hackathon
Win a reward at the hackathon that allows for initial development
Develop further with constant guidance from BNB Chain
Get introduced to incubators who can supercharge your project
Launch your project on-chain 
BNB Chain Hackathon winners also receive referral codes to apply to the Most Valuable Builder (MVB) to potentially increase their funding. The program – run by BNB Chain and Binance Labs – helps projects develop and grow through mentorship, funding and network support*.
BNB Chain's recent Istanbul Hackathon saw a number of exciting projects start on this journey, with a number of the winners sharing how they plan to utilize their winnings to advance their projects. 
MoveSpace, an on-chain data labeling and marketplace powered by a vector database, is addressing the data transparency issue in AI training to incentivise human interactions with data with BNB Greenfield. Using the funds they won at the BNB Chain Hackathon, they are further refining their concept – making data tradable as a regular commodity or asset – to make data ownership meaningful, setting them up for success at their first round of fundraising.
Another winning project exemplifying the practical applications of blockchain technology is ZeroX, a Web3 Gaming platform with a core mission of onboarding users to Web3 through gaming. Offering SDK and API services for traditional game development, they are lowering the barriers for traditional game developers and gamers to enter Web3. They will allocate the funds they won at the Istanbul hackathon to accelerate their growth and incorporate BNB Greenfield into their product, putting them in a leading position for their first funding round and upcoming public product launch. 
Learn more about all of the winning projects, their experiences of BNB Chain Hackathon Istanbul and how it is accelerating their growth here.
Tomasz Wojewoda, Head of Business Development at BNB Chain, said: "The quality of the projects that emerged from the BNB Chain Istanbul Hackathon was truly remarkable. It has been great to see their Web3 spirit on full display and to see how they are leveraging opBNB and BNB Greenfield to accelerate their development. Myself and the BNB Chain team look forward to being by the developers' sides and providing guidance as they continue to build towards realizing their vision."
*Disclaimer: There is no guarantee that projects will be accepted to the MVB program.  
About BNB Chain
BNB Chain is a community-driven ecosystem with multiple decentralized blockchains, powered by BNB. It consists of BNB Beacon Chain, its staking and governance layer, BNB Smart Chain (BSC), which is EVM compatible and facilitates a multi-chain ecosystem with its Layer-2 solutions including opBNB, and BNB Greenfield, its decentralized data storage network. 
The BNB Chain ecosystem has the world's largest smart contract blockchain (BSC) by daily active users and has processed 3 billion transactions to date from 232 Million unique addresses. This makes it the largest layer 1 blockchain globally and brings developers massive user access with ultra-low gas fees, higher transactions per second and has experienced zero crashes since its inception. The ecosystem has more than 1,500 estimated active dApps at any given time across multiple categories such as DeFi, Metaverse, Blockchain Gaming, SocialFi, NFT, Infrastructure, and more. There are numerous programs available to support the Web3 ecosystem including the Gas Grant, Builder Grant, Kickstart, Most Valuable Builder (MVB) and AvengerDAO.
Contact
Jack S
[email protected]

Read Also: BNB Chain Sees 1-year Transaction High; Demonstrates Network Reliability After BSC Surge
Disclaimer: The information provided in this article is for informational purposes only and should not be construed as financial or investment advice. Cryptocurrency investments are subject to market risks, and individuals should seek professional advice before making any investment decisions.