Invictus Capital spearheads the world's first regulated and tokenised mutual fund
Zurich, Switzerland, 4th April, 2022, Chainwire
Invictus Capital (Invictus) has been at the forefront of innovation in the digital asset space since its inception in 2017. The team launched the world's first tokenised crypto index fund, Crypto20, and now has a five-year track record as a pioneer and trusted player in the digital asset industry.
Since then, Invictus has broadened its horizons to offer an array of products designed for a community of compliant investors with long-term investment horizons. To that end, the company has welcomed increasing regulatory oversight in the digital asset space. Invictus believes that its early entry into the regulated arena will protect its investors from regulatory challenges, and expertly position the fund to benefit from the growing influx of institutional investment.
"We are very proud to have become the world's first regulated, tokenised, and administered mutual fund," says Daniel Schwartzkopff, Co-Founder of Invictus Capital. Regulation has always been a concern for any company in the crypto space, and previously obtaining this kind of regulated structure was not possible for any crypto asset manager. Now, with the instantiation of new mutual fund laws and obtaining the requisite asset management and fund licenses, we can focus solely on building products and features our user-base loves with a clear sight of the framework within which we operate. "
The Invictus investor base has also repeatedly expressed the need for assurances around fund security and legal ownership of the underlying fund assets. A traditional fund structure with third-party oversight addresses these concerns and "future-proofs" the Invictus index funds for these long-term investors.
All open-ended Invictus funds will have the same oversight as any other regulated mutual fund within the Cayman Islands. In addition, the funds will benefit from an annual independent external audit and daily fund valuation by a licensed third-party administrator.
This secures all Invictus funds for the long term, allowing for tax and estate planning. This well-understood fund structure also enables us to keep building, unencumbered by regulatory changes during this time of flux in the digital asset industry.
Invictus Capital has combined this regulatory upgrade with migration of its tokenised fund shares from the Ethereum network to Polygon. This will mean that all fund shares will exist as tokens on the Polygon network only, representing a legal share of ownership in the assets of the relevant funds. This also means that all investor transactions will cost substantially less than on Ethereum, allowing for cost-effective transacting, such as investing, staking, sending, receiving, and redeeming.
"We are very excited to grow and improve our fund structure for our devoted community of investors. These changes will greatly improve all our investors' security, validity, and legal protections. We want to thank everyone for their continued support and look forward to bringing you more exciting products and services in the near future." concludes Schwartzkopff.
About Invictus Capital:
Invictus Capital are leaders in blockchain-driven asset management. Invictus established the world's first tokenised crypto index fund and has now designed and deployed a regulated and tokenized mutual fund, another first, and pioneering step in building an enduring bridge between traditional finance and the digital asset industry.
Contacts
Haydn Hammond
Invictus Capital
0442083768
Disclaimer: The information provided in this article is for informational purposes only and should not be construed as financial or investment advice. Cryptocurrency investments are subject to market risks, and individuals should seek professional advice before making any investment decisions.
Mining Contracts From $10: How To Invest And Earn Passive Income With Mining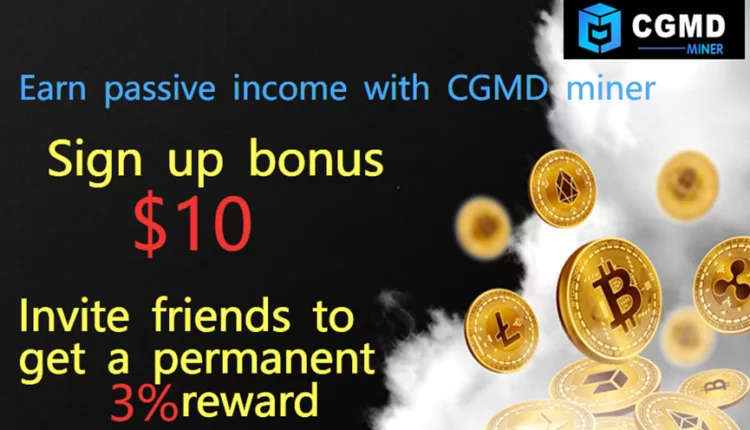 As more players enter the cryptocurrency market, mining becomes more complex and requires more computing power. As a result, many people who previously used their own equipment for cryptocurrency mining now find it unsustainable: high electricity bills and wear and tear on the equipment. Therefore, cloud mining is becoming an increasingly attractive option.
In the partner material, we go into more detail about its features and how it will help increase passive income.
What is cloud mining
Cloud mining is a mechanism that uses leased cloud computing power to mine cryptocurrencies such as Bitcoin. Hardware setup and startup, no software installation required.
Cloud mining companies make mining even more affordable by allowing you to open an account and participate in cryptocurrency mining remotely at rock-bottom prices. Since mining takes place in the cloud, there are fewer issues with equipment maintenance or direct electricity costs.
How to start cloud mining
Here are the basic steps you need to take before getting started.
Step 1: Choose a Cloud Mining Provider
CGMD Miner is a popular and powerful cryptocurrency mining platform and an excellent resource for passive income. CGMD Miner is a free Bitcoin mining program that allows you to passively earn Bitcoins without any strings attached, regardless of technical knowledge or financial resources. Once $12 worth of Bitcoins are mined, they can be transferred to your account and traded. Any profits are yours and you can withdraw them to your personal wallet.
Platform advantages:
Get $10 immediately after registration;
High levels of profitability and daily payout;
No additional services or administrative fees required;
Other currencies can be generated;
The company's Partner Program allows you to invite friends and earn up to $3,000 in referral bonuses;
McAfee security? Cloudflare® security protection;
24/7 technical support.
Step 2. Register an account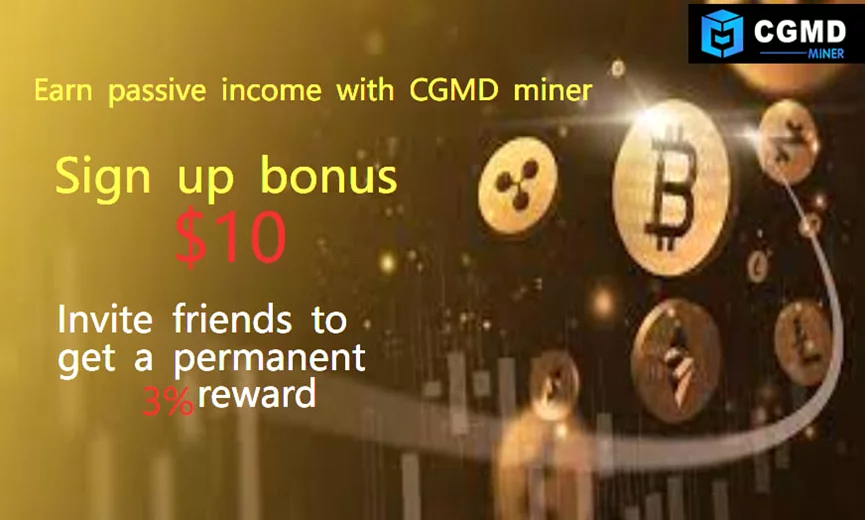 Go to the provider of your choice and sign up to create a new account.
CGMD Miner offers a simple registration process: all you need to do is enter your email address. After signing up, you can start mining Bitcoin immediately.
Step 3. Purchase a Mining Contract
Miner CGMD offers a variety of mining contract options: packages ranging from US$100 to US$5,000, each package has its own return on investment and a certain contract validity period. Right now:
The day after the contract is purchased, the revenue starts flowing in. When $100 is reached, the money can be withdrawn to a crypto wallet or continue to purchase other contracts.
Step 4: Earn passive income
Cloud mining is a great way to increase your passive income. Cryptocurrency capital can be grown via "autopilot" mode with minimal time outlay – less than any type of active trading. Passive income is the goal of every investor and trader, and with CGMD miners, achieving it is easier than ever.
CGMD Partner Program
Miner CGMD also offers an affiliate program, a platform that allows you to earn money by recommending the site to others. You can make money even without investing. A fixed one-time bonus of up to $3,000 will be charged for inviting positive referrals.
For more information about CGMD mining machines, please visit the official website https://365miner.com/
Read Also: OKX Achieves SOC 2 Type II Certification, Demonstrating its Industry-Leading User Safety, Security and Compliance Standards
Disclaimer: The information provided in this article is for informational purposes only and should not be construed as financial or investment advice. Cryptocurrency investments are subject to market risks, and individuals should seek professional advice before making any investment decisions.