​​Brazilian Footballer David Luiz is Now the Brand Ambassador for BC.GAME
São Paulo, Brazil, 22nd December, 2022, Chainwire
BC.GAME has announced that David Luiz, a Brazilian professional football player of the Flamengo team, has become its official brand ambassador. As the crypto casino's brand ambassador, Luiz will consistently collaborate with BC.GAME to help promote the casino platform and engage with its community through social media and live-streaming platforms. 
David Luiz as a Brand Ambassador for BC.GAME
David Luiz's association with BC.GAME will not only help the crypto casino gain more exposure. As a BC.GAME ambassador and one of Brazil's most prominent football players, he can connect the Brazilian football community with the crypto casino platform and grow the brand's player base in Brazil. 
Luiz will primarily engage and connect with the crypto casino community through social media activities. He will also be connecting with many players and fans through Twitch, an interactive streaming platform made for gaming and entertainment. 
Luiz shared, "I'm very very happy to be partnering with BC.GAME and very excited for the collaboration coming soon." 
BC.GAME's Opportunity For Growth
Brazil has seen a rise in the number of players participating in online casinos, with many opting to play at crypto casinos for their excellent accessibility and offered security. BC.GAME has also recently included sports betting in its gaming portfolio, which also happens to be one of the most popular forms of gambling games in Brazil. 
The partnership is an excellent opportunity for BC.GAME to penetrate the Brazilian market and reach more audiences as it expands. With BC.GAME's entry into the Brazilian casino and sports betting scene, Brazilian football fans and sports betting enthusiasts will have more opportunities to participate in virtual sports and casino events. This includes welcoming grander sports betting opportunities for highly-anticipated sports events like the 2022 FIFA World Cup. 
Coco, the emblem of BC.GAME, said, "Brazil has dominated 2022 in regards to tech innovation and regulatory framework for cryptocurrencies and iGaming. BC.GAME has proudly contributed to this since the doors first opened. We are very pleased to be moving into 2023 with this announcement of our partnership with David Luiz. Our combined efforts will help to maintain this trend, with Brazil at the focal point for tech advancements and crypto mass adoption. The world is watching."
About David Luiz
David Luiz Marinho, also known professionally as David Luiz, is a professional football player from Diadema, Brazil. He is part of the Flamengo Rowing Club, a Brazilian sports club headquartered in Rio de Janeiro. Although Luiz mainly plays as a center-back, he's also known for taking on other roles, such as a defensive midfielder or full-back. 
In the 2009 – 2010 season, Luiz was named the LPFP Primeira Liga Player of the Year. He was hailed as the FIFA Club World Cup Silver Ball winner in 2012. He has also earned two FA cups (2011 – 2012 and 2017 – 2018) and holds one FIFA Confederations cup title. 
About BC.GAME
BC.GAME is a licensed online crypto casino platform that offers a wide variety of casino games, live casinos, and sports betting events. Besides integrating cryptocurrency and blockchain technology in its platforms, the crypto casino is also one of the first casinos to support lightning networks, Binance Smart Chain, Arbitrum, and other Layer 2 solutions,  further revolutionizing the casino industry and the world of blockchain. 
This year, BC.GAME has received the "Crypto Casino Of The Year" title from the 2022 Sigma Awards. It also formed partnerships with the Argentine Football Association (AFA) and Cloud9. 
Learn more: http://bc.game
Contact
PR Lead
Issay Domingo
BC.GAME
[email protected]

Disclaimer: The information provided in this article is for informational purposes only and should not be construed as financial or investment advice. Cryptocurrency investments are subject to market risks, and individuals should seek professional advice before making any investment decisions.
Mining Contracts From $10: How To Invest And Earn Passive Income With Mining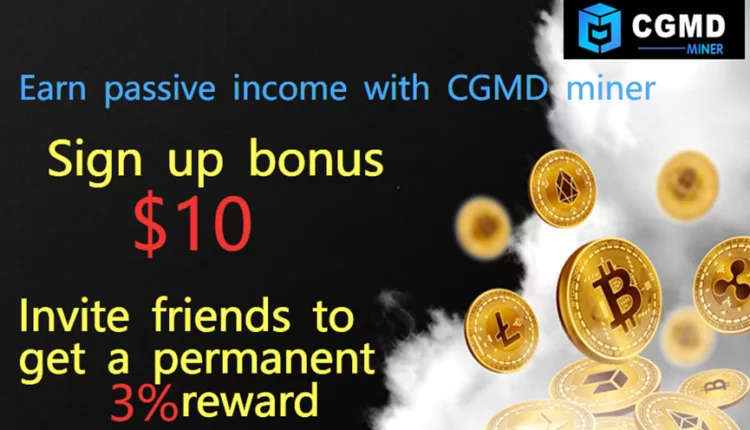 As more players enter the cryptocurrency market, mining becomes more complex and requires more computing power. As a result, many people who previously used their own equipment for cryptocurrency mining now find it unsustainable: high electricity bills and wear and tear on the equipment. Therefore, cloud mining is becoming an increasingly attractive option.
In the partner material, we go into more detail about its features and how it will help increase passive income.
What is cloud mining
Cloud mining is a mechanism that uses leased cloud computing power to mine cryptocurrencies such as Bitcoin. Hardware setup and startup, no software installation required.
Cloud mining companies make mining even more affordable by allowing you to open an account and participate in cryptocurrency mining remotely at rock-bottom prices. Since mining takes place in the cloud, there are fewer issues with equipment maintenance or direct electricity costs.
How to start cloud mining
Here are the basic steps you need to take before getting started.
Step 1: Choose a Cloud Mining Provider
CGMD Miner is a popular and powerful cryptocurrency mining platform and an excellent resource for passive income. CGMD Miner is a free Bitcoin mining program that allows you to passively earn Bitcoins without any strings attached, regardless of technical knowledge or financial resources. Once $12 worth of Bitcoins are mined, they can be transferred to your account and traded. Any profits are yours and you can withdraw them to your personal wallet.
Platform advantages:
Get $10 immediately after registration;
High levels of profitability and daily payout;
No additional services or administrative fees required;
Other currencies can be generated;
The company's Partner Program allows you to invite friends and earn up to $3,000 in referral bonuses;
McAfee security? Cloudflare® security protection;
24/7 technical support.
Step 2. Register an account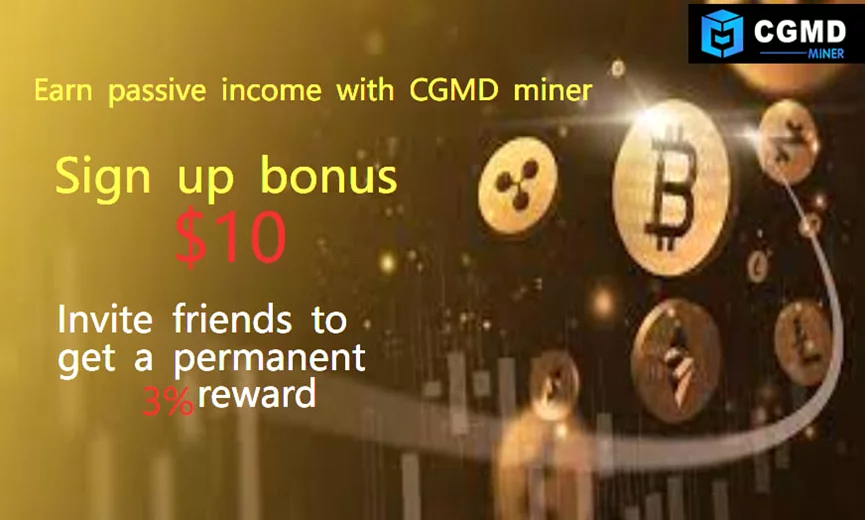 Go to the provider of your choice and sign up to create a new account.
CGMD Miner offers a simple registration process: all you need to do is enter your email address. After signing up, you can start mining Bitcoin immediately.
Step 3. Purchase a Mining Contract
Miner CGMD offers a variety of mining contract options: packages ranging from US$100 to US$5,000, each package has its own return on investment and a certain contract validity period. Right now:
The day after the contract is purchased, the revenue starts flowing in. When $100 is reached, the money can be withdrawn to a crypto wallet or continue to purchase other contracts.
Step 4: Earn passive income
Cloud mining is a great way to increase your passive income. Cryptocurrency capital can be grown via "autopilot" mode with minimal time outlay – less than any type of active trading. Passive income is the goal of every investor and trader, and with CGMD miners, achieving it is easier than ever.
CGMD Partner Program
Miner CGMD also offers an affiliate program, a platform that allows you to earn money by recommending the site to others. You can make money even without investing. A fixed one-time bonus of up to $3,000 will be charged for inviting positive referrals.
For more information about CGMD mining machines, please visit the official website https://365miner.com/
Read Also: OKX Achieves SOC 2 Type II Certification, Demonstrating its Industry-Leading User Safety, Security and Compliance Standards
Disclaimer: The information provided in this article is for informational purposes only and should not be construed as financial or investment advice. Cryptocurrency investments are subject to market risks, and individuals should seek professional advice before making any investment decisions.