Responsible Bitcoin Miner CCU honors Satoshi Nakamoto changes name to SATO Technologies to coincide with existing ticker TSX.V:SATO
Toronto, Canada, 14th June, 2022, Chainwire
SATO Unveils Rebrand With Launch Of New Name And Website
SATO Technologies Corp. (TSXV:SATO / OTCQB:CCPU.F) ("SATO" or "the Company") (previously Canada Computational Unlimited Corp.) rolls out its new brand and website to better express its commitment to responsible Bitcoin mining. SATO's new image will be closer aligned with its mission to lead with full transparency and to cultivate community through the development of blockchain applications, particularly on the Bitcoin Blockchain and the Lightning Network. 
The new site is accessible at: https://www.bysato.com 
"This rebrand emulates the company's growth with a more distinctive and approachable look while paying homage to Satoshi Nakamoto. A strong company is always evolving, therefore SATO's team is continually developing its responsible and highly effective Bitcoin mining business while innovating on the Bitcoin Blockchain and the Lightning Network, which gives us a competitive advantage." commented Romain Nouzareth, Co-Founder, Chairman & CEO. 
As approved at the Company's Annual and Special Meeting on May 31, 2022, the Company has filed articles of amendment to effect the change of its name to SATO Technologies Corp. The Company expects the shares to commence trading under the new name on the TSX Venture Exchange on or around June 16, 2022. The Company's symbol will remain "SATO". A new CUSIP number has been issued, and Shareholders are not required to take any action with respect to the name change. 
SATO's focus is to expand its responsible Bitcoin Mining operations globally. The Company is also in the process of launching new projects built on the Bitcoin Blockchain and the Lightning Network. Project X at SATO is a group of users innovating and building the future with Bitcoin at its core, participants will be able to privately test new products prior to public launch. Interested parties are invited to join the SATO project X.
SATO operates a state-of-the-art, carbon-neutral bitcoin mining center with a contract of 20 MW of stable, renewable energy from Joliette, Québec. The Company's high-density calculation centers are built for high-grade cryptocurrency mining, AI data processing, and fintech infrastructure.
Founded in 2017, SATO is led by technology entrepreneurs, electricity and ventilation experts, network specialists, and Canadian industrialists. Since its inception, the company has pursued a vision of environmental stewardship throughout the mining process. The excess supply of renewable energy in the province of Québec has made this endeavor feasible and a great base for growth. Additional information can be found at www.bysato.com. 
Keep up-to-date on developments and join our online communities on Twitter, LinkedIn, and YouTube.  
NEITHER THE TSX VENTURE EXCHANGE NOR ITS REGULATION SERVICES PROVIDER (AS THAT TERM IS DEFINED IN THE POLICIES OF THE TSX VENTURE EXCHANGE) ACCEPTS RESPONSIBILITY FOR THE ADEQUACY OR ACCURACY OF THIS RELEASE.
Cautionary Statement Regarding Forward-Looking Information
This news release contains certain forward-looking statements, including statements relating to the future performance of the Company, and other statements that are not historical facts. Wherever possible, words such as "may", "will", "should", "could", "expect", "plan", "intend", "anticipate", "believe", "estimate", "predict" or "potential" or the negative or other variations of these words, or similar words or phrases, have been used to identify these forward-looking statements. These statements reflect management's current beliefs and are based on information currently available to management as at the date hereof.
Forward-looking statements involve significant risk, uncertainties and assumptions. Many factors could cause actual results, performance or achievements to differ materially from the results discussed or implied in the forward-looking statements. These factors should be considered carefully and readers should not place undue reliance on the forward-looking statements. Although the forward-looking statements contained in this press release are based upon what management believes to be reasonable assumptions, the Company cannot assure readers that actual results will be consistent with these forward-looking statements. These forward-looking statements are made as of the date of this press release, and the Company assumes no obligation to update or revise them to reflect new events or circumstances, except as required by law. 
Contacts
Caroline Klukowski
SATO
(604) 260 5490
Disclaimer: The information provided in this article is for informational purposes only and should not be construed as financial or investment advice. Cryptocurrency investments are subject to market risks, and individuals should seek professional advice before making any investment decisions.
Mining Contracts From $10: How To Invest And Earn Passive Income With Mining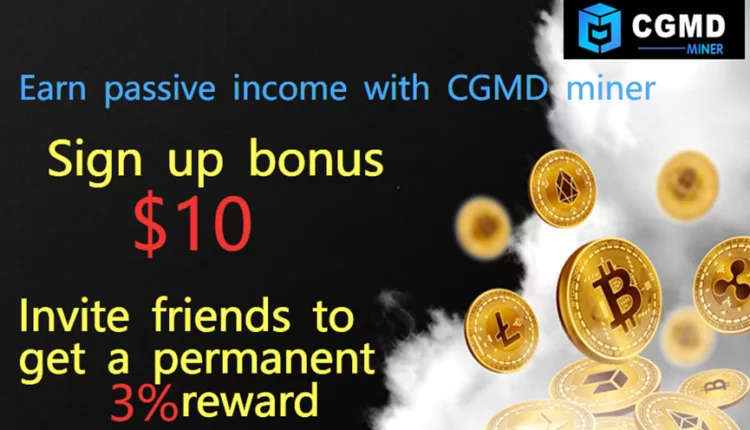 As more players enter the cryptocurrency market, mining becomes more complex and requires more computing power. As a result, many people who previously used their own equipment for cryptocurrency mining now find it unsustainable: high electricity bills and wear and tear on the equipment. Therefore, cloud mining is becoming an increasingly attractive option.
In the partner material, we go into more detail about its features and how it will help increase passive income.
What is cloud mining
Cloud mining is a mechanism that uses leased cloud computing power to mine cryptocurrencies such as Bitcoin. Hardware setup and startup, no software installation required.
Cloud mining companies make mining even more affordable by allowing you to open an account and participate in cryptocurrency mining remotely at rock-bottom prices. Since mining takes place in the cloud, there are fewer issues with equipment maintenance or direct electricity costs.
How to start cloud mining
Here are the basic steps you need to take before getting started.
Step 1: Choose a Cloud Mining Provider
CGMD Miner is a popular and powerful cryptocurrency mining platform and an excellent resource for passive income. CGMD Miner is a free Bitcoin mining program that allows you to passively earn Bitcoins without any strings attached, regardless of technical knowledge or financial resources. Once $12 worth of Bitcoins are mined, they can be transferred to your account and traded. Any profits are yours and you can withdraw them to your personal wallet.
Platform advantages:
Get $10 immediately after registration;
High levels of profitability and daily payout;
No additional services or administrative fees required;
Other currencies can be generated;
The company's Partner Program allows you to invite friends and earn up to $3,000 in referral bonuses;
McAfee security? Cloudflare® security protection;
24/7 technical support.
Step 2. Register an account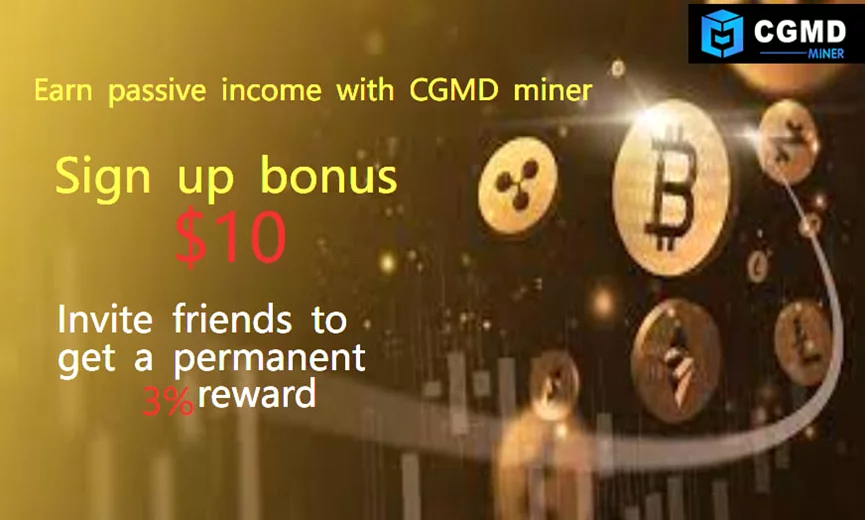 Go to the provider of your choice and sign up to create a new account.
CGMD Miner offers a simple registration process: all you need to do is enter your email address. After signing up, you can start mining Bitcoin immediately.
Step 3. Purchase a Mining Contract
Miner CGMD offers a variety of mining contract options: packages ranging from US$100 to US$5,000, each package has its own return on investment and a certain contract validity period. Right now:
The day after the contract is purchased, the revenue starts flowing in. When $100 is reached, the money can be withdrawn to a crypto wallet or continue to purchase other contracts.
Step 4: Earn passive income
Cloud mining is a great way to increase your passive income. Cryptocurrency capital can be grown via "autopilot" mode with minimal time outlay – less than any type of active trading. Passive income is the goal of every investor and trader, and with CGMD miners, achieving it is easier than ever.
CGMD Partner Program
Miner CGMD also offers an affiliate program, a platform that allows you to earn money by recommending the site to others. You can make money even without investing. A fixed one-time bonus of up to $3,000 will be charged for inviting positive referrals.
For more information about CGMD mining machines, please visit the official website https://365miner.com/
Read Also: OKX Achieves SOC 2 Type II Certification, Demonstrating its Industry-Leading User Safety, Security and Compliance Standards
Disclaimer: The information provided in this article is for informational purposes only and should not be construed as financial or investment advice. Cryptocurrency investments are subject to market risks, and individuals should seek professional advice before making any investment decisions.