RedGrid launches the Internet of Energy Network (IOEN) Protocol on the back of a pioneering collaboration with Monash University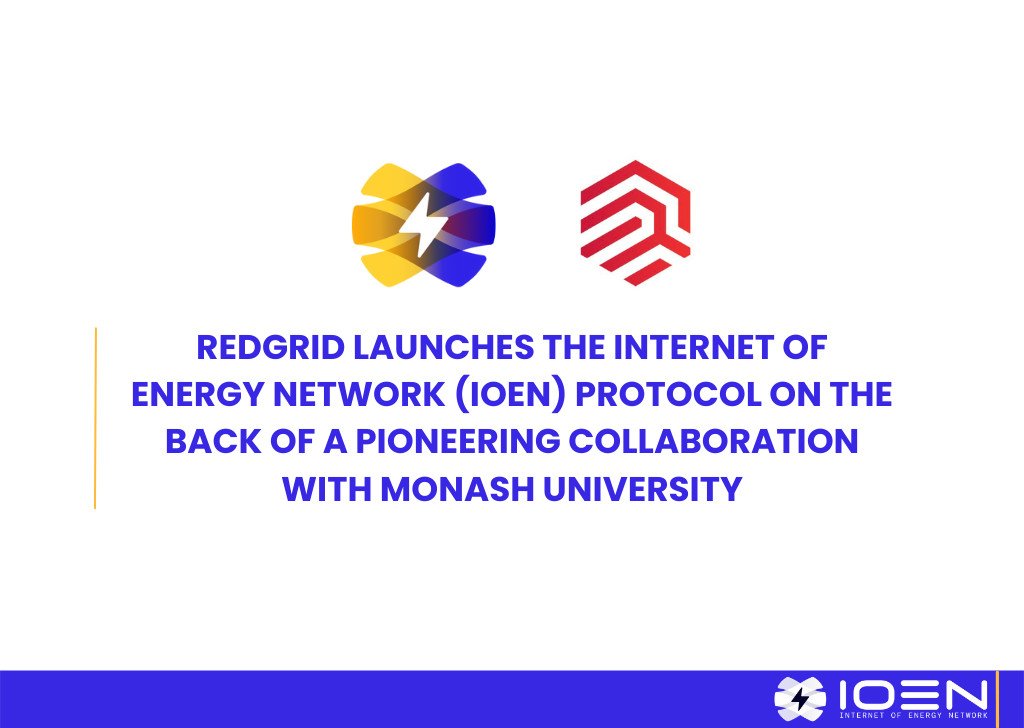 Melbourne, Australia, 31st March, 2022, Chainwire
In 2020 as part of the groundbreaking ARENA-funded Smart Energy City project, RedGrid, the Monash eResearch Centre (MeRC) and Monash University's Net Zero Initiative collaborated to research, develop and demonstrate seamless microgrid energy transactions.
The microgrid project at Monash University's Clayton Campus sought to establish a testbed for industry-led and research-led experiments, including how a distributed agent-based energy market connects and optimises energy assets from large buildings to solar PV systems.
One of the many experiments was to explore the scalability and performance of RedGrid's unique agent-based software approach when applied to a commercial grid-scale 'Transactive Energy Market'.
Since that time, and on the back of the work performed in that collaboration, RedGrid further developed the software to release it in the form of the Open Source IOEN Software Protocol v1.0.
Using learnings from the RedGrid collaboration with Monash, the IOEN protocol focuses on the accessibility of the approach. The protocol allows developers and clean energy industry participants to record peer-to-peer energy trading transactions so they can then apply them to different market scenarios. It also includes peer-to-peer energy value transfer solutions which pave the way for new products, services and innovations that aim to accelerate the clean energy transition and enable the decarbonisation of energy around the world.  
"RedGrid making those learnings accessible to energy innovators through the open IOEN Protocol is an excellent demonstration of the research sector sharing with SMEs the technology development necessary to drive disruptive solutions to grand challenges" said Monash eResearch Centre, Deputy Director, Dr Steve Quenette. 
"The implementation and development of the protocol through RedGrid's work with Monash has been a huge stepping stone to provide seamless energy transaction services between devices and users. Our deployment and testing within the Smart Energy City project shows how an agent-based approach could scale and directly create multiple markets and bidders that responds to the needs of the grid in real-time." said Dr Adam Bumpus, Chief Energy Officer of IOEN and CEO at RedGrid.
"The IOEN protocol is entirely unique in its agent-based architecture and approach. Over the last two years at RedGrid, we have been working closely with the team at MeRC to explore and develop innovative solutions to real-world problems through the use of our open-source code. We are thrilled at RedGrid that we can now release these learnings and continue to develop them further with Monash as well as a world of open-source creators and energy innovators all over the world," said Simon Wilson, Chief Technical Officer of RedGrid.
About IOEN
The Internet of Energy Network (IOEN) is an international non-profit delivering the next generation of web3.0-led digital energy management and optimisation. IOEN tech enables an interconnected system of virtual microgrids that facilitate transactions within and between local energy ecosystems: from the appliance level to energy generation, storage, and consumption.
We are the backbone of the new tokenised energy ecosystem, building out the global clean energy ecosystem wherever you are, device by device.
For more information on IOEN protocol, visit https://www.ioen.tech/ 
About RedGrid 
RedGrid is a Melbourne-based clean energy technology company. Our software seamlessly teams up with the appliances in people's homes to save them money and use renewable energy more often. RedGrid is delivering its software across property developments, neighbourhood battery initiatives, solar sharing installations, and electric vehicle charging stations.
For more information, visit https://www.redgrid.io/
Contact information 
Marco Gritti
About Monash eResearch Center
Monash eResearch Centre (MeRC) accelerates research by applying advanced computing and IT to impactful research problems. It partners with individual researchers, research institutions & facilities, and global research communities to co-design and co-operate what digitisation means to them. It also consolidates the needs of thousands of researchers, leading to a world-renowned engineering team designing & operating high-performance computing, cloud and data (storage/life-cycle) facilities.
Contact information 
Dr Steve Quenette
[email protected]
https://www.monash.edu/researchinfrastructure/eresearch
https://energy.erc.monash.edu
Contacts
Chief Marketing Officer
Disclaimer: The information provided in this article is for informational purposes only and should not be construed as financial or investment advice. Cryptocurrency investments are subject to market risks, and individuals should seek professional advice before making any investment decisions.
Mining Contracts From $10: How To Invest And Earn Passive Income With Mining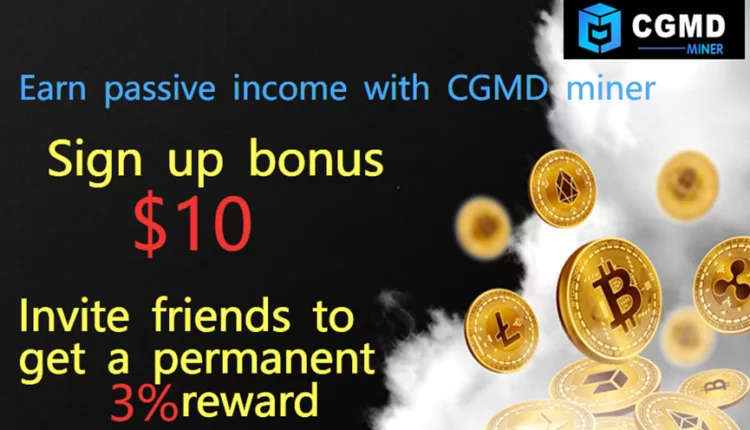 As more players enter the cryptocurrency market, mining becomes more complex and requires more computing power. As a result, many people who previously used their own equipment for cryptocurrency mining now find it unsustainable: high electricity bills and wear and tear on the equipment. Therefore, cloud mining is becoming an increasingly attractive option.
In the partner material, we go into more detail about its features and how it will help increase passive income.
What is cloud mining
Cloud mining is a mechanism that uses leased cloud computing power to mine cryptocurrencies such as Bitcoin. Hardware setup and startup, no software installation required.
Cloud mining companies make mining even more affordable by allowing you to open an account and participate in cryptocurrency mining remotely at rock-bottom prices. Since mining takes place in the cloud, there are fewer issues with equipment maintenance or direct electricity costs.
How to start cloud mining
Here are the basic steps you need to take before getting started.
Step 1: Choose a Cloud Mining Provider
CGMD Miner is a popular and powerful cryptocurrency mining platform and an excellent resource for passive income. CGMD Miner is a free Bitcoin mining program that allows you to passively earn Bitcoins without any strings attached, regardless of technical knowledge or financial resources. Once $12 worth of Bitcoins are mined, they can be transferred to your account and traded. Any profits are yours and you can withdraw them to your personal wallet.
Platform advantages:
Get $10 immediately after registration;
High levels of profitability and daily payout;
No additional services or administrative fees required;
Other currencies can be generated;
The company's Partner Program allows you to invite friends and earn up to $3,000 in referral bonuses;
McAfee security? Cloudflare® security protection;
24/7 technical support.
Step 2. Register an account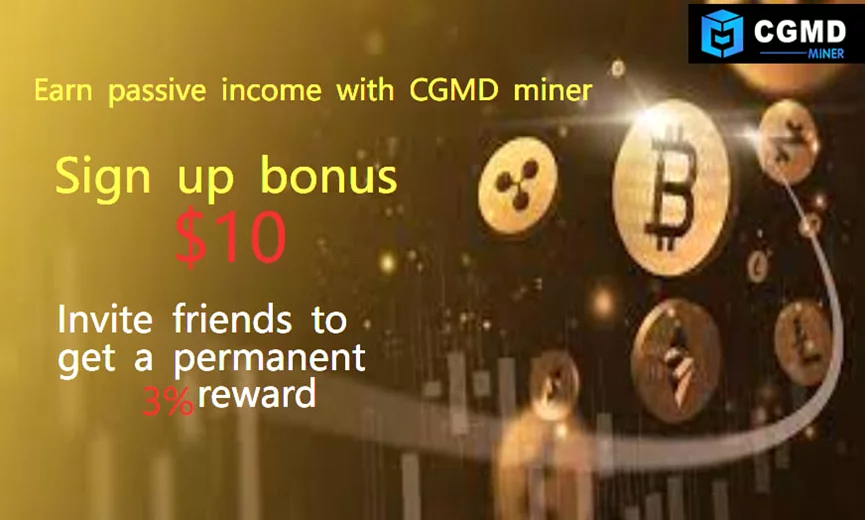 Go to the provider of your choice and sign up to create a new account.
CGMD Miner offers a simple registration process: all you need to do is enter your email address. After signing up, you can start mining Bitcoin immediately.
Step 3. Purchase a Mining Contract
Miner CGMD offers a variety of mining contract options: packages ranging from US$100 to US$5,000, each package has its own return on investment and a certain contract validity period. Right now:
The day after the contract is purchased, the revenue starts flowing in. When $100 is reached, the money can be withdrawn to a crypto wallet or continue to purchase other contracts.
Step 4: Earn passive income
Cloud mining is a great way to increase your passive income. Cryptocurrency capital can be grown via "autopilot" mode with minimal time outlay – less than any type of active trading. Passive income is the goal of every investor and trader, and with CGMD miners, achieving it is easier than ever.
CGMD Partner Program
Miner CGMD also offers an affiliate program, a platform that allows you to earn money by recommending the site to others. You can make money even without investing. A fixed one-time bonus of up to $3,000 will be charged for inviting positive referrals.
For more information about CGMD mining machines, please visit the official website https://365miner.com/
Read Also: OKX Achieves SOC 2 Type II Certification, Demonstrating its Industry-Leading User Safety, Security and Compliance Standards
Disclaimer: The information provided in this article is for informational purposes only and should not be construed as financial or investment advice. Cryptocurrency investments are subject to market risks, and individuals should seek professional advice before making any investment decisions.