MarginX, World's First Community-Based Decentralized Exchange, Launches on Function X Blockchain
Grand Cayman, Cayman Islands, 8th November, 2022, Chainwire
MarginX, the world's first community-based decentralized exchange (DEX), launches on the Function X blockchain today. It runs on a first-of-its-kind multi-chain and on-chain infrastructure that allows investors to trade with close to zero gas fees, ultra-high throughput and liquidity, and full ownership and transparency.
During its beta test in August this year, the DEX accumulated a total transaction volume of more than 45 billion USDT. Currently, with a small group of invited users, the number of transactions on MarginX continues to steadily climb past 48 million, with the most updated numbers found on the Function X StarScan (https://starscan.io/).
"Today marks a milestone for not just MarginX but the DeFi ecosystem, as we push forth the notion of true decentralization, and uphold the values of community and ownership through our unique DEX infrastructure," said Dr. Danny Lim, Core Contributor of MarginX. "We are thrilled to be building on the Function X blockchain, as it provides us with the multi-chain architecture and EVM compatibility that sets the right DeFi environment for MarginX and its future DeFi protocols."
MarginX: A Truly Decentralized DEX for the Community
As the world's first community-based DEX, MarginX is committed to being a contributor-driven, fully decentralized blockchain infrastructure. To further elaborate, the DEX can be defined by the following key features:
Super Low Transaction Fees
MarginX runs on a multi-chain, cross-chain and para-chain infrastructure that allows the platform to handle a throughput of 2,000–20,000 transactions per block, while reducing congestion in the blockchain — thereby maintaining gas fees as low as 0.003 USDT and transaction fees as low as 0.04%.
Users Control Their Assets
Funds are traded through non-custodial wallets, and all transactions take place on-chain so they are secure, verifiable and transparent. Currently, MarginX supports f(x)Wallet and is designed to support all decentralized wallets (i.e. MetaMask, Trust Wallet) through WalletConnect in the near future.
Full Visibility and Access
All transactions run on-chain and are recorded on the blockchain. These include not just order matching, creation and cancellation, but also funding rate settlement, liquidation, and governance. Anybody can track and scrutinize these records, forming a fair system of checks and balances.
Connecting TradFi and DeFi
MarginX lays the foundation for where other DeFi products can be built upon, including stock-based derivatives or traditional financial assets. The DEX allows anyone to design and build their own DeFi products on the blockchain, and offers tools that bridge the old and new traders of the financial world.
By the Community, for the Community
At MarginX, every stakeholder, whether a developer, community manager, or trader, has a say through its governance framework. The MarginX utility NFT system also determines each user's voting rights, trading rebates and referral fees, which builds a sense of community, and offers users an additional and perpetual source of yield.
In addition, in never-before-seen DEX style, MarginX offers a paper trading platform (https://demo.marginx.io) that runs parallel to its live trading platform. This is to allow new users to learn with ease using test tokens, in order to trade confidently in the real world.
"Our goal is to have people think about MarginX as more than just a DEX — it is an entire infrastructure on which DeFi protocols can be built upon," said Dr. Shin Liang Chin, Core Contributor of MarginX. "The sky is the limit when it comes to future partnerships and developments, and we are excited to be at the helm of such a direction for the industry. We hope to make finance more accessible, more transparent and more secure for everyone through the use of blockchain technologies."
Currently, MarginX facilitates the trading of cryptocurrency-based perpetual contracts for BTC, ETH and FX. In keeping consistent with the values of community and ownership, MarginX will not involve any ICO, IEO, token sale or NFT sale, so as to level the playing field for all.
For more information, please refer to our media kit (https://bit.ly/mxmedia) or our website (https://marginx.io).
About MarginX
MarginX is the world's first community-based decentralized exchange built on the Function X network, and running via a multi-chain and on-chain infrastructure. It aims to bridge the traditional financial markets and cryptocurrency world by providing a platform where investors can buy, sell and create derivative products of any financial asset, and where every stakeholder has a say in the future of the platform.
Contact
Marketing & Communications Lead
Dione Chen
MarginX
[email protected]

Disclaimer: The information provided in this article is for informational purposes only and should not be construed as financial or investment advice. Cryptocurrency investments are subject to market risks, and individuals should seek professional advice before making any investment decisions.
Mining Contracts From $10: How To Invest And Earn Passive Income With Mining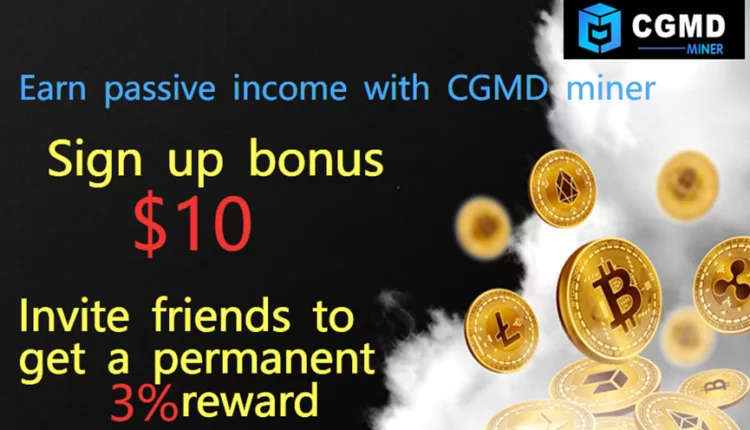 As more players enter the cryptocurrency market, mining becomes more complex and requires more computing power. As a result, many people who previously used their own equipment for cryptocurrency mining now find it unsustainable: high electricity bills and wear and tear on the equipment. Therefore, cloud mining is becoming an increasingly attractive option.
In the partner material, we go into more detail about its features and how it will help increase passive income.
What is cloud mining
Cloud mining is a mechanism that uses leased cloud computing power to mine cryptocurrencies such as Bitcoin. Hardware setup and startup, no software installation required.
Cloud mining companies make mining even more affordable by allowing you to open an account and participate in cryptocurrency mining remotely at rock-bottom prices. Since mining takes place in the cloud, there are fewer issues with equipment maintenance or direct electricity costs.
How to start cloud mining
Here are the basic steps you need to take before getting started.
Step 1: Choose a Cloud Mining Provider
CGMD Miner is a popular and powerful cryptocurrency mining platform and an excellent resource for passive income. CGMD Miner is a free Bitcoin mining program that allows you to passively earn Bitcoins without any strings attached, regardless of technical knowledge or financial resources. Once $12 worth of Bitcoins are mined, they can be transferred to your account and traded. Any profits are yours and you can withdraw them to your personal wallet.
Platform advantages:
Get $10 immediately after registration;
High levels of profitability and daily payout;
No additional services or administrative fees required;
Other currencies can be generated;
The company's Partner Program allows you to invite friends and earn up to $3,000 in referral bonuses;
McAfee security? Cloudflare® security protection;
24/7 technical support.
Step 2. Register an account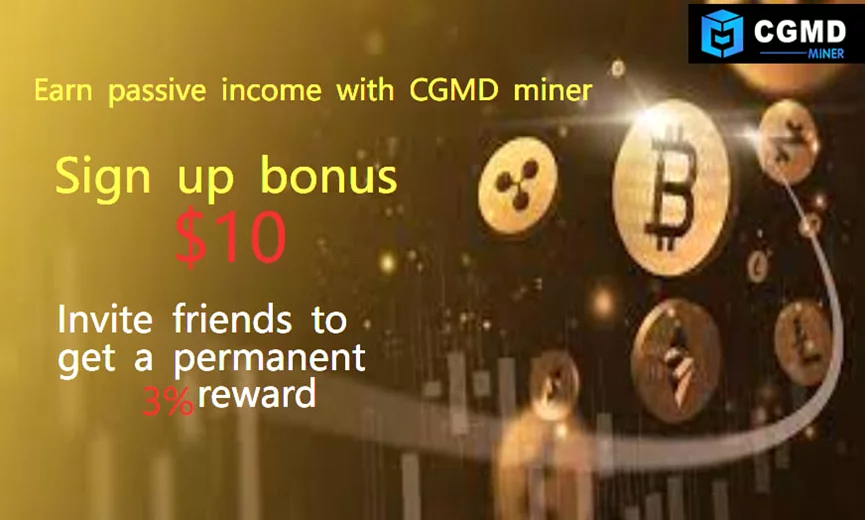 Go to the provider of your choice and sign up to create a new account.
CGMD Miner offers a simple registration process: all you need to do is enter your email address. After signing up, you can start mining Bitcoin immediately.
Step 3. Purchase a Mining Contract
Miner CGMD offers a variety of mining contract options: packages ranging from US$100 to US$5,000, each package has its own return on investment and a certain contract validity period. Right now:
The day after the contract is purchased, the revenue starts flowing in. When $100 is reached, the money can be withdrawn to a crypto wallet or continue to purchase other contracts.
Step 4: Earn passive income
Cloud mining is a great way to increase your passive income. Cryptocurrency capital can be grown via "autopilot" mode with minimal time outlay – less than any type of active trading. Passive income is the goal of every investor and trader, and with CGMD miners, achieving it is easier than ever.
CGMD Partner Program
Miner CGMD also offers an affiliate program, a platform that allows you to earn money by recommending the site to others. You can make money even without investing. A fixed one-time bonus of up to $3,000 will be charged for inviting positive referrals.
For more information about CGMD mining machines, please visit the official website https://365miner.com/
Read Also: OKX Achieves SOC 2 Type II Certification, Demonstrating its Industry-Leading User Safety, Security and Compliance Standards
Disclaimer: The information provided in this article is for informational purposes only and should not be construed as financial or investment advice. Cryptocurrency investments are subject to market risks, and individuals should seek professional advice before making any investment decisions.