KlapCoin, a New Cryptocurrency Design to Help French Cinema, Launches ICO
Paris, France, 29th April, 2022,
Today, The Diversity of French Cinema (DCF), a private independent company that supports French audiovisual works, has announced the launch of KlapCoin – a new generation cryptocurrency designed for the entertainment industry. In response to the issues affecting funding and support for production, DCF created an open, free, and independent cryptocurrency specially for entertainment. KlapCoin, built on the Tezos blockchain, is designed to help enable investments in filmstrips to fund the development of audiovisual works.
Imagined for the Cinema, audiovisual and entertainment industries, this new generation French cryptocurrency is environmentally virtuous and aims to offer attractive profit prospects and exclusive additional rights to its investors. KlapCoin offers unique associated rights like cinema tickets, previews, mention in film credits, and involvement in the development of future works selected by a committee of experts.
"In the digital age, I am very proud to be part of this new Blockchain adventure alongside my comrades to allow audiovisual projects to benefit from these new financing and… We will be keen to be innovative," Julie Gayet, Chair, DCF Selection Committee.
A committee of experts will select the audiovisual works, whatever their format, theme or genre, which will benefit from the financial support of La DCF. This committee is sponsored by Claude Lelouch, Honorary President of La DCF, and is composed of ten permanent members, professionals from the film and audiovisual world and may also call upon specialized guest members.The chair of this committee of experts is actress/producer Julie Gayet along with: Patrick Braoudé, Kev Adams, Jean-David Blanc, Fianso (Sofiane), Marie-Pierre Huster, Fred Musa, Valérie Perrin, Alexandra Schamis and Elsa Zylberstein.
KlapCoin is built on the energy-efficient Tezos blockchain, which provides an inexpensive, environmentally-friendly solution with a controlled carbon footprint. Through tailored smart contracts, Tezos enables the creation of non-fungible token (NFT) contracts for DCF that cover all the (legal and artistic) aspects of development. With a pioneering, energy-efficient Proof-of-Stake design and low costs to mint and transact NFTs. Notable organizations building on Tezos include Manchester United, The Gap, Ubisoft, Team Vitality, Formula 1 racing teams Oracle Red Bull Racing and McLaren Racing, banking giant Societe Generale, music NFT platform OneOf, and more.
To learn more about Klapcoin, visit www.klapcoin.com and read the litepaper here.
###
About KlapCoin:
KlapCoin is the stablecoin of the DCF ecosystem; it is backed by the euro and—as soon as possible—will be backed by the EURL (Lugh). KlapCoin can be bought with cryptocurrencies or euros. The DCF keeps the euro equivalent of the issued KlapCoins on a bank account.
KlapCoin is then used to invest in Film Reels, each with their own investment theme. The aim of KlapCoin is to ensure traceability and transparency in the use of funds invested in various 
Film Reels, but also for the funds to serve as a basis for a broader ecosystem. For more information, please visit www.klapcoin.com.
About Tezos:
Tezos is smart money, redefining what it means to hold and exchange value in a digitally connected world. A self-upgradable and energy-efficient Proof-of-Stake blockchain with a proven track record, Tezos seamlessly adopts tomorrow's innovations without network disruptions today. For more information, please visit www.tezos.com.  
Contacts
Disclaimer: The information provided in this article is for informational purposes only and should not be construed as financial or investment advice. Cryptocurrency investments are subject to market risks, and individuals should seek professional advice before making any investment decisions.
Mining Contracts From $10: How To Invest And Earn Passive Income With Mining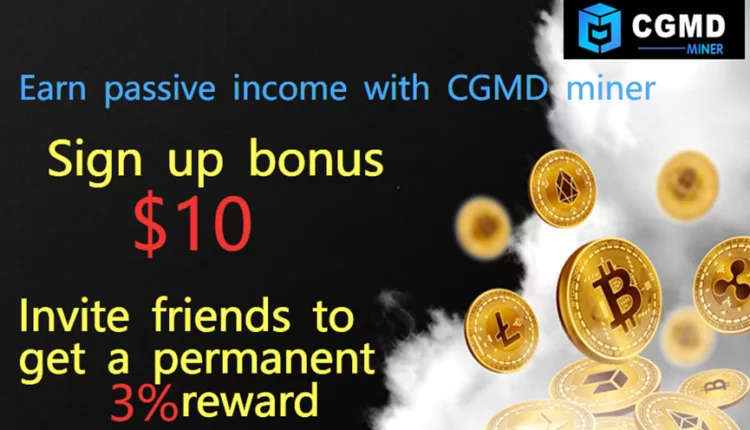 As more players enter the cryptocurrency market, mining becomes more complex and requires more computing power. As a result, many people who previously used their own equipment for cryptocurrency mining now find it unsustainable: high electricity bills and wear and tear on the equipment. Therefore, cloud mining is becoming an increasingly attractive option.
In the partner material, we go into more detail about its features and how it will help increase passive income.
What is cloud mining
Cloud mining is a mechanism that uses leased cloud computing power to mine cryptocurrencies such as Bitcoin. Hardware setup and startup, no software installation required.
Cloud mining companies make mining even more affordable by allowing you to open an account and participate in cryptocurrency mining remotely at rock-bottom prices. Since mining takes place in the cloud, there are fewer issues with equipment maintenance or direct electricity costs.
How to start cloud mining
Here are the basic steps you need to take before getting started.
Step 1: Choose a Cloud Mining Provider
CGMD Miner is a popular and powerful cryptocurrency mining platform and an excellent resource for passive income. CGMD Miner is a free Bitcoin mining program that allows you to passively earn Bitcoins without any strings attached, regardless of technical knowledge or financial resources. Once $12 worth of Bitcoins are mined, they can be transferred to your account and traded. Any profits are yours and you can withdraw them to your personal wallet.
Platform advantages:
Get $10 immediately after registration;
High levels of profitability and daily payout;
No additional services or administrative fees required;
Other currencies can be generated;
The company's Partner Program allows you to invite friends and earn up to $3,000 in referral bonuses;
McAfee security? Cloudflare® security protection;
24/7 technical support.
Step 2. Register an account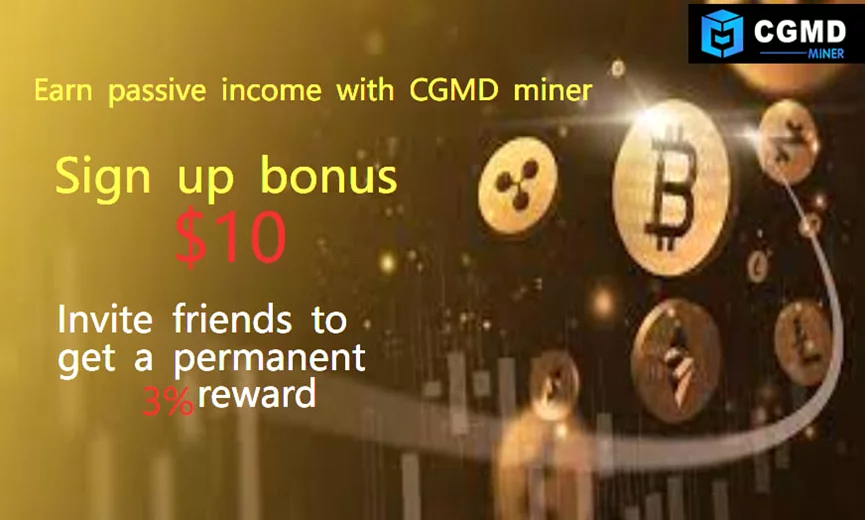 Go to the provider of your choice and sign up to create a new account.
CGMD Miner offers a simple registration process: all you need to do is enter your email address. After signing up, you can start mining Bitcoin immediately.
Step 3. Purchase a Mining Contract
Miner CGMD offers a variety of mining contract options: packages ranging from US$100 to US$5,000, each package has its own return on investment and a certain contract validity period. Right now:
The day after the contract is purchased, the revenue starts flowing in. When $100 is reached, the money can be withdrawn to a crypto wallet or continue to purchase other contracts.
Step 4: Earn passive income
Cloud mining is a great way to increase your passive income. Cryptocurrency capital can be grown via "autopilot" mode with minimal time outlay – less than any type of active trading. Passive income is the goal of every investor and trader, and with CGMD miners, achieving it is easier than ever.
CGMD Partner Program
Miner CGMD also offers an affiliate program, a platform that allows you to earn money by recommending the site to others. You can make money even without investing. A fixed one-time bonus of up to $3,000 will be charged for inviting positive referrals.
For more information about CGMD mining machines, please visit the official website https://365miner.com/
Read Also: OKX Achieves SOC 2 Type II Certification, Demonstrating its Industry-Leading User Safety, Security and Compliance Standards
Disclaimer: The information provided in this article is for informational purposes only and should not be construed as financial or investment advice. Cryptocurrency investments are subject to market risks, and individuals should seek professional advice before making any investment decisions.